'Inspiring' Scotland hailed for playing attacking rugby in 2023 Six Nations - 'it has spun on its axis'
Scotland's record points scorer Chris Paterson has hailed the current national team for playing "an inspiring" brand of rugby this year under Gregor Townsend, insisting that there is more to come from the players.
Scotland have won two of their three matches in this year's Six Nations – a Calcutta Cup success away at England followed by a home win over Wales – before losing narrowly 32-21 in a classic match against the French in Paris. Despite the defeat at the Stade de France, Scotland still have hopes of winning the tournament and landing the Triple Crown. In all three of the matches, Scotland have played on the front foot with pace and creativity and Paterson, who won 109 caps for his country between 1999 and 2011 and scored 809 points, feels Scotland deserve immense credit for a willingness to play attacking rugby.
"Scotland are playing a really exciting brand of rugby, that really suits them and is difficult to do," said Paterson, currently a pundit with Viaplay. "I think traditionally over the past couple of years, there was a real defensive element to international rugby. France winning the Grand Slam last year was built on defence then look at Wales winning the Championship the year before that, when they had the least possession and scored the fewest tries but still won the title.
"It has now spun on its axis. Just see the way France play and Ireland are playing. Ireland were built on a really robust approach to keep possession – a real power game. But we've got an attacking approach to international rugby again, which is brilliant to see.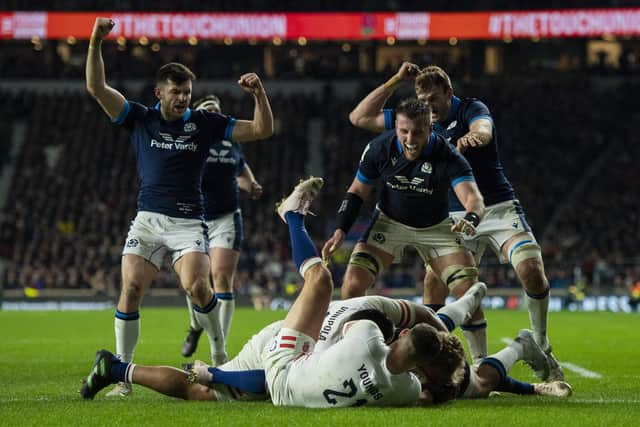 "I think how Scotland play is inspiring, it suits Scotland, there are risks associated with it, they have to have a high skill level and a mentality and willingness to play attacking rugby and it will be tested next week against Ireland. But the commitment shown by Scotland in Paris last weekend married with that ability and desire to play attacking rugby is great to see, particularly when you are against such a good defensive team as France. They were still able to score three tries and get back from 19-0 down to within four points in the game. It's enthralling to watch some of the attacking play but also some of the kicking, I think Scotland have wrestled some momentum back with their tactical kicking.
"Quite often before we have built up Scotland's games saying it's going to be a cracker, but in the back of your mind you are still thinking 'well I hope it is' – but this time they all have been. To caveat that, there is room for improvement in all three games, the situation of 19-0 nil down and a red card is far from ideal, but the application in order to get within four points, they might have been frustrated not to come away with a losing bonus point. There's certainly more to come from this Scotland team."
The Six Nations takes a break this weekend, with some of the national squad involved in URC matches for Edinburgh and Glasgow Warriors, before Scotland take on Ireland on Sunday, March 12 and then Italy on Saturday, March 18, both at BT Murrayfield.
Chris Paterson will be part of the Viaplay team bringing live build-up and analysis of both Scottish URC games live and exclusive in the UK this weekend as Glasgow Warriors host Zebre at Scotstoun on Friday evening (live on Viaplay from 7.35pm) with Dougie Vipond, Chris Paterson, Ryan Wilson and Rory Hamilton. Plus there's all the action from Edinburgh's big game against URC's unbeaten leaders Leinster on Saturday afternoon. Watch this big encounter in the Scottish capital live on Viaplay from 5pm with Emma Dodds, Chris Paterson, Mike McCarthy, Rory Hamilton and Paul Marshall. For more information visit www.viaplay.com .