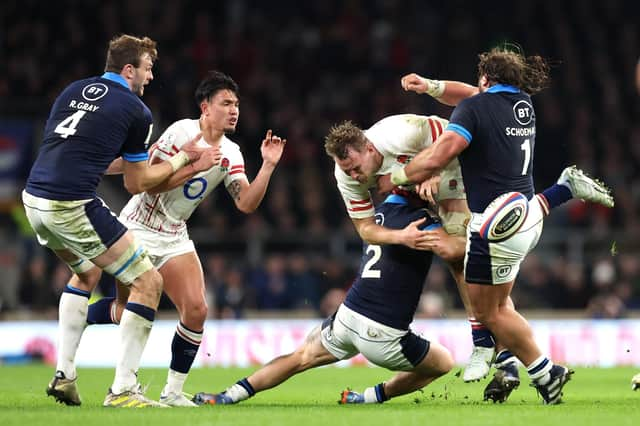 Satisfied? Yes. Exhausted? Certainly. But the message post-match was that there is a lot more to come from this team and, if anything, they had played slightly within themselves. Whether that is a deliberate strategy to keep everyone's feet on the ground or a genuine reflection of the performance is open to debate. But a bonus-point win at the home of English rugby is certainly worth savouring.
You have to go back 85 years for the last time Scotland scored four or more tries in a winning performance at Twickenham. On that occasion they scored five in front of King George VI and Queen Elizabeth in what is considered one of the greatest ever games. The victory over England secured the Triple Crown and championship for Scotland during a period when only the four home nations took part.
A portent for this season perhaps? It's Wales next for Scotland and the low-key reaction to Saturday's 29-23 win is likely a consequence of what happened on the last two occasions Gregor Townsend's side opened with a victory over England. In both 2021 and 2022 the Welsh quickly doused Scottish championship ambitions in round 2.
George Turner was involved both times and the Scotland hooker is unsurprisingly not keen to follow three victories in a row over England with a hat-trick of Welsh defeats. "We talk about raising our floor, making sure our worst performances are still good performances," said Turner. "Even on Saturday, we felt we still had loads of shots still to fire. They managed to disrupt our set-piece. Huw Jones got a good linebreak off the first set-piece and then they managed to disrupt us, knock balls out and slow us down, and it was really good from them.
"We definitely gave all we could but we made errors, we fell off a few tackles at the end of the first half and there were some mistakes, but yeah in the past we could have lost these games and not taken our chances but we managed to take the ones that counted and got the win."
Turner was left drained by the occasion and said it felt very different to the 2021 win at Twickenham when supporters were absent due to Covid. It was made even more special this time because his wife, Madeleine, and son, William, were able to attend, the latter celebrating his fourth birthday.
"I was empty. I put everything into it," said Turner. "It was a massive occasion. I played two years ago with the empty stands but it's different gravy in front of 82,000. It was a hell of an experience. When we did the anthems we could hear all the Scotland fans, and we know we've got all these people behind us watching on TV as well."
"My wife and my son came down, it was his birthday and he had an amazing time, he's four. I think he was a bit knackered at the end and a bit confused but he's had a great time coming down to London. And he might remember the match but at least he was here to be part of it. I got a couple of pictures of him with the trophy, some nice pictures with the family, which is important because they help so much and they are a big part of who we are."