Huw Jones in the Saturday Interview: 'Right away I was worried I might become a flash in the pan'
Jings, this is tough. Killing time until the Calcutta Cup and the 128th kerfuffle with our internecine nearest-and-dearest, I've been looking back on the recent history of the great fixture. Remember all the thrilling tries I've instituted a new sub-category: the best by a Scot when dragging Englishmen (minimum: two) over the line with him.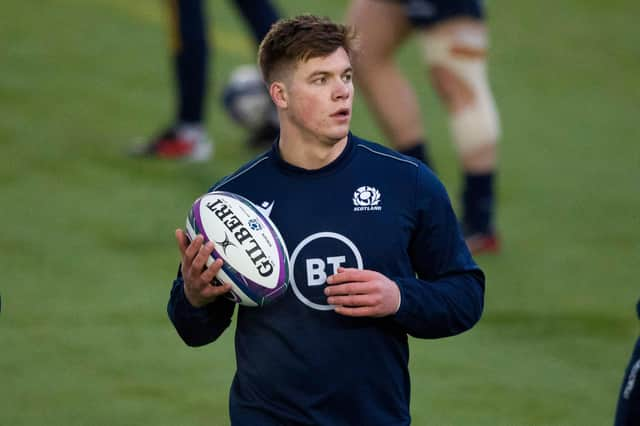 It's hard because there are outstanding contenders: Alan Tait and the subject of today's big read, Huw Jones. What scores these guys plundered! Does Tait win for, in 1999, smashing through three of the Red Rose rearguard and the fact his game was at Twickenham? Or because that one ultimately ended in defeat, should it be Jones who, although required to take only two poor saps with him, was part of a victory - 25-13 three years ago?
That's important. These triumphs don't come along every year and are to be cherished. Something else squeezing out the unfortunate Tait is that in '99 Sky owned broadcasting rights and as a result this has become almost a lost game which gets missed out of the build-up to the contest currently. Jones' counter is therefore more vivid in the memory, especially if like me you were at Murrayfield that afternoon, when the roar that greeted it must surely have rattled teacups high above the stadium in Ravelston.
Okay, so I think we've established that some of us might keep clips of great, crucial, Auld Enemy-trumping moments running on repeat in our heads - how often does Jones reflect on the try?
"Not very often, if I'm honest," he says. "I definitely get reminded of it more than I consciously think about it. In sport you can't really dwell on what happened before, whether good or bad: it's all about the now and the next. And I think my career could be held up as a pretty good example of not relying on what you'd done in the past."
Three years ago, Jones was the most exciting outside-centre in the Six Nations and couldn't stop scoring. Then, just as quickly, the tries dried up. He lost form and his place in the team. He was chopped for the World Cup and his world came crashing down.
But the Jones boy is back. A return to that flairful free-running in Glasgow's Christmas clashes with Edinburgh impressed head coach Gregor Townsend and has the player bidding for inclusion a week today at Twickenham, where incidentally he's also bagged a double before.
So aren't performances like '18, rather than being filed away for when a player swaps boots for slippers, worth keeping uppermost on down days as targets for what could yet be achieved again? "For sure," he says, possibly realising he's not going to get out of indulging your correspondent today. "They can be little reminders: 'I know I can do that.' They can be confidence-boosters: 'I can do that again.'"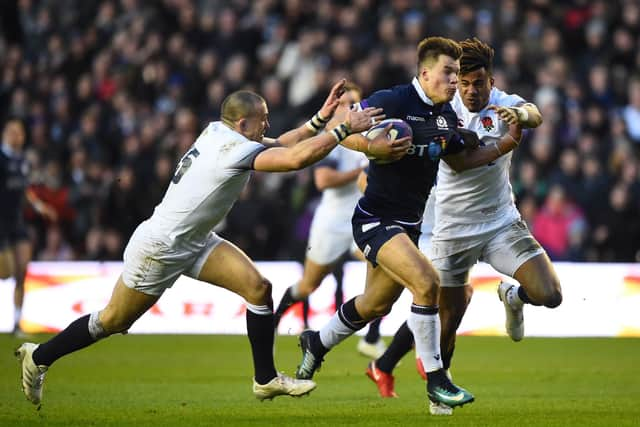 In the game of his life Huw Richard Forbes Jones, who turned 27 last month, had three diamond moments, scoring two tries and, in the passage of play climaxing with Sean Maitland touching down, collecting that long, long pass from Finn Russell which, mentioning Ravelston, possibly was launched from that well-to-do district with the fine views.
"Yeah, it gets longer and longer doesn't it?" laughs Jones. "The thing about Finn is that his vision is so great that nothing really needs to be said in team meetings or just before games - if you're in the right place then, passing or kicking, he's going to find you.
"In that instant we were both on the same wavelength. We saw England rushing and we knew the space was there. He chucked the pass and I ran onto it. Not everything comes off, of course, but that was a perfect moment."
So the try, Huw, your second: exploding like that from halfway was all very well, not that everyone can do it of course, but did you carry the whiteshirted pair Anthony Watson and Mike Brown over the line like you were heaving sacks of rubble into a skip?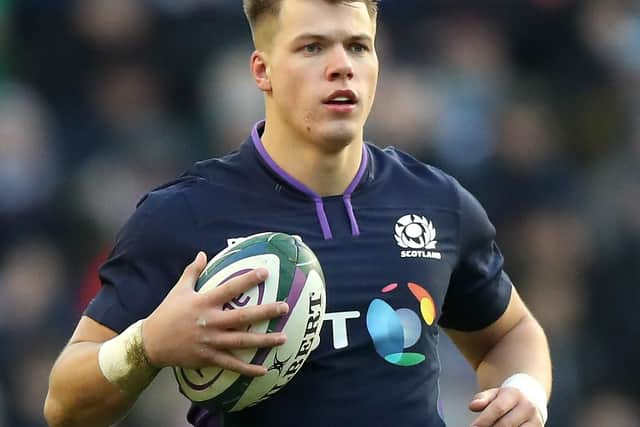 Another chuckle. "Like, how technical do you want me to get?" On you go, mate. "Those guys did quite well in shepherding me into running the line I did. Could I have gone round them? Yes, but then I would probably have been caught by the covering defence. There was only one route open, and not really open at all: straight through the middle of them. They both tackled me high so I was able to keep my legs pumping. If one had gone low I probably would have been stopped. Bloody determination got me over."
Jones, as he helped seal the triumph, was instantly acclaimed Scotland's new rugby superstar, although he insists that even in the delirium as he tried to maintain perspective it was possible to foresee how his fortunes could very quickly change.
"I remember saying to my dad when things were going well with Scotland that I really didn't want to be a flash in the pan. I was worried about that. I was wondering: 'Say this is as good as it gets?' I didn't want that then and I certainly don't want that now. I want to stick around. I want to be one of Scotland's best players."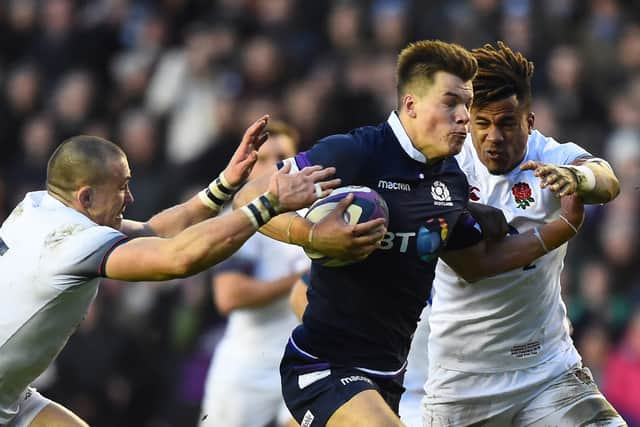 He recites the mantra of many a modern sportsman: don't get too up, or too down. "You can't believe the hype when things are going really well because it can all come crashing round about you." It did for Jones when he found out there would be no seat on the plane for him for Japan. Previously he's called that moment "pretty shit" and today he says: "I'm not sure if I'll ever recover from that. I think it will always be something which frustrates me.
"I felt like I got given the short straw. Injured in the [2019] Six Nations then not much playing time towards the end of the season with Glasgow, I was always on the back foot in the lead-up to the World Cup. The reasoning [for him not making the cut] reminded me of something [former Glasgow head coach] Dave Rennie said in my first season for Warriors when he dropped me for a few games: I was an 'X-factor player' and with Finn and Hoggy [Stuart Hogg] in the team he didn't need another one.
"Sure, it was tough watching the boys and not being there with them when I felt I should have been. Right away I told Dave I wanted to come into training, rather than sit at home and sulk." Those sessions helped him, as did a gift from his girlfriend Annabel: "She bought me a puppy, hoping it would cheer me up. Louie is a Maltese poodle and during Covid, being able to walk him in Kelvingrove Park, he's been a bit of a life-saver."
The sub-text of the decision to exclude Jones from the World Cup, he says, was: "Yes, but can he tackle?" There was a question mark over his defence. An old quote has him saying that early on he "hated" tackling. "That was probably from schooldays when I was a little guy, a late developer, playing against much bigger boys. I don't think I'd say that now. I enjoy tackling. You can get a buzz from a really good one similar to making a line-break." Still, there was a willingness and a determination to improve that side of his game. "If a coach decides I'm lacking I'm going to want to prove it's not something I can't do."
For Glasgow this season Jones has been turning out at full-back, a switch of roles which has been both beneficial and enjoyable. "Generally, there's been a lot more kicking in rugby recently. Attack is my greatest strength so seeing more of the ball than I would at 13 has been good for my confidence."
He does not, though, have designs on the position with Scotland. "Hoggy's world-class and I'm not going to be replacing him." The versatility of being able to cover the position will, he hopes, stand him in good stead come selection, and he'd enjoy an appearance at Twickenham to add to his 25 caps, though not for what might seem the obvious reasons. The atmosphere when the place is full he finds weird. "There's this constant hum which sounds like everyone's constantly chatting. I enjoy playing in Wales and Ireland because even though most of the crowd are rooting for the home team at least there's singing and the fans are reacting to what's happening on the pitch." This time, then, an empty Twickers won't have the distracted, and distracting, white noise.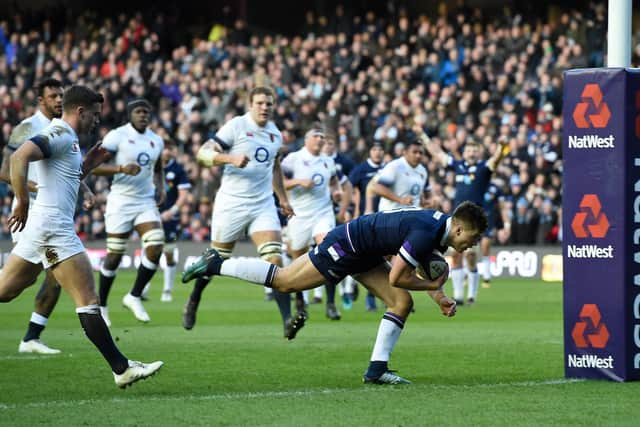 Jones' contract with Glasgow ends this summer and there's been speculation he's bound for England's Premiership. "I think most of these stories have been put about by my agent," he laughs. If this is indeed the end of his time as a Warrior then he'll leave with a heavy heart, having enjoyed it hugely, not least because it's allowed him to put down proper roots and provided him with a sense of identity.
He was born in Edinburgh to teacher parents who met at uni in the capital but moved south when he was two. Home was Kent although it never seemed such. He boarded at Millfield School in Somerset with its fine sporting traditions where fellow pupils included future England internationals Jonathan Joseph and Mako Vunipola, both on the pitch three years ago although they couldn't stop our man either. Then he became a "gappy", playing rugby for fun during a gap year in South Africa where the career properly took off.
He says: "For a long time when anyone asked where I was from I didn't know what to say. Now, even though I couldn't have foreseen where the journey would take me, there's no problem anymore. I could have qualified to play for England through family and residency. Maybe South Africa if I'd stayed there longer. But that dark blue shirt tells me who I am. I love the feeling every time I pull it on.
"As soon as I got the call [to play here with the prospect of an international call-up] it was a no-brainer. Why would I say no to that? My parents were completely supportive, telling me: 'Get into it.' My mum said that her dad, who was very Scottish but who sadly died the year before my Scotland debut, would have been thrilled."
Who knows, maybe the sight of Jones racing across the Murrayfield turf, and the rapturousness with which this has been greeted, helped influence his sister's decision to study in Edinburgh, while his parents recently decided to return north and retire to Linlithgow. Now Jones is laughing because he's remembering first impressions of Scotland, the abrasiveness of the accents and the abrasiveness of the weather.
"I arrived in Glasgow in winter-time which after Cape Town and all that sunshine was a bit of a shock. And for long enough I couldn't understand a word Finn said. The one regret I have is that Scotland hasn't put a dent in my accent, which after South Africa went back to English public schoolboy, and might still make a few people wonder: 'Is he really Scottish?'"
Well, there's still time. He's reflected on past glories enough today. "It can't just be about a couple of good games," he says. "I need to have another moment."
A message from the Editor:Thank you for reading this article. We're more reliant on your support than ever as the shift in consumer habits brought about by coronavirus impacts our advertisers. If you haven't already, please consider supporting our trusted, fact-checked journalism by taking out a digital subscription.
Comments
 0 comments
Want to join the conversation? Please or to comment on this article.