Gregor Townsend calls on rugby team to play its part for Scottish sport alongside football and Bob McIntyre
Gregor Townsend has called on his Rugby World Cup hopefuls to play their part in ramping up the feelgood factor of a nation in what promises to be a passion-stirring autumn for Scottish sport.
The Scots, who arrived in France on Sunday night, harbour genuine ambitions of going deep into the global showpiece after elevating themselves to fifth in the world rankings. They have never previously gone into a World Cup in a loftier position. In addition, the buoyant Scottish football team are on the brink of qualifying for only their second major tournament since 1998, with Steve Clarke's team able to set one foot in Germany for Euro 2024 if they defeat Cyprus this Friday, while Oban's Bob MacIntyre will become the first Scottish golfer since Stephen Gallacher in 2014 to represent Europe at the Ryder Cup at the end of September.
Townsend knows his team, on the biggest stage in their sport, have a chance to rouse the public back home. "It's an exciting few weeks for Scottish sport," the said. "The football this week, rugby right through September and October, and Bob MacIntyre getting in the Ryder Cup team so we've got someone to cheer for. There are some massive events, the biggest tournament in our game, one of the biggest ones in golf just round the corner, and you've got the football team doing really well. It makes everybody who is interested in sport feel better when the team they support are doing well. We get a boost when we watch the football team do well and we're another sporting organisation so I would imagine people that are big supporters of us, it gives them real hope and inspiration and lifts their mood for a day or a week and they can't wait to get behind the team in the future. That's certainly the feeling we get from our supporters."
Townsend, who feels "very privileged" to be leading Scotland to a second consecutive World Cup, is thrilled with the way supporters have rallied behind his team in recent seasons. The head coach hopes his "humble" group of players can strengthen that bond and engage other more casual rugby observers by flourishing in France over the next two months. "A lot of people say to me, 'I don't tend to watch rugby but I watch the Six Nations or the World Cup'," he said. "I think there's something about the national team, whether it's football or rugby, that makes you go, 'right, I don't have to be a big supporter of it but I'll switch it on because I know they're representing us'. We've seen it with the crowds we've been getting at Murrayfield over the last few years but if we just take the last three home games over the summer, the crowd numbers there before the game were huge.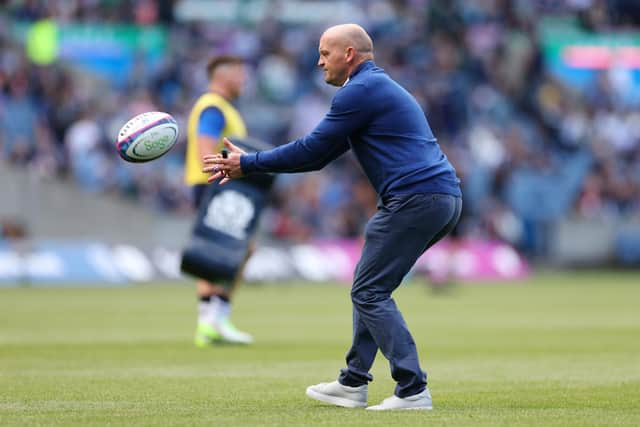 "They're there two hours before the game and they stay there afterwards. It's brilliant. I think there's a different group of people coming to games. Maybe these games were different because they were in the summer but I saw so many families at our last game against Georgia and it was great to see. We had three generations of families coming to watch the team. A lot of that is from the way the team is playing but it's also because of the players as people. They are the most humble, open and engaging guys you could coach. I see how much time they spend with supporters and that rubs off. If you have a group that is closed, won't stay for autographs and ignore people who want to chat them, that is going to have an effect on what people think of you, whereas this group are brilliant. I believe that's a big part of why the people in the country are behind them."