Glasgow Warriors star eyes same career and flight path as Stuart McInally with ambition to be a pilot
You wait an age for one rugby-playing pilot and then suddenly two come along at once.
A week after former Scotland captain Stuart McInally announced his intention to retire from the game and fly commercial planes his international team-mate Jamie Bhatti has revealed his own ambitions to take flight. The Glasgow Warriors prop intends to play on for a few years yet but is taking flying lessons with a view to his post-rugby career. McInally, or Rambo as he is known, already holds a private pilot's licence (PPL). Bhatti has spoken to the Edinburgh hooker and would like to follow the same career - and flight - path. "I'm 29 now so hopefully I've got another four or five years left in me if – touch wood – I can stay injury free," said Bhatti. "But I'd been thinking about what I could do afterwards. I came from working in the abattoir and never had any grades but I've always been practical. So I looked into it, spoke to Rambo and he said to go and try it. He said that after one lesson I would know if it was for me or not. And I absolutely loved it and just kept doing it. You register at a fly school so I do it out of Phoenix Flight Training in Cumbernauld. You register also with the Civil Aviation Authority and then you just book lessons with an instructor. And then I'd imagine eventually it's like a driving test but in a plane! I think you need to do 45 lessons minimum before you sit your test but the average is about 60 or 70 before you get your licence. So I'm very much at the start of it. I can fly a plane, take off and land, but if you tell me to fly somewhere else I'd end up in Iceland or somewhere!
"I started learning back in October. Hopefully I will be doing my PPL at some point. Rambo has got his licence. I am 16 hours in just now but the weather has not been the best. Some weeks I get in twice, three times while other times I can go three weeks without getting up because of the weather. It is very weather dependent. I am looking to go solo soon but when I do that you might not see me again!"
He sees his future as a commercial or cargo pilot and is grateful that rugby has given him the means to pursue his ambitions. It's an expensive business and Bhatti, who worked in a slaughterhouse and as a nightclub doorman before becoming turning pro, says he wouldn't have been able to afford the lessons without rugby.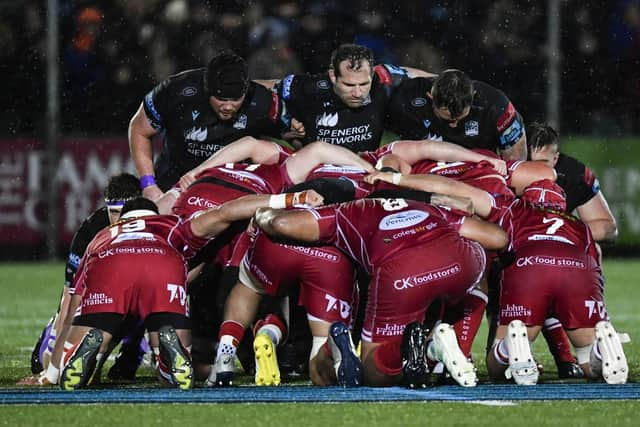 "It is not cheap to fund. I am going to try and do as much as i can in rugby, do a bit of networking. If anybody out there who can help me out I will see what I can do. I just want to do as much as I can in rugby, get my licences and see where I end up. Rugby has helped me as, in the nicest way possible, I wouldn't have been able to afford it. For me now it's a hobby but hopefully at the end I'll be able to do more with it. But it's an expensive hobby. If I was working in the abattoir or doing a 9-5 I wouldn't have had an extra grand a month for flying lessons."
Bhatti, who returned to Glasgow in summer 2021 after spells at Edinburgh and Bath, has been flying high in his second spell at Scotstoun as part of a squad chasing honours on two fronts under Franco Smith. The Warriors head to Wales this weekend to take on the Scarlets in the semi-finals of the European Challenge Cup, having narrowly beaten the same opposition in the league at home a couple of weeks ago. With a home quarter-final against Munster to come in the United Rugby Championship the following week, these are exciting times for the Warriors but Bhatti knows the club needs something tangible to turn Smith's first season in charge into something very special. "That is what we play for," said the prop. "We don't want to just bow out at a semi final. We don't want to be happy with making a semi or a quarter final. We want to show what we can do and go the full way in Europe and in the league as well. We can beat anybody on our day, definitely."
A run of one defeat in their last 17 matches proves Bhatti's point and he is looking forward to renewing rivalries with Javan Sebastian, the Scarlets tighthead and fellow Scotland squad member. "Two weeks ago when we had them out there [at Scotstoun] we did well at the scrum and we had the upper hand," said Bhatti. "The maul was firing that day too so that will be the plan this week. We want to get the scrum and maul going and let the backs run. Jav is a good scrummager. I have always said he is a good scrummager. We can't be too sure of ourselves. We have to worry about ourselves first, get our stuff right and I am pretty confident that we can do a job. But as I said Jav is really good. It won't be easy. Especially with them at home with their crowd. It will be a tough game."
The Scarlets have already sold 11,500 tickets for Saturday's game and Parc y Scarlets is expected to be close to its 14,870 capacity by the time the game kicks off at 5.30pm.
Comments
 0 comments
Want to join the conversation? Please or to comment on this article.