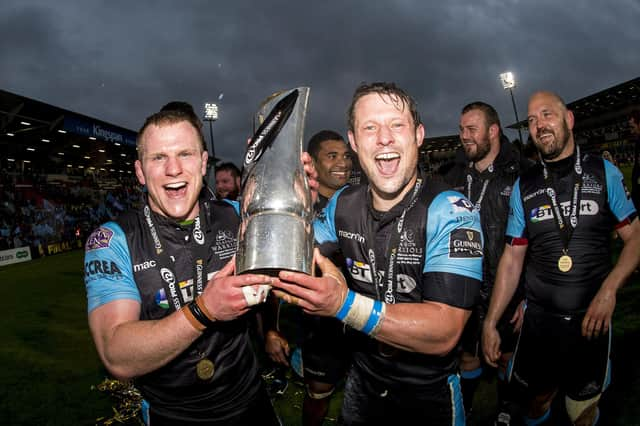 Franco Smith's side's impressive victory over the Scarlets on Saturday means they are through to the final of the European Challenge Cup where they will face Toulon in Dublin on May 19. Before that, they will try to make similar progress in the United Rugby Championship, beginning with this Saturday's home quarter-final against old foes Munster. Horne, now Glasgow's assistant coach, sees similarities between today's team and the side he played in which won the Guinness Pro12 final against Munster in 2015. It remains the lone trophy lifted by a Scottish club in the pro era and while the former centre is happy to reminisce about the success of eight years ago, he feels it's time to emulate that achievement.
"The boys will potentially tap into that era a little bit and it comes up every now and again," said Horne. "But it's more off the cuff as it's a new era and a new group who are just so focused on writing their own legacy. It's a great thing to be a part of and something we're looking forward to. There are certain similarities and you can see that in all top teams. Our work rate is good and our fitness is starting to tell. In the second half against Scarlets we really managed to impose ourselves. The other similarity is that we're back playing a style of game where we feel that we can score from everywhere and beat anyone on our day. That's exciting to feel like we've got the game to beat anyone."
The confidence is well founded. Glasgow have lost just one of their last 18 games and got the better of Munster as recently as last month, defeating the Irish giants 38-26 at Thomond Park. It was the Warriors' first win in Limerick in 2014 but they are back at home this weekend for the latest in a string of high-profile match-ups between the clubs which stretches back to Horne's time in the No 12 jersey. "There's been a few great results out there on this field against them," said Horne as he looked out on to the Scotstoun pitch. "The thing that stands out from those is just what big games they were. It was as close to Test match rugby as you're going to get against a good Munster side. They've got so much experience of winning these big games that you can never rest or take anything for granted. There will be big periods of the game where we're going to be under the pump and we have to plan for that. It's about not panicking in these moments and understanding that we can ride that out by defending well and scrambling well."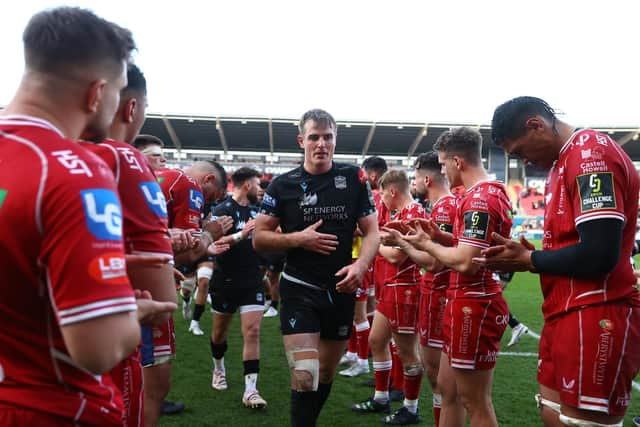 The stand-out memory remains the 2015 Pro12 final when Glasgow, under Gregor Townsend's stewardship and with Stuart Hogg, Finn Russell and Sean Lamont joining Horne in the backline, defeated Munster 31-13 in Belfast. It was an unforgettable weekend and Horne would love to see something similar when they take on Toulon in the Challenge Cup final. "It's great that so many fans are looking to try and make their way over to Dublin for the final," he said. "The Pro12 final in Belfast in 2015 was one of the best nights of my life. Just seeing the crowd there at the end of the game, it was awesome. The fans played such a huge role in creating a great atmosphere that night. That definitely helped us win the game. I'm sure the Warrior Nation will travel in full force and be cheering us on. After the final in 2015, we went back to the airport and it was all shut. There was some kind of issue with the plane or something. So we ended up going back to the hotel that we had left. Only half the rooms were available, none of the beds had been made, it was a disaster – but amazing at the same time. The majority of us just stayed together in the team room. It was just a brilliant couple of days."
The progress Glasgow have made during Smith's first season in charge is bordering on the miraculous. The South African inherited a squad broken and bruised by their 76-14 loss to Leinster in the final game of the 2021-22 campaign but has reinvigorated them with a brand of tough love which involved a gruelling pre-season programme and a policy of squad rotation which has left them refreshed but also with enough big-game experience to challenge on two fronts. Horne was particularly pleased with the way they toughed it out in Llanelli to win well on the road, something they struggled to do last season.
"Scarlets were a great team and put us through our paces and we stepped up," he said. "I was so proud of that second half as things hadn't gone right [in the first half], we hadn't played well and there were real moments of adversity. And we had to dig in, scramble hard and hang in there. That's what you have to do in big games. We stuck in there and righted a lot of the wrongs that we'd spoken about at half-time. It was the players who were leading a lot of that discussion. They knew what we needed to fix and they did that. You'd much rather that it happens in a game where you end up scoring 35 points. If everything had gone perfectly to plan in that game then this Saturday against slightly better opposition you find yourself in that same type of sticky patch and just panic. We'll be much better equipped following what happened at the weekend to deal with whatever comes up over the next few weeks."