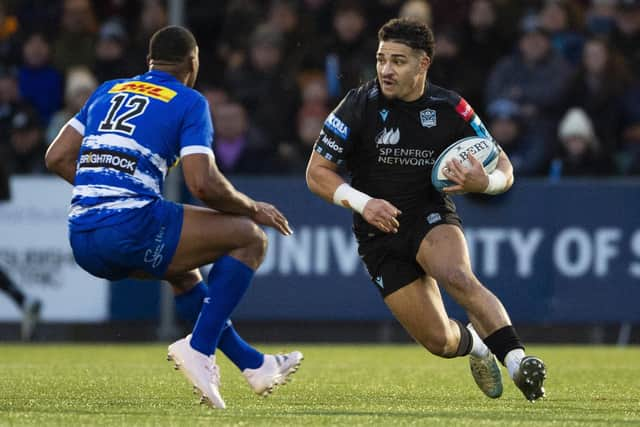 The Stormers' three tries were all scored at short range after repeated batterings at the Glasgow defence had worn it down and cracks appeared. These were tries of the sort that is very common today. In contrast, Glasgow's first three tries were all scored from deep, fast and adventurous running cutting holes in the South African defence
Given that Scotland, like Glasgow and Edinburgh, will rarely dominate up front, this is surely how we should look to see Gregor Townsend's team play. We haven't always had the players to make this possible. We have now, and instead of wondering who we can play in the back division, it's a question of who we leave out. Some may remark that two of the tries were scored by their Argentinian winger Sebastian Cancelliere. True of course, and what a fine player he is. But the opportunity for the first try was created by Huw Jones, for the second by Sione Tuipulotu's deft little kick.
Remarkably, that followed a brave decision to take a scrum when awarded a penalty deep in the Stormers 22, rather than popping the ball into touch for a five metre line-out. Given that this Glasgow scrum was missing four players – Zander Fagerson, Richie Gray, Scott Cummings and Rory Darge – who would be first choices if fit and available, the Glasgow scrum came out of the match with a good deal of credit.
If Glasgow are flying high, Edinburgh seem to be in the doldrums. They struggled at home to beat Zebrem who have themselves been struggling all season. Of course, they were some way below strength, missing their back three of Emiliano Boffelli, Darcy Graham and Duhan van der Merwe. Graham's importance to the side may be measured by the fact that, although he has been out injured for several weeks, he remains the top try scorer in the URC this season. They have also been without Hamish Watson since he suffered a concussion in November. No matter how much Edinburgh and Scotland would like to see him back, his return cannot be hurried. All the same, Edinburgh should have done better last week. Perhaps they had half an eye on this Sunday's European Cup match away to Castres. Sometimes, however, it seems that Edinburgh and Glasgow are seated either end of a see-saw, so that when one's up, the other is down, and then positions are reversed.
Much of the chatter this week has been about the England captain Owen Farrell and his appearance before the Rugby beaks after being cited for a dangerous tackle. The video evidence suggests it was indeed that, though reckless and stupid rather than malicious. For us the interest in the outcome was whether he would be available for the Calcutta Cup It looks likely that he will. Since his four-week suspension will be reduced to three if he successfully completes the World Rugby coaching intervention programme. Doing so should be a piece of cake for a player of Farrells experience. He knows perfectly well how to make a legal tackle even if he sometimes forgets in the heat of the moment.
There is, however, one possible hitch. A three-week suspension would see him miss two European Cup matches (against Edinburgh and Lyon) and one English Pemiership game against Bristol, the week before the Calcutta Cup. That would leave him free to play Scotland. The catch is that the the rules speak of "three meaningful matches", and though the Saracens/Bristol game is certainly that, it has not been usual for England to release players from the squad the week before a Six Nations game. I suppose the letter, if not the spirit, of the law would be satisfied if Farrell was on the bench at Bristol and brought on for the last five minutes.
Whatever the outcome, I'll be surprised if Farrell doesn't line us against Scotland at Twickenham. Meanwhile, I'll be just as surprised of Gregor Townsend and his players are losing any sleep over the question. I would guess their view is "we've beaten England with Farrell in the team – we can beat them again whether he's there or not". That said, these judicial sessions aren't very satisfactory. It seems absurd that fixed period of suspension can be cut in half if the player merely politely says he's sorry.