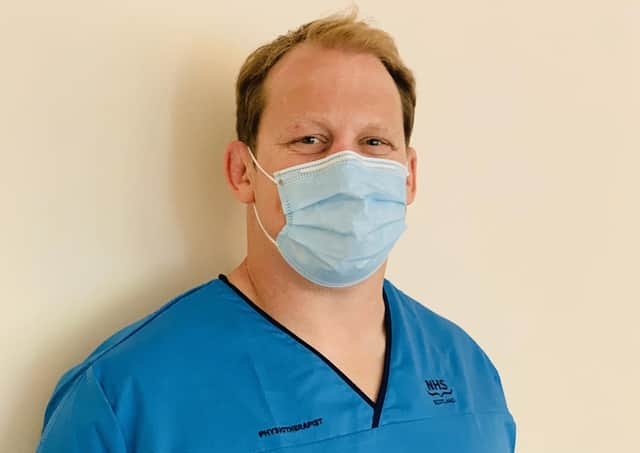 Petrus du Plessis announed his return to work as a physiotherapist with the NHS on Twitter.
Glasgow Warriors player/coach Petrus du Plessis has swapped the front-row of the scrum for the frontline of the NHS's fight against coronavirus as a volunteer respiratory physiotherapist.
The veteran 38-year-old tighthead prop graduated in the field from University of Salford in 2008 before a highly-successful rugby career which saw him win three English titles and two European Cups with Saracens.
He joined Glasgow in 2018 and has since extended his stay on a partial playing deal but mainly as Warriors scrum coach.
He tweeted a picture of himself in blue gown and facemask with the caption: "Back to where it all started."
Du Plessis will be working with NHS Ayrshire and Arran.
Last month he announced his intention to offer his services to the NHS frontline and said: "I strongly believe it's important to have all hands on deck to overcome this virus."
Other rugby stars have pitched in, too. Former Wales and Lions centre Jamie Roberts – a qualified doctor – has signed back up to work for the NHS during the pandemic.
Originally from Hermanus in South Africa's Western Cape, Du Plessis moved to the UK and first played for the St Helens rugby union club.
After graduating with his degree he went on to play professionally for Nottingham, Saracens and London Irish before moving to Glasgow in two years ago.
Respiratory physiotherapy can include exercises and physical manipulation to help clear fluid or secretions on the chest or lungs and also breathing exercises.
In acute cases that is the primary aim but moving into recovery the specialists develop programmes including training to improve stamina and aerobic capacity to maintain good lung health.