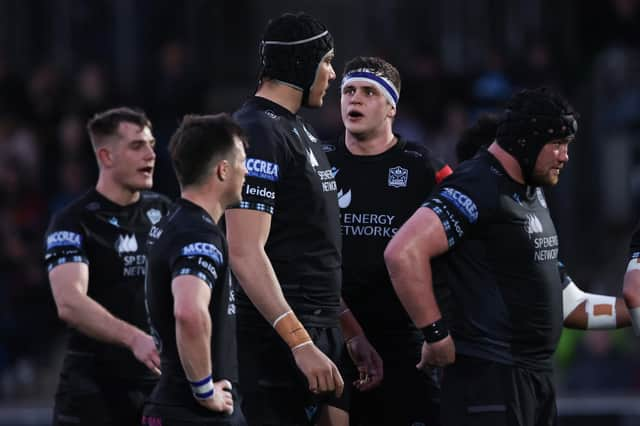 This made sense, but was a bit dull for our friendly game. Still the message stuck. If you want to win, play the percent ages. Last week Glasgow Warriors had no time for this way of winning. Too dull perhaps?
They began splendidly against Munster, attacking with pace and intelligence. They were soon awarded a penalty bang in front of the posts, 15 or 20 yards out. What did they do? Went to the corner. What did the percentages say? Take the points. Consider, or just figure. A kick in front of the posts, 20 yards out: 100 per cent, or at least 95 per cent chance of success, three points on the board. A kick to the corner, chance of success? Against a team like Munster, perhaps 50 per cent. You may of course get seven points, or only five, but quite likely, nothing. Glasgow had three chances to kick a goal in the first ten minutes. They went to the corner each time and got nothing. A big boost to Munster.
Glasgow play some fine rugby, but they don't always use the heid. Consider Antoine Dupont, captain of France and Toulouse, brilliant attacking and daring player, but also a canny captain. Win a kickable penalty early in a match, and he calls up Thomas Ramos, his full-back, to put three points on the board.
I make decision making sound too east. It isn't, of course. Glasgow this season have scored lots of tries from their rolling maul. It wasn't foolish to think they would do so again. Nevertheless, spurning the three points did them no good. In the second quarter Munster came back, scored 14 points and the half ended with Glasgow reduced to 14 men after Tom Jordan got a red card. Happily, it didn't get worse. The final score was 5-14.
So the quarter-final is as far as Glasgow go in this season's URC. Losing this match isn't a disaster, and may even prove a blessing in disguise. Victory would have given them as semi-final against Leinster. End of progress? As it is, they have a week with no match before playing Toulon next Friday evening in the European Challenge Cup final. This competition always offered their best chance of an international trophy this season. They are quite capable of winning tit, but they will have a better chance of doing so if they think more sensibly and play the percentages.
Elsewhere, we had the good news that Gregor Townsend has a new contract prolonging his spell as Scotland's coach. He has done well since succeeding Vern Cotter, and there was no need for a change. There will of course be a lot of ralk from Murrayfield about raising our game and breaking through some sort of ceiling. All very desirable but also havers. The truth is that any coach of our national team is doing well to hold to the middle ground. We may beat anyone on our day – New Zealand eventually, Ireland some time. The structure of our game is weak, and there is little sign of it getting stronger. Any win against the higher ranked teams is a win against the odds. Ireland's development of young players is streets ahead of ours. There are signs that Italy, after 20 years of wooden spoons, is now managing youth development better than the SRU.
None of this means we or indeed Gregor Townsend should be content with coming third in the Six Nations, but it does mean that we can't reasonably be expected to do better. Hope, yes of course; expectation, no.