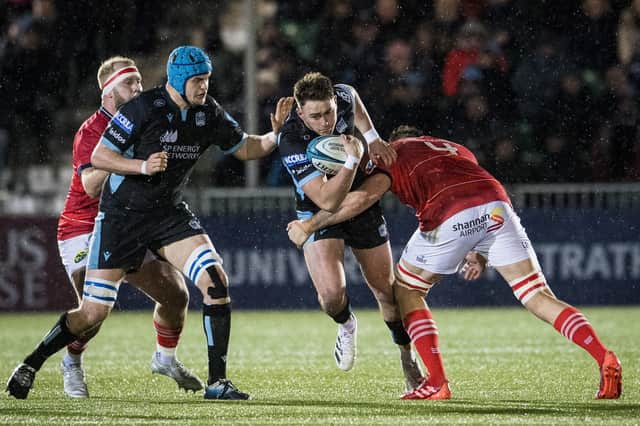 They won their semi-final in Wales, but will surely be happy that this URC quarter-final hasn't sent them across the Irish sea to Munster's Limerick stronghold. Admittedly they won a league match there a few weeks ago, giving a superb display in the first-half, but cup ties are different and Munster have been a great record in knock-out matches. It's true that Munster today are not quite the Munster of Ronan O'Gara, Peter Stringer, Paul O'Connell, Donncha O'Callaghan and Alan Quinlan, but they are still to be viewed with wary respect.
There were, if one is honest, no lusty cheers when Franco Smith was named as Glasgow's new coach last summer. Many had hoped for a more glamourous name. But those who grumbled have stayed to cheer. His Glasgow team have not only been playing with splendid flair; they have also been pretty good in defence – and, as Smith himself has more or less said this week, you can play all sorts of pretty rugby and score some lovely tries, but success is built on a sound defence.
Looking at the players at his disposal, you may say that any coach should have done well. He can after all field a team with an international player in every position. But it's not so straightforward. Anyway coaches of many big clubs can do that too; yet don't pick up trophies.
Jim Greenwood in his standard rugby text said that selection was the most difficult and most important of a coach's jobs. Not all coaches will think alike. So, for instance, Franco Smith has repeatedly preferred George Horne to Ali Price at scrum-half (and has done so again today), while Gregor Townsend still prefers Ali Price, and other Glasgow coaches have seen Horne's role as a finisher. All a matter of opinion, but one can at least say that Horne has justified Smith's faith in him, has been justified while Price, as a thorough pro, has done well when coming on in the last quarter of a match.
Then suppose there had been a Lions tour this summer. I guess it's odds-on that Huw Jones would have been one of the two outside centres selected, probably after Ireland's Garry Ringrose. But in the Challenge Cup semi-final last week and at Scotstoun today, Smith has gone for Stafford McDowall with Jones on the bench. Well, McDowall has been playing very well. He may lack Jones's lightning acceleration or his eye for an opportunity, but he is a big powerful player who breaks tackles, defends admirably and kicks well from the left foot. If Finn Russell was at fly-half, I would certainly want to have Jones to run off him in the centre, but Finn doesn't play for Glasgow,
I guess Smith may have spent some time before deciding on his back-row for toda,. The temptation to start with the powerful Sione Vialanu in order to try to achieve physical supremacy in the early stages must have been strong. Instead he has opted for a back-row of Jack Dempsey flanked by Rory Darge on the openside and Matt Fagerson on the blind, and that is certainly a line-up that one wouldn't be surprised to see in the Scotland team in at least one of their World Cup matches.
Smith has again gone for a 6-2 split on the bench. This is a bit risky, especially since with referees now dishing our yellow and red cards for what seem to many legitimate and not very dangerous challenges for a high ball, a coach may well find himself without a wing three-quarter or full back for a fair chunk of a match.
Still, it ought to be quite a game. Everyone has respected Munster for years, respected and in knock-out matches feared them. But Franco Smith's Glasgow have earned respect too. They have the all-round ability – power, pace, good hands, a sense of adventure and intelligence – to beat anyone except perhaps Leinster in the league. I think their best may now be better than Munster's best, but they will still have to be very good indeed to win.