Glasgow Warrior steel themselves for ultimate Stormers test - just don't mention weather to Sintu Manjezi
A first away win over the season, two European victories, two triumphs over Edinburgh and a bit of silverware with the 1872 Cup in the satchel. No wonder Glasgow Warriors were given a few days off at New Year as a reward for their fine work in December.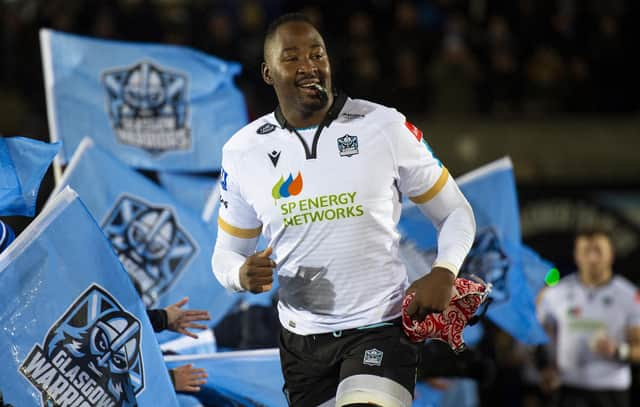 Franco Smith's team are on a roll. They have won their past five matches and are playing some attractive, attacking rugby. The South African head coach arrived late into pre-season but the players are picking up his methods. Friday night's 32-25 scalping of Edinburgh in the capital at BT Murrayfield was evidence of the progress they are making. However, their credentials will be given the sternest of examinations this weekend when they welcome Stormers, the current URC champions from South Africa, to Scotstoun on Sunday.
Sintu Manjezi, Glasgow's hulking second row, knows all about the men from Cape Town, given he is South AfricaN and has played against them on numerous occasions. He believes Glasgow are capable of keeping the winning run going but knows they will have to be at their very best.
"Stormers as the defending champions is going to be a big one for us," said the 27-year-old. "I played against them a few times from my time back in South Africa and I know a few of the guys there from playing at Cheetahs and Bulls. So I'm looking forward to it. Stormers execute well in the opposition 22. They have one strike and normally score a try from that And they can create from anywhere. They have a lot of ball players and guys who like to thrive off scraps. So that's what they will bring.
"South African teams are usually pretty physical but don't play down the Scottish derby and how much the guys went at it here. I was a little bit surprised about the physicality in that game. Edinburgh really brought it to us. We were able to break them down in the second half of both games but it was really physical in the first half especially. So if we can handle that then hopefully it stands us in good stead for Stormers.
"We're confident in our own capacity and what we're able to do. If we can really execute what we're good at it should be a good encounter. It's going to be special to take on the defending champions but more importantly we're back at home. We really enjoy playing in front of our own fans. They really do give us an edge."
Manjezi joined Warriors this summer and is enjoying life in Glasgow – "they didn't write this in the contract, though," he smiled when talking about the recent cold weather. He feels the team is evolving steadily under Smith and explained the methodical approach they are taking under him.
"Franco came in a bit late so it took some time to get everything going," continued Manjezi. "But for everyone who gets an opportunity to play, we know that we're doing it also for all those who aren't out there. You have a responsibility in the jersey. And that means a lot. That's the culture that Franco has instilled in us. When you're out on the field give it you're all as there's someone sitting at home wishing they were playing.
"We want to be confident in our own capacity but take it week and week. The belief we have as a team is that we can play in finals and do well there but that's a long-term goal. It's about processes and executing every week so that when that time comes it's a build-up of consecutive wins or good performances and then the results will take care of themselves."