Fraser Brown: South Africa putting seven forwards on the bench is quite brazen - they're basically saying, 'we're going to put on a brand new pack of forwards and destroy you'
I'm sure Gregor Townsend would have been frustrated with aspects of Scotland's first-half performance against Georgia on Saturday, but he'll have been pleased with his team's ability to go through the gears after half-time and put in a much more clinical performance to score five tries and round off their World Cup warm-up programme with a 33-6 win.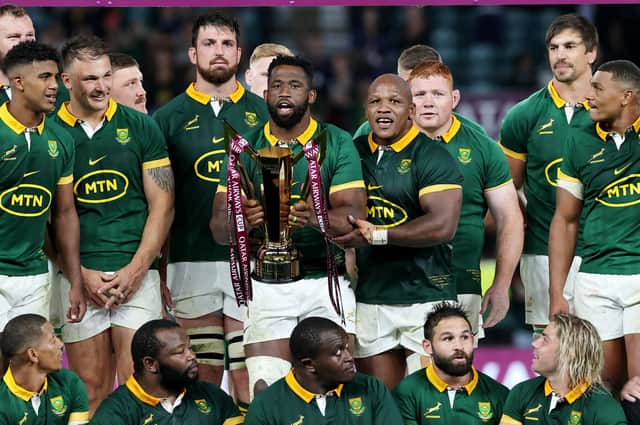 The gap in modern Test rugby has closed and no side can afford to play in second gear, and credit must go to Georgia who played in the right areas of the pitch in the first half. At times it felt like Scotland looked for width too early in that opening 40 and the Georgian defence contained them pretty well, bulldozing Duhan van der Merwe's runs aside. It's the old adage – you've got to earn the right to go wide, and Scotland never really tied in the Georgian midfield enough or trapped Georgia's forwards on one side of the pitch to really narrow up their defence. The second half was much better. Scotland used the forwards to better effect and utilised Finn Russell's wide passing game, allowing Jack Dempsey, Sione Tuipulotu and Huw Jones to carry in midfield and ask more challenging questions on the defence.
It's important to note the difference between this game and the previous warm-ups matches, against Italy (at home) and France (home and away). The first three were an opportunity to win selection for the World Cup squad, whereas everyone who played Georgia at the weekend had already been picked. It doesn't significantly change your mindset but for players, fans and coaches alike there's an element of 'just get through this match'. Many players were still attempting to cement a starting spot or force their way onto the bench for the World Cup opener against South Africa in Marseille a week on Sunday so there was still a lot at stake but there is always that fear in the back of your mind, a desperation to get through the game unscathed and get on the plane to France.
I thought Georgia provided a decent test for Scotland up front and I thought we scrummed well, particularly Jamie Bhatti. Across the four games, I think he's been scrummaging the best of the three looseheads. He's certainly the most aggressive loosehead scrummager Scotland have. It was a good opportunity for Jamie to show his credentials going into the South Africa game. In my mind, he's played his way into the 23, edging out Rory Sutherland for a place on the bench, with Pierre Schoeman set to start. Jamie was brilliant for the entirety of last season, playing more rugby than he's probably ever done. I've scrummed with him a lot, and I've also scrummed a lot with Schoemy and Rory and all three are excellent but Jamie has really progressed over the last 12 months.
I think Pierre will start against South Africa because of what he offers around the pitch, both with his ball-carrying and defensively. The front row of Pierre, George Turner and Zander Fagerson have played a lot of rugby together and the scrum functioned really well during the Six Nations and, before that, in the autumn. But for my money, Jamie Bhatti has grabbed his opportunity and is in possession of the No 17 shirt for the South Africa game.
South Africa's 35-7 win over New Zealand at Twickenham on Friday night was a stunning result, a statement of absolute power. You know what's coming with the Boks. They went with a 7-1 split of forwards and backs on the bench against the All Blacks and they brought on all seven at the same time. There is no secret to how they are looking to play especially with the forward power on the bench but it's one thing knowing what's coming, quite another to stop it. For me, you pick your best technical players up front, and that's your best scrummaging props, your best technical hookers and your best scrummaging, lineout defending and ball-winning second rows. I've never seen a 7-1 split on the bench before in professional rugby. I've seen it in club rugby when there are literally no backs left! At Glasgow we went almost the entire season with a 6-2 bench split, but South Africa might have given Franco Smith a new idea!
With Canan Moodie able to play at outside centre and Cobus Reinach covering nine and wing, South Africa have so much versatility in their backline. They can gamble and have just one back on the bench. And I'm sure some of their back-rowers could slot into the backline if required. Putting seven forwards on the bench is quite a statement and I don't think it's the last time we'll see it. It's quite brazen. They're basically saying, 'we're going to put on a brand new pack of forwards and destroy you'.
In a Test week you tend to train with the guys you're playing alongside. The team's picked on a Tuesday and the main training days will be Tuesday/Wednesday or Tuesday/Thursday. There isn't that much time to swap in and out and build cohesion and so around 80 per cent of training will be with the players who you start alongside or sit on the bench with. If you then start changing the team one at a time during the game you can lose some of the cohesion. If you bring on all seven forwards off the bench at the same time then you know that they've been training together all week so they already have that cohesiveness. It's not just about the psychology of bringing on an entire new pack, it's the practical benefits too.
Moodie's emergence at 13 chimes with the development of South Africa's game we've seen over the past 18 months. They've always had electrifying wingers and then this solidity at 10, 12 and 13. They still have that but now they also have the ability to bring in guys like Moodie at 13 who have that little bit of X-factor.
I think Gregor will have a pretty definite idea of his starting XV for the World Cup opener but he may still have a few decisions to make on the make-up of his bench. Selection around hooker will be interesting. I thought Dave Cherry was solid against Georgia, he worked hard and his scrum and lineout work was good, but I felt Ewan Ashman added a different dimension when he came on in the second half. He's a good ball carrier and has that ability to twist in the tackle and get offloads away, keeping the ball alive. He also works hard in defence, and I thought his lineouts were good. Scotland were brave with their calls to the tail and he executed them well. So I think Ashy probably stuck his hand up to take that bench slot although it'll be a close call because South Africa will be a huge challenge at set-piece.
Jack Dempsey again put in a huge performance with ball in hand and solidified his claim to be the starting No 8. He offers something different to the other back-rowers with his explosive carrying, that ability to accelerate through contact, spin out and hand off. He gives Scotland that punch and go-forward that they have missed in years gone by. Matt Fagerson was also good when he came on and carried well but Jack just seems to have that little bit of X-factor with his dynamism. The back row of Jamie Ritchie, Rory Darge and Dempsey maybe didn't stand out as much as they did in the previous match against France but I think they work really well together and I'm sure they'll start against South Africa. The backline probably picks itself from nine to 12 and there will be a tough call on which winger misses out on the starting 15.
I thought Ollie Smith played well at full-back, in fact the whole back three played well. Van der Merwe can drift in and out of games but when he's on it he can beat six or seven defenders and make 120 metres off of four or five carries. Kyle Steyn played well again, really solid, and that was his ninth Scotland try in 13 Tests. All three wingers – Duhan, Darcy and Kyle – have been prolific, although I'm sure there are a few Scottish wingers from times gone by who wish they'd been playing with Finn at 10.
Ben Healy did well when he came on, too. There is a lot of pressure on Finn because so much of Scotland's attacking game-plan revolves around him. Ben's a different type of 10. He doesn't have the passing range or perhaps the gainline threat of Finn (who does?) but he kicks and controls the game well and I thought his kicking at the weekend was excellent. Ben was always looking to find these little attacking options in behind Georgia, creating some space for the wingers.
Comments
 0 comments
Want to join the conversation? Please or to comment on this article.