Fraser Brown: Scotland's fitness levels are excellent but breakdown needs work and South Africa will target the scrum
I'm not a good watcher of matches involving teams I am or have been part of in the recent past. I find it hard to enjoy the game as the spectacle is lost on me a little as I inevitably become fixated on the little things that aren't going as planned or the areas which I know were a focal point during the week.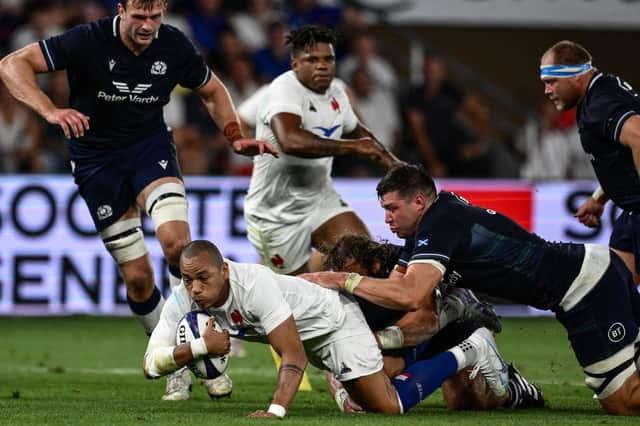 Saturday night was no different and I definitely felt an element of frustration as Scotland were pipped by Thomas Ramos' late penalty in Saint-Etienne after working so hard to get back on level terms against France. But a good night's sleep (more difficult than you can imagine with two toddlers in the house) helped me reflect on what ended up being a pretty positive performance from a Scottish perspective and gave me renewed confidence that this squad is building nicely in form and fitness, towards a monumental clash with South Africa in Scotland's World Cup opener next month.
The tone was set from the first lineout. A brave call to the tail of the lineout and excellent execution immediately got Scotland onto the front foot and allowed them to play with width and tempo straight from their first possession. It is a clear game plan from Scotland to get the ball into the wide channels as efficiently and quickly as possible. They possess such an attacking threat with the back three at their disposal that if they can get it wide fast then they are a real threat for any defence. Finn is key to this at first receiver. He has an unbelievable flat, fizzed pass which cuts out the entire midfield defence, allowing Scotland to get the ball into the wide channels as early as possible to give their dangermen as much time and possession to create one-on-ones.
From a lineout point of view I thought Scotland's drill was excellent. There were two that went against them towards the end of the game, one which was certainly a communication mix-up and the other where they were unfortunate not to win a penalty for contact in the air.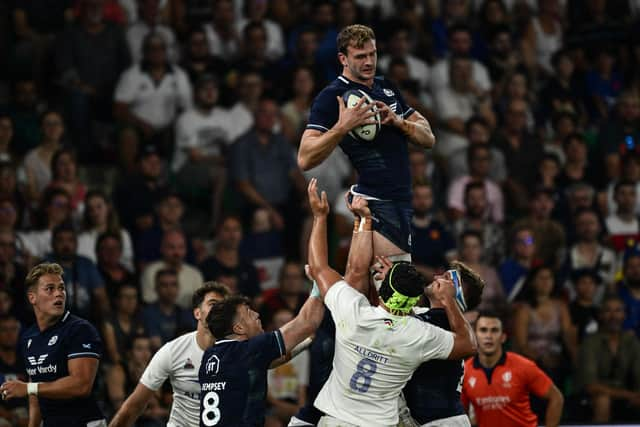 Scrum time was not quite as assured. France possesses some extremely large and powerful men, and at times Scotland looked a little under pressure. I've no doubt that's where South Africa will target Scotland on September 10, but particularly in the second half when their bench comes on. It has been one of their main strengths over the last four years or so, the power they have on the bench in the front five and how they go about exerting pressure through set-piece dominance to close out games. It is not just the sheer size of their forwards that allows them to do this but, perhaps unlike France who can be very individual at times, South Africa have always managed to harness that size, strength and individual talent and create a powerful, organised unit. It might not sound all that difficult but ask any front-rower about the challenge they have getting their backrows to push at scrum time!
The biggest area for concern over the last two weekends for Scotland will be their own breakdown. For Scotland to play at their best, they need quick ball, and they need to look after it deep into the phase count. France, South Africa, and Ireland are the top teams in the world defensively at the breakdown and all three know the way to stop Scotland's threat with the ball is to slow them at the breakdown and starve them of ball. On the front foot Scotland have players like Jack Dempsey (who was excellent on Saturday night) Rory Darge, George Turner, Zander Fagerson and Pierre Schoeman in the forwards who can all get over the gainline with ball in hand and create rapid ball which then allows the gamebreakers in the backline time and space. However, if Scotland's ruck speed slows then even their best carriers struggle to blast through organised defences and Scotland's attack start to look a little blunt.
What I was most impressed by on Saturday night were the fitness levels of the whole Scotland squad. A lot was said four years ago when Scotland thought they were one of the fittest teams in the world. I was there and it was spoken about almost every day in training but when it came to the first warm-up game against France and the first game of the 2019 World Cup against Ireland in Japan, we just didn't look 'contact conditioned'. There was a lot of running during that pre-season and when we got round to the business end of the summer as a squad, we just weren't where we should have been when it came to contact. On Saturday, Scotland looked excellent. They looked stronger and stronger as the game went on. A lot of credit must go not only to the coaches and the players, but to Stuart Yule (Scotland's Head of Strength & Conditioning) and his team who have got the squad to a place where they still look powerful and fit deep into a top class Test match.
Even after all the positives from Saturday, the ten minutes after half-time will be of concern to everyone involved in the squad. Conceding two tries in quick succession after the restart will be alarming and although Scotland did incredibly well to come back into the match and get it back to 27-27, Scotland can't afford to have a soft 10-15 minutes where the game can get away from them.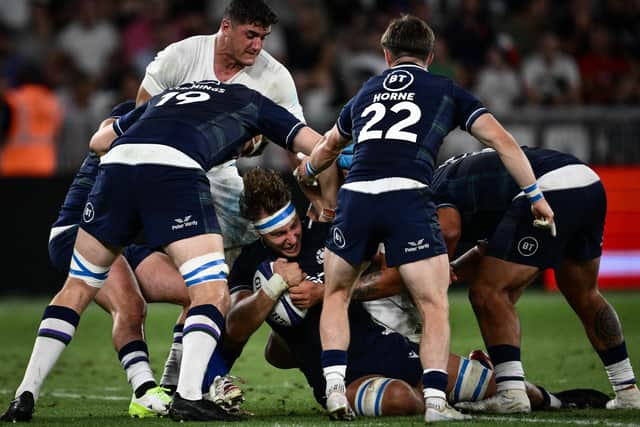 How do they do this? Better discipline is one obvious answer (I would know, I've given away a few during my career) - Scotland conceded nine penalties in the opening half hour. It's easy to say but more difficult to do when you are under extreme pressure. The Ali Price yellow card for tackling Antoine Dupont after not retreating at the penalty was probably the correct decision and it put Scotland under pressure at the end of the first half which continued into the early part of the second.
Some of the other penalty decisions were more questionable. Grant Gilchrist got done for coming in early at a maul which felt a little harsh. From a maul defence perspective you want to be on the edge, particularly against the best teams. France are very powerful up front, South Africa are as well, and you don't want to allow them to get set into position and create pressure via their maul. The turnover Rory Darge was penalised for was also very harsh and just not consistent with jackal turnovers France were awarded with in the same game.
A lot comes down to the referee's interpretation. If you're defending for 25 minutes in the first half, it's perceived that you're under pressure and the 50-50 calls, particularly away from home, are probably going to go against you. Scotland probably just need to be a little more streetwise, and by that I mean that if you have been on the back foot with the referee for five to ten minutes then maybe it's worth looking at not competing quite so hard at the breakdown and making sure there are no 50-50 calls to make.
It's still very early into Jamie Ritchie's captaincy, and I think when you're under pressure, as Scotland were at times, you tend to feel you have to keep on having conversations with the ref because you are trying to change the narrative. I've been guilty of doing that when I've been captain. But sometimes you can change the narrative by not saying anything at all, and just letting the referee go about his business, because if you are constantly in his ear he can become a little fed up. Having said that, when he came out for the second half I thought Nic Berry was a lot more balanced. I don't know whether he reflected with his team at the interval and maybe felt he'd been a little harsh on Scotland with some of those 50-50 calls. It's a difficult job but I thought he was a lot more balanced in the second half and that's credit to him for addressing that.
Comments
 0 comments
Want to join the conversation? Please or to comment on this article.