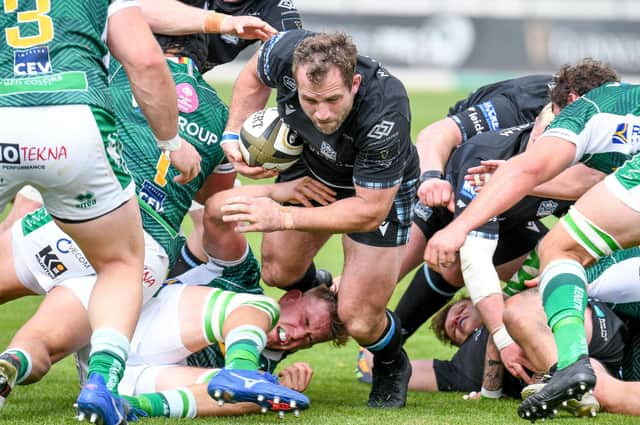 Fraser Brown tries to find a way through for Glasgow Warriors against Benetton at the Stadio Comunale Di Monigo. Picture: Ettore Griffoni/LiveMedia/Shutterstock
Head coach Danny Wilson had opted for a strong and experienced starting line-up for this Rainbow Cup match, against a side that had failed to win a single one of their 16 games in the Pro14. So, in the normal course of things, the Warriors should have won with something to spare. Instead, they ambled their way aimlessly through much of a performance that co-captain Brown had no hesitation in labelling the worst he had been part of in his eight years with the team.
"That was a pretty lamentable, embarrassing performance," Brown said after the six-tries-to-three loss at the Stadio Monigo in Treviso. "It's the most embarrassing performance I've ever been involved in with Glasgow
"Unacceptable is putting it lightly. That was an embarrassment and we've let people down - other guys in the changing room, the coaching staff, guys who are back home and our supporters and families.
"I can't emphasise enough how gutting it is for everyone to know that that's what we've done. But we can't dwell on that. We've got to attack it as professionals and find solutions, and make sure that when we come back into training that we don't forget about this.
"This is a marker for us. This is what has to push us on for the rest of the season and into next season as well."
Benetton were 21-0 up at the break, and 38-0 ahead by the time the Warriors finally got points on the board thanks to a try by full-back Cole Forbes - one of the few Glasgow players who appeared eager to make a game of it. Further tries from Nick Grigg and Ian Keatley, who converted two, gave the final score a mildly less calamitous look, but that was no consolation to Brown.
"I just thought we were lazy, to be honest," the forward continued. "We didn't work hard enough off the ball to try to get into our shape to stress them.
"In the brief moments that we kept our shape we worked hard together. We created opportunities for ourselves. It's difficult, because they just out-enthused us, especially in that first half-hour."
The one moment where things might have turned out differently for Glasgow came at 24-0, when Forbes touched down at the end of a break. Five or seven points then might just have sparked the visitors into life, but the score was chalked off after Benetton used their captain's challenge and it was decided that Sam Johnson had committed an offence in the build-up.
A minute later Benetton scored their fourth try off a lineout after sending the penalty to touch, and what might have been a 24-7 deficit became 31-0. "That was a bit of a sucker punch," Brown said. "You can't deny the significance of a 14-point swing in such a short period of time."
You would still bet on Glasgow being competitive in their next match, the 1872 Cup decider against Edinburgh a week on Friday. But being competitive in some games and not in others should not be an option for a professional team, and until the Warriors embark on a consistent run of form, serious questions will remain about the direction in which they are going.