The French side raced into a 21-0 lead after 24 minutes in Dublin and went on to win 43-19, outscoring the Warriors by six tries to three. Smith said he would speak to the players about the sluggish opening which ultimately cost them the match. "It was surprising because mentally I think we were in a good place," said the Glasgow coach. "The first try, Baptiste Serin put that little grubber through and we always knew they were going to score one try from his brilliance and they did. That can happen. The next two, we were inaccurate at the lineout and handed them two tries. So, after 20 minutes we were chasing a 21-0 scoreline in a final and it's not easy. That's a lesson learned – we gave them two chances and they took them both."
The fact that two of Toulon's first-half tries came from Glasgow overthrows at their lineout raised questions about Smith's decision not to pick Richie Gray, who has been a totem in the lineout for club and country this season. Gray was left on the bench until the 66th minute, with JP du Preez preferred as Scott Cummings' partner in the second row.
"Everyone's got an opinion on that," said Smith. "I could have picked 15 other guys and everyone would have been complaining. I made the decision with the information I had. I think the players we picked deserved the opportunity. I think it's unfair to say we've picked the wrong team."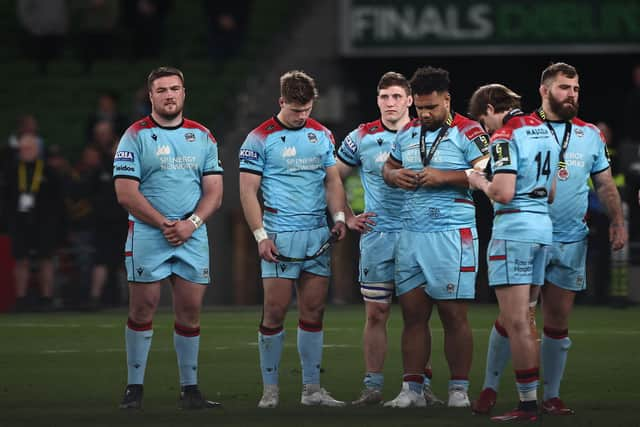 George Turner, Scotland's first-choice hooker, was another surprising omission, left out of the match-day 23 entirely. Fraser Brown started at No 2 for Glasgow, with Johnny Matthews replacing him in the second half, and both were guilty of overcooking their throws as the Warriors struggled in the lineout.
Smith, in his first season in charge, believes Glasgow can learn from the experience of their first European final and he was also generous in his praise of Toulon, and in particular their Italian warrior Sergio Parisse, who at 39 turned in a compelling performance as he prepares to bow out of the game. Smith is a former team-mate of Parisse's and played alongside him for Benetton when the Italian was a teenager making his European debut, in 2002 against Castres.
"He's not a young man any more! I'm really proud to have been involved with him," said Smith. "I was involved in his debut season, I think it was 2002, with Benetton. He was a 19-year-old chap, a young exciting guy, full of skill, like he is now, although he was a little bit more reckless with it, I suppose. He's nurtured and challenged himself and looked after his body so well that 20 years later [he can enjoy nights] like tonight. What a gentleman. We had a quick word after the game. He's a very important cog in the wheel at Toulon and he made a difference with his presence, his organisation of the lineouts.
"He is a fantastic man. I've always said good people make good players and he is a classic example of that. He can be proud he gave it his all and what a way to say goodbye to rugby. The ovation he got was fantastic - the world of rugby applauded him. But also to take away a win in the Challenge Cup final was very important and I'm really happy with him."