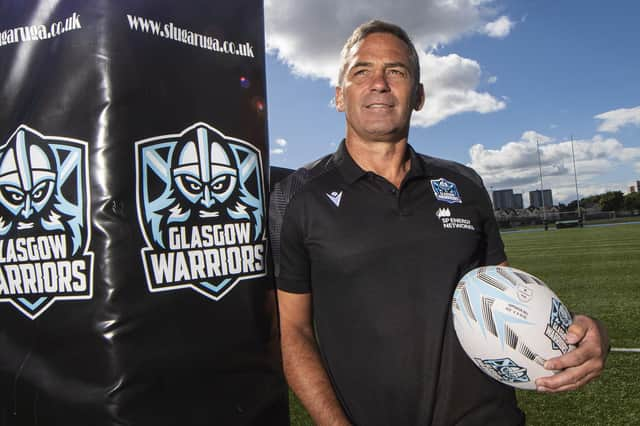 Each of us sees things differently. The signals sent from eyes to brain are not the same. One person's suggestion of a convincing lookalike will have another person thinking they must be drunk. So I'm apprehensive about asking Franco Smith if he's ever been mistaken for Clooney but, what the heck …
"Yes, it's happened," he says. "In Italy, people said I looked like him. At my old club Treviso, which is near Venice where there's the film festival, and in Rome when I coached the Italian national team. But you're the first person to say it in Scotland."
I don't get the impression Smith, now in charge of Glasgow Warriors, will have dined out on the similarity. In fact, it's probably embarrassed him. This is not a man who's in rugby for the glory the sport might bring him, rather for the greater glory.
Next Friday, as decided by the fixtures computer, he returns to Treviso with his new charges for their opening fixture in the URC. "It's been scripted," he says. The Warriors will not want to embarrass him or indeed themselves, particularly after the 76-14 annihilation which ended last season and also the stewardship of Smith's predecessor. And they will know a good deal already of what he expects of them.
7am starts, anyone? Smith's first reported move - in reality that was probably saying hello to the players - prompted gasps from commentators and, out on the training pitch and in the gym, doubtless much wheezing. "But I never actually heard the guys complaining," he smiles.
When Smith, explaining his reasoning for the crack-of-dawn crack of the whip, said he hoped the sessions would be especially useful for the "Cheese Puffs squad", there was much laughter and possibly a wry grin from Kris Boyd. At Rangers, when Paul Le Guen bemoaned the snacking tendencies of his footballers, Boydy and his fondness for Monster Munch took most of the rap. At last! The weakness for corn-based nibbles of other sportsmen had been exposed!
But, much as the South African's no-nonsense attitude has been a gift for headline writers, it's not the most interesting thing about him. Smith, 50, is a committed Christian. Three days ago he moved into his new Glasgow home. Earlier today he sorted himself out with a car. Next up will be to find a church.
We get talking about his faith following on from discussion about a quite extraordinary game during his career as a Springbok - the "Battle of Pretoria" against Ireland in June, 1998. Retrieve highlights from YouTube and you're confronted by the big, exclamation-mark warning: "This video may be inappropriate for some users." What follows is almost medieval. Or cartoonesque, with fists and feet protruding from a chaotic cluster of pumped-up players as it trundles around the pitch. This was not a match of random, isolated slugging but one long and constant flashpoint.
"I didn't throw a punch that I can remember," laughs Smith, the stand off that day alongside Joost van der Westhuizen. "We played Ireland the week before and there was a lot of banter in the lead-up, how they were going to be more physical next time. They had a lock who was quite provocative and we had guys like James Dalton and Krynauw Otto who, how can I say, were pretty handy. The Irish tried to intimidate us but the reaction they got was typically South African. The Springboks will always stand up to you.
"Afterwards, of course, the teams shared beers together. That's the beauty of rugby and what makes it different from other sports. No hard feelings. There were no TMOs back then, or cameras everywhere. It was just a tough game."
How, though, can he square his faith with rugby when it's this violent and a hulking front row is repeatedly biffing thy fellow prop on the side of the head? "I think that's the wrong perspective," he says. "This is a sport that will be played in heaven. There are fat guys, tall guys, short guys, fast guys and guys with great skill. Rugby represents the whole population.
"From my perspective, the ball is faith, something to be shared. You give the ball to somebody else who's in a good position to score a try. In a similar way, you help a person grow. Rugby provides me with the opportunity to try to be a good influence on players and how they live their lives."
Delve deeper into the YouTube clips and Smith can be found back in Bloemfontein in conversation with his brother MJ where he explains: "I'm in rugby not for what I can get but what I can give." At that moment he was head coach of Italy who didn't win a Six Nations game under his command. Failure? Not if he was successful in improving his players as men, in the way they treated their wives and children - important stuff which never shows up in rugby's stats.
Expanding on the theme today, he adds: "I want to be measured by significance rather than success. Being popular, winning - the feelings you get from them are short-lived." For some, this will sound fine and noble - and hopelessly idealistic. With every respect to the Azzurri, the expectation of, and demands for, a successful team at Scotstoun are greater. Maybe the demands on the Warriors are not as great as in football at a club like Chelsea who can, so early in a new season, ruthlessly dispose of the manager who turned them into world champs. But they do exist and the club will not want, or you imagine tolerate, another dismal campaign like last time.
How, then, does he square the need to win with the desire to influence and improve his flock, off the field as much as on it? These are not, he says, mutually exclusive and while he accepts that if he loses his job he no longer has a pulpit, Smith insists: "In the last hour of my life I will know I've given everything. Trophies won't count at all. Players' growth, how they've developed, lives being changed, the right path - these will be the important things."
Smith was born in the diamond mining town of Lichtenburg, the son of two school-teachers who ended up being taught by both of them - "not an ideal situation!" he laughs. His father was also a rugby coach who in 1983 visited all the HQs of what was then the Five Nations, returning from Murrayfield with a Scotland shirt for the lad, who would begin his career with the Free State Cheetahs. He would return there later as coach, just as he would with Treviso.
Loyalty, he says, is important to him. So is family. "My father didn't accept promotions because he put family first and I've learned that from him." In '83, of course, South Africa was ostracised by the apartheid boycott. "We grew up with door closed on our country. In the naivety of our people at that time we just thought that was the way the world worked and we were not going to ever be part of it. Later I came to realise that [apartheid] was absolutely a mistake and absolutely against the way I viewed life."
Television pictures of the Five Nations and the voice of Bill McLaren offered a tantalising, almost taunting, glimpse of rugby as it existed on the outside. Smith was desperate to play in the great citadels but until apartheid ended this seemed like a dream destined to be dashed. In December, 1997, though, he was selected for the Springboks for the first time - at Murrayfield.
You thrashed us, I mutter. "It was a beautiful day," he says of the 68-10 victory. Percy Montgomery ran riot, James Small broke a try-scoring record - and Smith plunged for the line for the final score. "Did that actually happen? And with Bill commentating? It was only in the beautiful Murrayfield bath afterwards, drinking our beers, that I realised it had done.
"In my little museum I have a photograph from The Scotsman of my try, so thanks for that."
Perhaps because he used to hang on McLaren's every word, Smith is a traditionalist and says: "I didn't want rugby to stop using a leather ball, or change from cotton jerseys, so I don't think I want South Africa to join the Six Nations." He would collect eight further caps, helping the Springboks to 96 points against Wales and back-to-back wins over New Zealand. He would like it to have been more but injuries and the fact that as an all-rounder across the back line he was a good man for the bench limited his opportunities.
As a coach he's followed his father's example, family first, so his sons Franco Jr and John could attend a good rugby school which has propelled them into their own careers in the game. Then there was the time he chose the Cheetahs over a position with the Springboks so he could stay close to his Bloemfontein home. What happened? His country went on to be crowned 2019 world champs. "I had no envy about that, only pride. We make our choices in life and for me that was the right one."
Smith has left his wife Tanya and daughter Cara behind in Italy so Friday will also be a family reunion for the man whose last job was developing young talent for the Azzurri. While declining to take credit for the national team's standout result of recent years when they beat Wales in Cardiff back in March, he says that the next-gen bright sparks can be the vibrant components in the side for the next decade.
From that gift of a dark blue shirt to his debut try, Smith's arrival in Scotland might have been predestined. He's certainly thrilled to be here and already has been impressed, though not surprised, by the care and love of the rugby community and how it wraps itself around stricken heroes such as Doddie Weir, Scott Hastings and the late Tom Smith. New coaches need time, such a precious and slippery commodity nowadays. He pitched up late, which may explain those 7am starts, but won't be using that as any kind of excuse. "We want to hit the ground running," he says, "and see if we can find a way up the mountain."
The message on the whiteboard behind Smith is "Battle talk", but the conversation today has been of a different order. His players have been made aware of his faith and know of its importance to him. "I've told them I'm a Christian but what they make of that doesn't matter. All I need is for them to understand why I do what I do. I'm not in rugby to please people or impress them. I don't want fame and I don't want money. I'm doing this for God's glory."