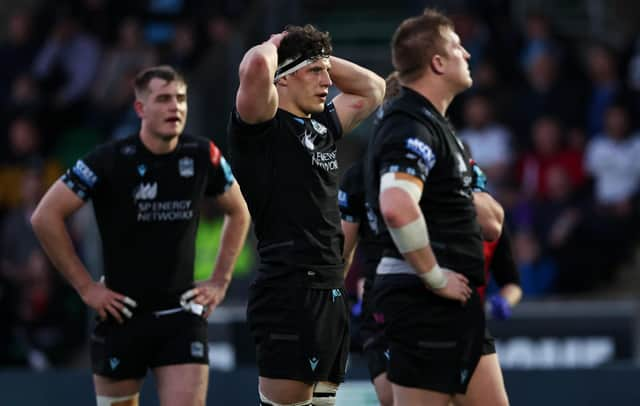 Glasgow had stand-off Tom Jordan sent off in the first half but the Warriors coach felt his side's inability to convert their early chances was more damaging. Munster will now play Leinster in the semi-finals in Dublin on Saturday. Glasgow will have a free weekend to prepare for the European Challenge Cup final against Toulon on May 19, also in Dublin.
They are set to be without Jordan for the match against the French side, with the fly-half likely to be suspended following his red card for a high tackle on Conor Murray. Sione Tuipulotu, the Glasgow centre, was yellow carded near the end, also for a high tackle.
"In the first 25 minutes we were all over them but couldn't convert that into points, which was the biggest disappointment of the evening for me," said Smith. "The rest was well handled. We ended up defending a lot at the end of the second half and we actually won that second part of the game 5-0 with 14 players on the field and 13 for the last five minutes. So, great character was shown from the team and that's what we're about. Yes, we're disappointed because we all wanted to win this competition, we all wanted to play Leinster next week, but the fact that even in the 79th minute with so many defensive sets on our try-line and we didn't give away any points is phenomenal. The worst thing is that we lost at Scotstoun."
It was Glasgow's first loss at home since January 2022, a run of 17 undefeated matches. Smith had no complaints about Jordan's red card. "It is what it is," he said. "There was contact to the head – foul play – we've seen this type of situation many times now, so when it happened it was clear from our side that it would probably be a red. I don't think it was a turning point. The turning point was that we didn't take away points in the first 25 minutes. It looked like we were going to dominate them but we just didn't convert the points.
"I will add that Munster defended our set-piece very well tonight, which was class from that regard because most other teams succumb to the pressure we've applied there all season. From that point of view, they merit the win."
Smith said he hoped any suspension for Jordan would be measured in weeks rather than games, and that he might still be available for the Toulon final. "Hopefully it will only be a one week suspension and he might be available for the week after," said the coach.