The Scots travel to a sold-out Kingston Park in Newcastle to take on the world number one side in their TikTok Women's Six Nations opener on Saturday missing the likes of experienced campaigners Lisa Cockburn, Molly Wright, Sarah Bonar, Emma Wassell, Jade Konkel-Roberts (injury) and Lisa Thomson and Rhona Lloyd (with GB Sevens).
Young talent Shona Campbell is also with GB Sevens while Hannah Smith and Megan Gaffney have retired since the Rugby World Cup in New Zealand late last year. That means there are plenty of opportunities for new faces to make their mark - and the newest of them all is Watsonians winger McGhie.
She only took up the sport in 2018 in her home county of East Lothian, but she has made quite an impact at club level since then and is now making the step up.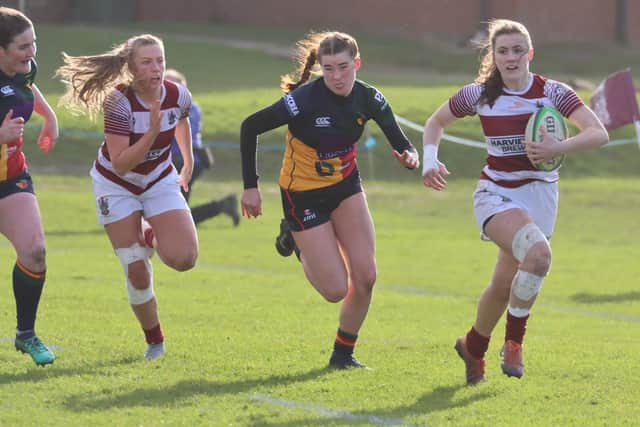 "Fran is fearless and will bring excitement," Easson said. "She has a lot of pace, she is quite new to th e game, but she was involved in our [Scottish Rugby] pathway set-up last year and she then scored five tries for the Thistles in the recent Celtic Challenge competition [the tournament which aims to bridge the gap between club and international rugby].
"She is really good on the edge, give her an inch on the outside and she'll show people what she is all about. We don't want to build it [her first cap] up too much, but she has youthful enthusiasm and is quite a chilled individual.
"I spent a bit of time with her on Thursday morning just asking her how she was feeling and she was quite relaxed. She doesn't look as if it is her first cap, we are excited to see how she gets on."
In total there are eight changes to the starting XV from the one that played against New Zealand in the last pool game at the World Cup in Whangarei in late October. As well as McGhie, full-back Chloe Rollie, winger Coreen Grant, centre Meryl Smith, loosehead prop Leah Bartlett, second-rows Lyndsay O'Donnell and Louise McMillan and No.8 Evie Gallagher all start. Beth Blacklock, a former England National Academy player, could debut from the bench at centre.
Easson said about the 25-year-old: "Beth has been around the English system previously and she now plays for Harlequins. She has been around that level [the Allianz Premier 15s] for a while and she has a bit of dynamism and ball call carrying ability which she can bring to the 12 channel if required."
Scotland, who have had 28 players contracted by the governing body since December, finished bottom of the Six Nations table last year after five defeats from five and, in total, they have lost their last nine Tests.
Women's rugby examinations do not come much tougher than England away - especially when you are missing key players and their co-captain Sarah Hunter is earning her 141st and final cap - so what is Easson hoping for?
"There is a blend of experience and youth in this squad and with some more experienced players missing it is a great opportunity to see what these younger ones are all about," he said.
Scotland: Chloe Rollie; Coreen Grant, Emma Orr, Meryl Smith, Francesca McGhie; Helen Nelson, Caity Mattinson; Leah Bartlett, Lana Skeldon, Christine Belisle, Lyndsay O'Donnell, Louise McMillan, Rachel Malcolm (C), Rachel McLachlan, Evie Gallagher. Subs: Jodie Rettie, Anne Young, Elliann Clarke, Eva Donaldson, Eilidh Sinclair, Mairi McDonald, Beth Blacklock, Lis Musgrove.