Ewan Ashman lit up my weekend but no room for Edinburgh's cavalier carelessness this time
Excellent try shows that the term 'hooker' is now become antiquated for rugby teams' No 2
For me the brightest moment in what was a mixed weekend for the Scottish pro clubs was Ewan Ashman's winning try for Edinburgh against against the Emirates Lions. He took the ball at speed some 20 yards out, deftly slipped it from one armpit to the other leaving his left arm free for a hand-off, and was over the try-line. It was a combination of skill and athleticism that any centre would have been proud of – but Ashman is of course a hooker.
Actually, that description is out of date because the one thing the man wearing the No 2 jersey rarely – if ever – does is hook the ball from the set scrum. He throws the ball into the line-out, joins the rolling maul and, more often than not, is the one who emerges from the maul to touch down for a score. Hookers now score more tries than many wing three-quarters, more certainly than centres. They're a different breed from the hookers of old whose greatest boast was the number of scrums won "against the head". To my mind the man who bridged the gap between the old-style hooker and moderns such as Ashman and his fellows was Hawick's Colin Deans, who captained Scotland in the first-ever World Cup in 1987, and then the first in the professional era to be the complete modern-style hooker – in the northern hemisphere at least – was Ireland's Keith Wood.
There was sadly more to irritate than delight last weekend. Glasgow lost to Connacht in Galway, despite fielding at least a dozen Scotland caps in the 80 minutes. Admittedly the Sportsground is a hard place to win and Connacht are a side very different from the old days when their main tactic was to have Eric Elwood boot the ball cloud-high while ferocious forwards followed the ball's eventual descent, and last Saturday they handled better than Glasgow and ran better lines too. Meanwhile, Glasgow missed tackles and their midfield backs were rightly punished for creeping offside, sent out wild passes or dropped passes well behind the gain-line. It was a sorry show even if Glasgow nevertheless contrived to score four tries, thus securing a bonus point which, one felt, they scarcely deserved.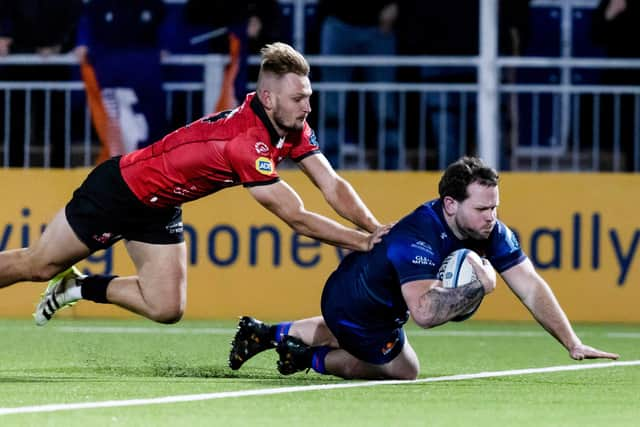 Edinburgh did manage to beat their South African opponents thanks to Ashman's converted try, but they made awfully hard work of it.There was some brilliant stuff in the first half, one lovely break by Mark Bennett recalling the form that made him such an exhilarating player a few years back before injuries upset his career, but even this came to nothing when he ignored support running free on his left. At other times wild or careless passes meant that golden opportunities were missed. Much was impressive in Edinburgh's first-half performance. Yet a game which should have been comfortably won was nearly let slip. That said, the Edinburgh back-row of Luke Crosbie, Hamish Watson and Bill Mata were in terrific form.
Edinburgh go to Dublin this afternoon, rarely a happy hunting-ground for them or, indeed, Glasgow. I haven't yet seen the Leinster team, but I guess that, though unlikely to be at its full strength with all World Cup stars back in action, it is likely to be a good deal stronger than the one Glasgow defeated a fortnight ago. Edinburgh have enough good players – enough Scotland ones indeed – to have a chance against anyone, but certainly cannot afford the cavalier carelessness that plagued them last week. You rarely make that many scoring chances against any Irish province – but especially Leinster.
One trust that Edinburgh will no longer spurn chances to kick penalty goals. The top four international teams rarely turns down a good chance of three points in the hope of getting five or seven. There are times when it makes sense to do so, but points put on the scoreboard put pressure on the opposition – and of course a drop goal also counts for three points. When a team has as good a defence as Leinster or indeed Ireland, it is difficult to score points by going through them or round their defence. So why not go over it with a drop and why spurn the good chance of three points from a penalty – especially early in the match?