European rugby's main tournament renamed Investec Champions Cup after five-year sponsorship deal agreed
European rugby's flagship tournament will be rebranded as the Investec Champions Cup after the international bank and wealth manager agreed a five-year sponsorship deal with the EPCR.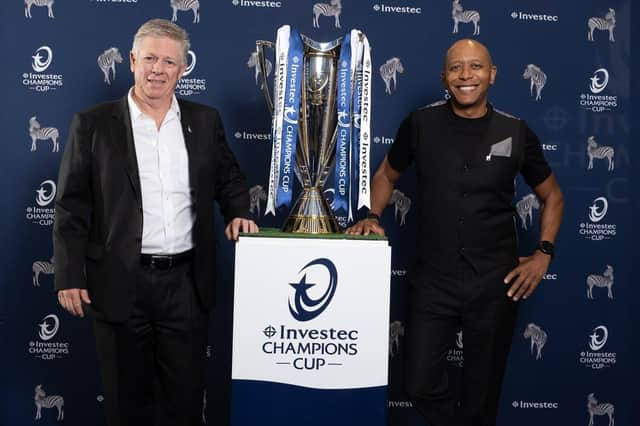 European Professional Club Rugby announced the new agreement on Thursday, with Investec taking over the title from Heineken. The partnership marks Investec's return to rugby and follows a long history of innovative sponsorships, including backing of England Rugby, Super Rugby Aotearoa, the Rugby Championship, and the Investec International Rugby Academy (South Africa).
In a statement, Investec and EPCR also committed to "progressing towards a carbon neutral tournament, advancing the women's game and developing innovative financial solutions and wellness programmes tailored to players, complementing the recent launch of EPCR's new sustainability strategy (impACT)".
EPCR chairman Dominic McKay said: "Following a record-breaking season for EPCR with over 1.3 million fans returning to stadiums and getting behind their clubs across the seven countries, in addition to further millions tuning into our broadcasters worldwide, it's a brilliant time to welcome Investec into our growing partner family with such positivity surrounding the Investec Champions Cup and EPCR. Our combined passion for the game will enable us to deliver our new ambitious strategy for the Investec Champions Cup as we seek to grow our audiences further around the world in an intentional and sustainable way."
Investec chief marketing officer Abey Mokgwatsane said: "We are proud to sponsor the world's premier club rugby competition. The Investec Champions Cup embodies Out of the Ordinary sporting achievement and is a fantastic platform to further innovate in diversity, sustainability, and financial solutions."
The Investec Champions Cup kicks off in early December, with Glasgow Warriors being Scotland's sole representatives. Franco Smith's men are in Pool 3 and will play Northampton Saints, Bayonne, Exeter Chiefs and Toulon. Edinburgh will be in the second-tier EPCR Challenge Cup.
La Rochelle are the back-to-back champions of Europe and the French outfit will be hoping to retain their trophy for a third time. Both the Investec Champions Cup final (Saturday, May 25, 2024) and the EPCR Challenge Cup final (Friday, May 24, 2024) are due to be played at the Tottenham Hotspur Stadium in London.