Edinburgh's Grant Gilchrist opens up on Scotland red card - 'I just got the timing wrong'
Grant Gilchrist has revealed that he spent a couple of days agonising over the incident that saw him sent off against France - before coming to terms with the fact that, in rugby these days, minuscule errors often have major consequences.
The Scotland lock was given a three-match suspension for the head contact he made in his tackle on French flanker Anthony Jelonch, though completion of a World Rugby 'tackle course' saw the ban cut to two games. Speaking for the first time about his dismissal, Gilchrist said he accepted it was the correct decision, but insisted he had made a genuine, split-second mistake.
"There is an inch between a good tackle and a red card these days," the 32-year-old said on Monday after an Edinburgh training session at the DAM Health Stadium. "I got my timing wrong and I hold my hands up for that. Things happen in a split second.
"Hopefully it was clear at the time I wasn't trying to cause any type of harm to the player. It is a similar tackle I made thousands of times in my career and it just shows you the timing of it: if things change just in front of you, you end up with a red card.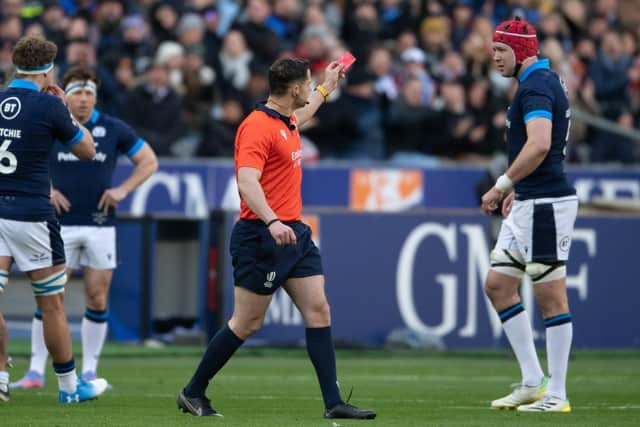 "It was gutting. I've played 250 professional games, and if I'm going to make a slight mistake, seven minutes into a Test match at the Stade de France after having won the first two games of the Six Nations would not have been the moment I would have chosen.
"But this is life. I have perspective on life and get back home to my family and I can rationalise things. I knew it was a mistake and nothing caused by reckless behaviour or going out there to let my team-mates down. I just got the timing wrong. At the time it was hard to take, but in a couple of days I realised, 'What can I do?'."
Gilchrist's error arose, at least in part, from the fact that both he and Matt Fagerson – who got to Jelonch just before him – went in high. He believes that the ideal is for the first defender to tackle low and for the second to then target the ball – and is therefore opposed to proposals to permit tackling below the waist only.
"Below the ball is the sensible thing for the primary tackler, but the secondary arriving player should be able to make a play for the ball," he explained. "That is a huge part of how teams are defending, holding players up, looking for rips and drives. You could tackle hard through the ball and there are no issues from me about lowering it a bit. You can still keep the physicality of the game that everybody wants."
Having had his ban reduced, Gilchrist was able to return to action in Edinburgh's league defeat by Connacht last Saturday. That loss continued a lengthy run of poor results, but the forward hopes the team can rediscover their best form when they visit Leicester in Friday's Champions Cup last-16 tie. "We should be in contention for the [URC] play-offs with the squad and coaches we have. We have to put things behind us this week as we're facing an exciting prospect - going to Welford Road in a top European game. It's certainly one I'm buzzing for."