Duhan Van der Merwe happy to be Scotland support act this time as Finn Russell dazzles and downs the dragon
The scenario was becoming tediously familiar. Scotland beat England, skip away merrily with the nation's acclaim in their ears and the Calcutta Cup in the holdall then, woops, they trip over the dragon's tail.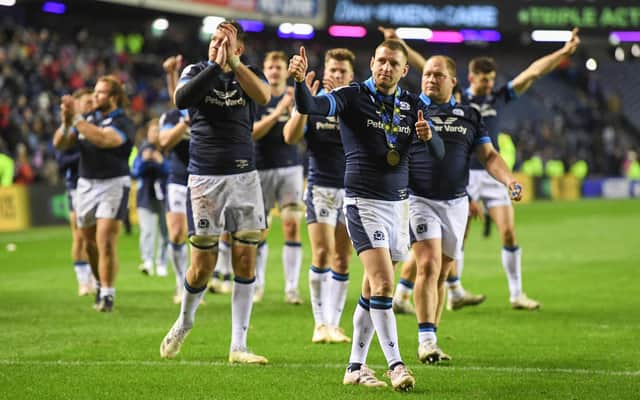 Could they do better this time, could they do Biggar?
Ah, Dan Biggar, dropper of goals and dropper of little press conference bombs. He struck the three points that was Wales' winning margin last year and before this contest had challenged the Scots: "Show us your medals."
Chatter and hype and media-darling status were all very well, he said, but since Scotland's last title success Wales had won four Grand Slams and the Scots had collected the same number of wooden spoons. The fly-half was stirring it, off the pitch at least.
On the Murrayfield grass, Biggar surviving the drastic player cull following Wales' opening defeat, Scotland paraded 14 of their 15 Twickenham heroes, including of course Duhan van der Swerver.
But if the previous Saturday had been Scotland's best performance under Gregor Townsend then it was worth remembering that Cardiff 12 months ago was close to the worst and certainly the most dispiriting. And surely Wales were not about to repeat what England had done and allow Van der Merwe to slalom through their entire team – and what Alex Dombrandt had done, offering the flimsiest, mimsiest resistance at the end.
The winger was given a lusty cheer when the team going for the Doddie Weir Cup was announced and the gasps of the crowd were palpable whenever the ball was even remotely near him.
They craved a repeat of that try, the one storyboarded by a Hollywood studio's special effects department after too many E numbers or something stronger. But VDM's first involvement yesterday … well, we had to wait. There was some sticky, grungy play before the game burst into life and Huw Jones burst into the Welsh backline and right on through, setting off on a long sprint that must have impressed the South African-born flier.
The match-up between Biggar and Finn Russell was fascinating – as it always is when the mercurial Scot is confronted by a solid, dependable, more conservative opponent, which is most of them. In Cardiff last time Biggar had come out on top, kicking 15 of his team's 20 points and bagging the drop goal after Russell had been yellow-carded. Biggar slowed the game right down that day, hoping this would frustrate Scotland's hopes of speedy breaks, and the tactic worked.
Yesterday the Scots weren't hanging about, Russell following up Jones' great surge with a crossfield kick which almost sprung Jamie Ritchie.
Biggar was quieter though Rio Dyer must have heard him loud and clear, the stand-off berating the winger for a hospital pass requiring a desperate clearance.
It was the 19th minute, though, when Van der Merwe finally got his hands on the ball but hemmed in on his own line there was no chance to open his legs and show his class. By then, Russell had kicked two penalties, Biggar uncharacteristically missing one before Van der Merwe was set up by Ben White only for our man via Western Cape to be crowded out.
Excitable members of the audience were hoping for more nonchalant magic from Russell, another worldy from Van der Merwe. But discerning types - collectors of muckle forward intervention, big guys passing slickly – were wondering if Matt Fagerson or Richie Gray could repeat their nifty and bold handiwork from Twickenham, or if a couple of their beefy chums would follow their example.
Step forward, George Turner, scorer of the game's first try. But then, step off George Turner, the game's first sin-binner. Wales took immediate advantage, Ken Owens touching down, and with their sizeable contingent in the stands in fine voice they almost stole into the lead on the stroke of half-time but Dyer fumbled at the crucial moment. Then the boyo had to sit in a changing-room for 15 minutes with Biggar.
On the resumption Wales continued where they left off, their No 10 leading the charge and showing he was just as capable as Russell of adventurous passes missing out a man. Scotland, like last week, had restarted on the back foot until Blair Kinghorn relieved the pressure with a galloping run. He could have fed Van der Merwe but didn't. No matter, a scintillating sequence set him up down the left and the East Stand almost lifted off its moorings as he thundered for the line. He was held up, and Kinghorn was held up, but Wales eventually wilted when Russell, tackled and falling, somehow squirted the ball in the direction of Kyle Steyn.
Van der Merwe's fellow winger was taking centre stage and Steyn's second try quickly followed his first. Once again, Van der Merwe punctured a hole in the Welsh rearguard to get the fans going mental. Once again, Russell provided the artistry and another perfect punt into the corner.
Biggar had vacated the field and although there was still time for Wales to revive, as they'd done against Ireland, Scotland's defence was impressive, all the more so for the raft of replacements stepping into the fray right away.
The clinching fourth try was another electric move. Russell's crossfielders had almost become ho-hum. Any more of them and the crowd were going to start demanding they be topped with whipped cream. Van der Merwe clutched this one and when he ran out of space, flipped the ball to Kinghorn. Yesterday – no 55-metre rippers this time – the star of Twickenham had been a support player, but a valuable one, with Russell confirming his man of the match status with yet another cool pass for Matt Fagerson to round off the scoring.
No medals yesterday, but the Doddie Weir Cup and that was grand.
Comments
 0 comments
Want to join the conversation? Please or to comment on this article.