Derek Turnbull on the day Wales scored zero points against Scotland, dramatic Grand Slam intervention and tackling runaway bull
Scanning our clashes with Wales over the years, one match catches the eye. This month marks the 30th anniversary of the Welsh dragon – in the manner of children's author Julia Donaldson's hapless Zog – breathing no meaningful fire whatsoever. The result, remembers Derek Turnbull, was Scotland 20, Wales 0.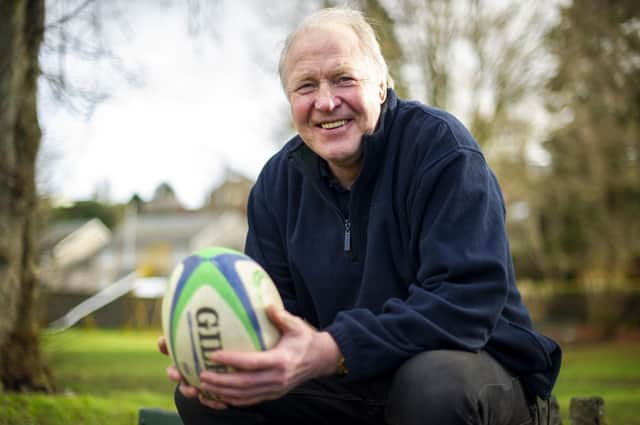 It's highly unusual in the modern era for a team to trudge off at the end having put precisely zero points on the board and the 6ft 4ins laughing ex-policeman I meet in Galashiels was a big reason for that. He stood guard at the front of the lineout like it was a cordoned-off crime scene, unnerving Wales' unfortunately-named hooker, Nigel Meek. Then Turnbull plunged over the line for the game's only try.
Talk me through the score, I say. "Pretty routine actually. I collected the ball ten yards from our line, beat five men, handed off their No 8 and scored under the posts. I copyrighted it so big Duhan [van der Merwe] will be getting a letter from my lawyers!"
He's joking: it was lineout, rolling maul, touchdown. But the old flanker, a late-entry Grand Slammer, reveals the Welsh were "pretty bloody grumpy" about drawing a blank. "If I'm honest they were never very nice when they lost to us. Mostly used to winning, I suppose. France didn't like getting beat but I'd have to say that the worst losers were Wales. They were terrible!"
There was more than one meek performance in red on the afternoon of February 20, 1993. Despite the presence in the backline of then current and future Lions Ieuan Evans, Scott Gibbs, Neil Jenkins and Robert Jones, Wales were unable to muster a single worthwhile attack. On a severely blustery day as the uprights shoogled, Jenkins' two penalty attempts went horribly awry. Meanwhile, Gavin Hastings kept firing his home from way out far and wide.
The Scots had specialist insider knowledge of "The Swirl". Adds Turnbull: "There's always been one at Murrayfield but after the East Stand was built the wind coming from the north would sometimes separate and create a channel. It was highly unpredictable, but if you were lucky you could use it to your advantage."
Thirty years ago, after 40 eye-wateringly gust-blasted minutes, the Welsh hoped the turnaround would allow them to ride the currents all the way to the Scottish tryline. "But straight from the re-start Gary Armstrong struck this monster kick from deep. It sailed right into their 22 and must have been a sickener." Turnbull is right. Youtube footage of the game has the BBC Wales commentator sighing: "It rather seems like the Scots have ordered a change in the wind direction … "
Half-time back then was still oranges on the pitch. No changing-room breathers and no kicking tees either, so sureshot Hastings relied on a little sandcastle. And no video refereeing so watching the match again you'll wince at some of the high tackling as thick arms clatter off the sides of heads.
Turnbull smiles when I mention this. He sees no conflict of interest between officer of the law and aggressive rugby player. "Two completely separate identities," he says. And back then aggression was definitely needed.
"You had to fight to survive. Right from kick-off, first half dozen contacts for the forwards, it would be elbows, knees, whatever. Every game started out as a battle. You had to stand up for yourself; if you didn't you'd get it the whole match. Then after a while everyone would go: 'Okay, shall we play rugby now?' Mostly, we did. Except the French: they never wanted to play! A lot of stuff happened off the ball and lineouts were last man standing.
"Wales weren't a duff side. I knew Emyr Lewis, another policeman, and Stuart Davis from touring Russia with the Barbarians the previous year. But we were a good team. The front five – Peter Wright, Kenny Milne, Paul Burnell, Andy Reed and Damian Cronin – would all tour New Zealand with the Lions that year. And with Andy, Damian, Doddie Weir and myself we just had too much height for the Welsh. I'd been Doddie's minder when Scotland toured New Zealand in 1990. He could look after himself but I wasn't going to let him be abused. Against Wales he came up with this outrageous tap-tackle to stop their full-back, Mike Rayer. There was already 6ft 8ins of him but suddenly he had an extendable arm. We called him Inspector Gadget after that!"
In Turnbull's local pub today, friends from his walking club are gathering for an excursion after our chat. The 61-year-old divorced dad-of-three has lived in Galashiels almost half his life but, respectfully, it will never be home to him. "I'm not confused, I know myself perfectly well, I'm a Hawick man," he laughs. "Actually, what I usually say is I'm from South Dean which if you don't know is just a few miles from Carter Bar, the pass in the Cheviots and so the first line of defence against invaders!"
Turnbull's father Jim was a farm manager and president of Hawick Trades, one of four junior outfits in the town. Turnbull began playing with them, eventually graduating to the big team, and helped his dad in the fields. Now he's chuckling again having remembered when the Scotland backroom team was bolstered by the arrival of a new fitness guru: "We were all put on strengthening programmes. All these weights, so many repetitions. "By the end of the session,' he said, 'you'll have shifted three-quarters of a ton.' I was like: 'Okay, well at the farm I'm on the fertiliser which comes in eight-stone bags. Twenty of them have to go into the spreader, cut, shifted, loaded, so by the time that's done I've moved two tons. I'm doing that all day and therefore by the end I'll have lifted ten tons. Then I'm supposed to come into the gym and lift three-quarters more?'"
Coach Jim Telfer always wanted more. "He was brutal but there was method in his madness because while the club game in Scotland was fine, internationals were much more physical. The rules at the time were that full squads couldn't assemble before 12 noon on the Thursday before a game but while the backs would turn up fresh as daisies, the forwards were knackered from a session the night before. Live contact, live lineouts, live scrums. A nightmare.
"In 1993, after beating Wales, we were going for the Triple Crown against England at Twickenham and he had us full-on rucking on grassy ground outside our hotel on the morning of the match. We turned up for it with new bruises and welts. No wonder we lost!"
By then Turnbull was a Borders bobby having joined the force at the age of 24. He played rugby in the police, rating some of these contests even more fierce than internationals, and was part of a UK select which could field capped men in every position apart from scrum-half.
He's glad to not be on the beat anymore. "Back then there were rules and regulations about what was allowed. We're all a bit confused now. But I enjoyed police work at the time. You helped the community as much as you could, that was the job." He must have seen it all, I say, and he tells me about having to deal with sudden deaths. "Maybe the person had passed away sat in a chair, this happened more than once. Because of rigor mortis the only way to transport the body to the undertakers was to put them in the back seat of the squad car and maybe we'd grab a hat on the way out the house. Word would soon spread: 'I've just seen auld Wullie being driven away by the polis – what's he done now?'"
Now, on the rugby field Turnbull squared up to the might of Brian Moore, Jason Leonard, Nick Popplewell and Jean Condom, big beasts one and all. But his scariest physical challenge came as a constable when he was confronted by an enraged bull which had escaped from an abattoir. "The animal was basically wild as it had never been handled in two years. Finally its owner had got it into the truck to take it for slaughter but it had other ideas and jumped a six-foot metal fence. When we got the call on the radio it was running along the Melrose road heading for the A7.
"We caught up with it but it rammed our van with its horns and headed towards a housing estate. I decided to continue the chase on foot, reckoning that I knew animals, but a pensioner who'd come out of his house to help suddenly became the target. I was able to grab the man and throw him over a hedge to safety as the bull charged at us, then hit it on the nose with my baton." For this Turnbull was awarded a commendation from the Chief Constable.
In his Scotland career he managed to beat all the Five Nations rivals. During an outstanding era for Scottish breakaway forwards he was restricted to 15 caps but cherishes every one. The debut couldn't have been tougher – the quarter-final of the inaugural World Cup against hosts New Zealand in Christchurch. "The All Blacks in 1987 were way ahead of everyone else in fitness and preparation and more or less professional. On TV we'd see Sean Fitzpatrick advertising 4x4s: 'Great for getting up the hills to check on your sheep!' [SRU secretary] Bill Hogg – Mr Amateur – took a dim view of that. Maybe he complained because the next time it was Sean's dad in the ads: 'My boy tells me these are the wheels you need!' John Kirwan was flogging a sports rub: 'If I get a gammy I just put on this!' Then he was replaced by his dad sat in a rocking chair."
That Wales game won to nil was eventful for Turnbull who took a blow to the head requiring a quick stapling of the wound before he was able to resume to loud cheers. No substitute was needed that day but he knew all about the role, and how rare and special these interventions could be.
In the glory year of 1990 he was among the reserves. In Dublin, back at the hotel after the opening win, he was approached by a reporter: "Talk us through your two tries." He had to tell the journo that the hero of the day had been Derek White, the pair bearing a slight resemblance. The Slam decider against England arrived and Turnbull was in his usual place. "In those days the subs would have a sweepstake, £2 a go, for any guy lucky enough to get off the bench. Hopefully someone would have brought along sweeties because often you were sat there the whole game.
"But after half an hour my namesake got injured. I was coming on! The packs had had their little skirmishes which I was glad about because England had three policemen in their side – Dean Richards, Paul Ackford and Wade Dooley. But actually that game never quietened down and I just had to play on instinct. We were under the cosh towards the end and I was pleased with a tackle on Will Carling. I stopped him on their 22 and then the rest of the guys got hold of him, pushing him back ten yards. He obviously didn't like that because he mentioned it in his book.
"Back then after a defeat you'd turn up at the president's reception and it would be: 'That's your stale beer over there.' But as I ran off the park that day I was telling myself: 'Champagne tonight!'"
Comments
 0 comments
Want to join the conversation? Please or to comment on this article.