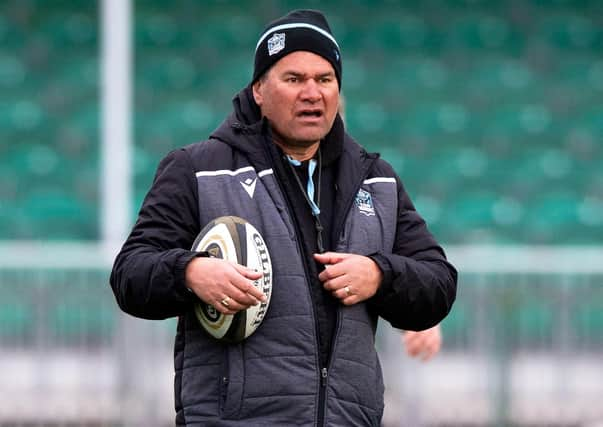 Outgoing Glasgow coach Dave Rennie says he still fully intends to take the reins of the Australia national team as and when possible but expressed disappointment that the person who recruited him has been ousted as chief executive of Rugby Australia.
Raelene Castle resigned after being told she had lost the support of the board following a tumultuous time both on and off the field for the union code in Australia.
Rennie, whose Warriors contract ends on 30 June, said: "I am really gutted at the decision to move Raelene on. She is a big part of the reason I signed with Australia. I was really impressed by her. She had a real clean plan over what the next few years looked like.
"I am really disappointed. But she exited with really dignity and class. I am disappointed with the decision but clearly I want a chat with the board and get clarity over what the plan looks like now.
"I am still very committed and we have been doing a lot of work in and around preparation for when the new season comes around.
"I've been in constant contact – probably every second day I'm talking to people in Australia, as we are over here," said Rennie from his Stirlingshire home. "[Former SRU director of rugby] Scott Johnson, who also played a big part in getting me over there – we're talking all the time. We've got a management group that's trying to drive stuff and connect with Super Rugby coaches.
"I think the relationship that we've been able to establish with all Super Rugby clubs has been really good and has made a difference. We're all trying to work together to improve the athletes, especially when they're isolated."
Kiwi Rennie said the example of his homeland New Zealand, which is now exiting lockdown, gave hope that this difficult time will pass.
"I'm not surprised. [NZ prime minister] Jacinda Ardern has displayed this kind of leadership in the past," said the coach. "They locked the country up about the same time as here, but we are probably a month ahead with the coronavirus. They have been really strong and the emphasis has been around doing what is best for the people as opposed to what is best for the economy. We haven't seen examples of that in other countries around the world.
"People are hurting from a financial point of view, but if you are alive you can do something about it. They have done a great job down there and they have been a great example to the rest of the world."