The 32-year-old missed out on the matchday 23 for all five fixtures and could only watch from the sidelines as Gregor Townsend's side claimed wins over England, Wales and Italy to earn a highly-respectable third place finish behind Grand Slam winners Ireland and runners-up France.
Cherry won the last of his eight caps in the 15-16 defeat to Australia in October, playing the first hour of the opening match of last year's Autumn internationals, but he hasn't worn the jersey since despite being part of the squad.
It made for a difficult Six Nations for the front-rower who is now back with Edinburgh and preparing for the return of the URC with a trip to Connacht on Saturday.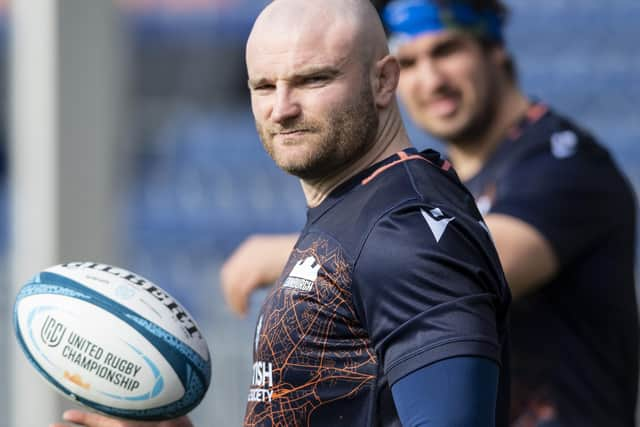 "It was a challenging period for me mentally not getting picked but that is sport," Cherry said. "It's not just the physical challenge, it's dealing with these setbacks. I'm raring to go and looking forward to getting on the pitch on Saturday.
"As we've talked about here and with Scotland, the non-23 have a pivotal role in preparing the team. It's about keeping your energy levels high and positive and dealing with the selection as soon as you can in the week and move on."
There have been changes at Edinburgh since Cherry was away on international duty with Steve Diamond appointed as the club's 'lead rugby analyst', working alongside head coach Mike Blair, who is stepping down at the end of the season.
"He's only been in a couple of days," Cherry added. "I've spoken to him twice so far and we've got a catch-up later on. He's another set of eyes to help as a resource for both the players and coaches. We're really looking forward to working with him and seeing what he can bring to help the squad."
Diamond is a former hooker. "We'll see (if that's a good thing)!" Cherry joked. Asked whether the new arrival has taken a hands on role, he added: "We've literally had two days, so we don't really know."
Cherry played down any suggestion that having two bosses would confuse the players. "I don't think so. Mike made his statement, we dealt with it, we've carried on as players and they've carried on as coaches. Steve has come in, made a point of being just an extra set of eyes, and that's that. There's nothing really to be confused about, I don't think."
Edinburgh are languishing down in 12th place in the URC standings but have picked up losing bonus points in six of their 10 defeats. Cherry hopes the input of Diamond can help turn narrow defeats into victories. "It's small margins," he stressed. "If you look at the squad we've got and look at the stats, we're actually right up there. It's how we convert that into winning games."
The first challenge facing the new coaching structure is a trip to Ireland to face Connacht and a notoriously windy Sportsground which can often present a challenge for the line-out. "Hopefully it's not blowing a hoolie!" Cherry added. "It can be challenging but we're coming up with strategies for dealing with it but it can be quite windy out there."