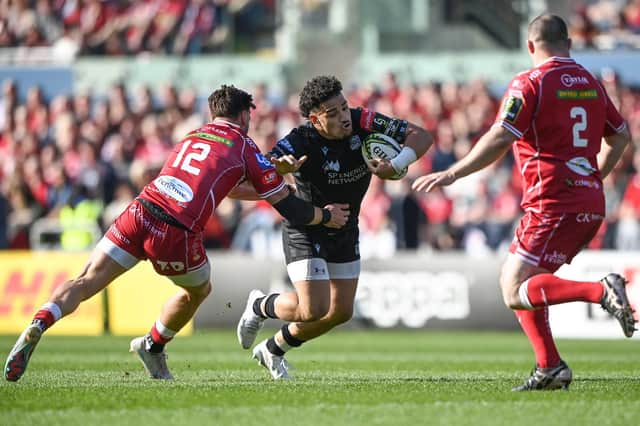 It was a highly enjoyable weekend for the centre, who described his first experience of the Old Firm derby as "awesome". Now in his second season at Scotstoun, the Aussie-born Scotland international has been a key component in the revitalised Glasgow's march to the latter stages of the Challenge Cup and the URC. It's been one high pressure game after another for Franco Smith's side and Tuipulotu has been relishing it. Sunday's trip to Hampden was a chance to take in the action from the other side of the fence, with Tuipulotu joining a few of his Warriors team-mates in the stands.
"It was the first Celtic game I've ever been to," he said. "A couple of the Argentinian boys sorted out some tickets for us and I loved it. Obviously you come to the city and you pick a side and I picked Celtic. It was an awesome atmosphere and thankfully our team won! All the Argie boys, Ollie Smith, George Horne came along as well, it was a fun day out, just a different experience. Being in the stands at a rugby game and being in the stands at a football game are two different things so it was good to experience it on the other side of the fence."
As ever in Glasgow, football tends to split workplaces down the middle, and it's the same at the Warriors where there is also a healthy contingent of Rangers supporters, led most vociferously by Ryan Wilson. Tuipulotu decided to favour Celtic. "It's an interesting one and a lot of the boys are quite suspicious about it!" he explains. "Ange Postecoglou's the manager and he's an Aussie and he's brought over quite a few Japanese players that I was aware of when I was in Japan and they've done really well at Celtic. You've got to pick one side and most of the boys here have gone for Rangers so I just said I'll go for Celtic."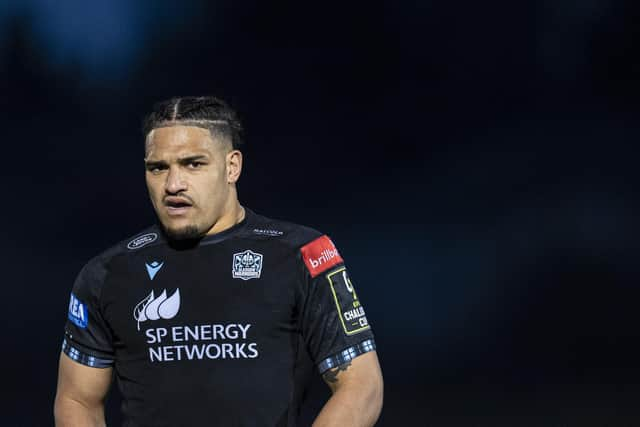 If it was boisterous at Hampden, then things also got a bit tasty at Parc y Scarlets on Saturday as the noisy Llanelli crowd took exception to a couple of decisions that went Glasgow's way in the Challenge Cup semi. A brief skirmish broke out among home fans at one point during a tense second half as the game slipped away from the Scarlets. "I heard there was something happening in the stands," said Tuipulotu. "I didn't actually notice it when I was on the field but some of the boys did say there was a bit of ruckus. It's passion!"
There's likely to be plenty of that on the pitch on Saturday night as Glasgow and Munster meet in the URC quarter-final and renew a rivalry that has sometimes crossed the line. Tuipulotu goes into the game with a clean slate as he has never faced them before but he hasn't needed to look far for reminders of the importance of the fixture in the Warriors' history. "When you go into the changing room a lot of the pictures are of games between Glasgow and Munster. Obviously we won the [Pro12] final against them back in 2015. I wasn't here for that and I've never played Munster so if you are selected you want to write your own history and be a part of a big game and have a big performance so it means something to the club.
"Teams like Munster and Leinster have a lot of Test players and obviously we have a lot of Test players as well, so hopefully we can get one back for the Six Nations result but Glasgow play a bit of a different style to the way we do with Scotland. It's going to be a different challenge and hopefully we can impose the Glasgow way on Munster."
Tuipulotu missed the win over Munster in Limerick last month and has played down the significance of the victory in the context of this weekend's game but it can't do any harm to the squad's confidence to have won at Thomond Park, a tough venue for any visiting team. Scotstoun also fits that description. Glasgow haven't lost a home game since La Rochelle won there in January 2022 en route to clinching the Champions Cup and the Warriors are going for their 18th unbeaten game in a row at Scotstoun. "It's turned into a bit of a fortress I suppose but that doesn't mean anything if we don't win at the weekend," said Tuipulotu, who offers up a straightforward assessment of why they thrive there. "We're used to it. It's like any home ground. If you train on it every day you know every nook and cranny of the joint. For us, it's knowing what the surface is like, knowing where the ball spins when it's wet, little things like that but ultimately I think everyone hates coming here because it's like concrete. We're used to it, our calves and shins are accustomed to it now. It's a fast track. And the crowd are awesome. With the running track going around it you might think the atmosphere isn't that great but the two stands at either end really add to it, especially when you're defending your line or trying to score a try and the crowd's right on top of you. It's an awesome atmosphere and I hope we can pack it out on Saturday."