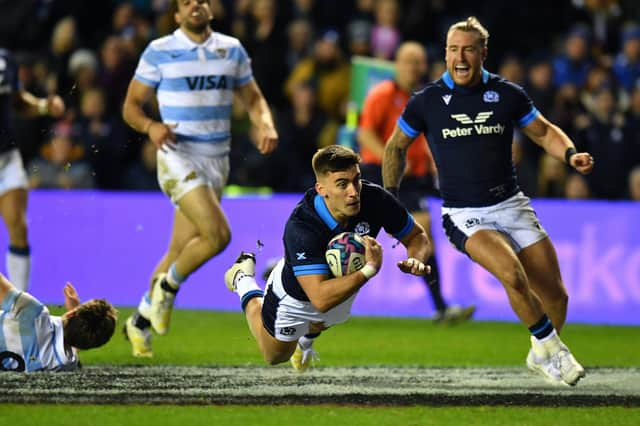 Redpath, a 22-year-old centre whose been dealt such a wretched hand with injuries, came on as a replacement in the 52-29 defeat of Argentina and got in on the eight-try act against the Pumas in his fourth appearance for his country. The Bath player – son of former Scots scrum-half Bryan Redpath – has been desperately unlucky with two neck injuries that were eventually solved by surgery, as well as a ruptured ACL. He has come through some dark times, which made moments like last weekend all the more special.
"The last 18 months have been tough for me," said Redpath. "It is a big relief to get over and do what I've wanted to do for so many years – to score on an international stage. To finally do that is really nice. Getting a few games together is something I've not done for a long time.
"I had a lot of injuries. And not just the little ones of three or four weeks, but six months, eight months and four-and-a-half months. All on the bounce. I made my debut for Scotland, came back and played four games. Second game for Scotland I got injured again. Nothing seemed to go positive after playing one game for Scotland. I've broken that curse now; after one game in a tournament I finally managed two. I'm just happy to get a run of games.
"You can underestimate how tough recovering from injury is. When I was going through it I probably wasn't really understanding myself, I just kind of got on with it. To come and have an experience like the last couple of weeks, play at Murrayfield for the first time and see my grandparents who have lived here in Edinburgh all their lives, is really special and it makes it all worth it."
Redpath is now targeting forcing his way into the Scotland starting XV for the next match, away at England in the Six Nations. "I've got a lot of games before that where I've got to try to play well," he added. "Hopefully, I will put myself in a good place for that game. It is definitely one I would love to play in. Obviously, my debut was at Twickenham and it was to try to recreate what we did that day."