Boroughmuir coach Graham Shiel staying positive at painful time
Loss of father-in-law and Scotland great Dougie Morgan to virus gives perspective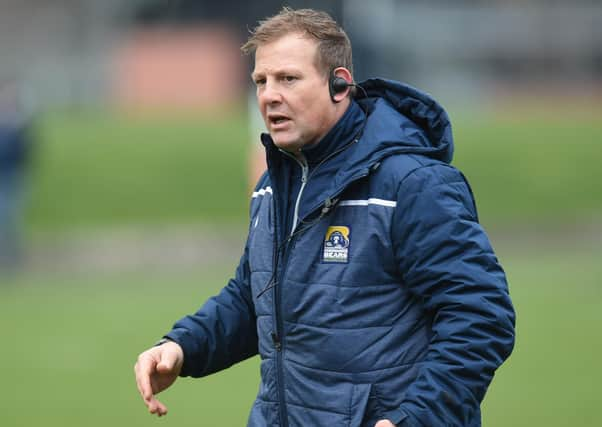 At a time like this, sport is not a priority and, in all likelihood, won't be for a good long time as the nation combats this horrendous situation.
Someone who, sadly, knows that all too well is former Scotland centre and Boroughmuir Bears Super 6 coach Graham Shiel.
He is grieving the loss of his father-in-law, and the Scottish rugby family has been united in passing on its best wishes after the death of the former Scotland captain and British and Irish Lion great Dougie Morgan at the age of 73 to this awful virus.
Morgan had been suffering ill-health for a while but became one of the many who have heartbreakingly succumbed to the pandemic in a care home.
A difficult time and Shiel is fully aware that the wider picture we are all facing at the moment is likely to have a long-term affect on the game he has loved since coming through the ranks of his local Melrose club in the late 1980s and famously marking his debut off the bench with a try in the win over Ireland at Murrayfield in the 1991 World Cup.
"It's been a tough and difficult time for us for more important reasons than rugby,"
Shiel told The Scotsman. "We all want to get back to normal as soon as we can and hopefully have a good 2020-2021 season but this may take some time. Once the lockdown is lifted it is likely that getting sport back on is not going to be a priority and there could be another lockdown at some point later in the year.
"You can envisage if we do start playing again then, say, a player feels symptoms after the game then it's going to have a knock-on effect. So we just need to be patient and see how things played out."
How things played out for 49-year-old Shiel, a former Edinburgh assistant coach, in his truncated first season as Super 6 boss of the Boroughmuir Bears franchise in the new part-time professional league is one win from ten and bottom at the moment of shutdown and cancellation.
But he views the inaugural season with a positive outlook.
"We were under no illusions that we were maybe starting this from a lower base than other teams and looking at a higher gradient to work on but the players have put in a great effort," he said.
"I think it's been a good experience for everyone with a definitive higher standard of rugby, lots of good, competitive games and now we just need to take stock and keep ticking over."
The Bears hosted the first ever Super 6 match, which saw them edged out by Stirling County 27-24 in front of a healthy crowd at Meggetland last November. Their sole win of the campaign was at home to capital rivals Heriot's.
But Shiel, whose son is promising Edinburgh scrum-half Charlie, said: "Most of the games were close. The only bad beating we took was the away game at Heriot's but it was a bit of a perfect storm that weekend for various reasons."
Shiel added: "I think the players have enjoyed the experience but it's been a challenge too. They've had to adopt a more semi-professional mindset, which can be a bit daunting at times.
"For some young guys it's an aspirational setting where they can maybe look to progressing to the professional level, but we know there will only be a select few who do. For the older guys who know that's not really an option I think they've enjoyed it too, while recognising this is something different."
Different to Shiel's own start to his rugby career with the Greenyards machine of the 1980s. "Yes, I look back to how I started out at Melrose and it was much different," he said. "We have great supporters and a vibrant club here at Boroughmuir but being in Edinburgh is a lot different than Melrose, where there was a lot more pressure and scrutiny from the public. Here you can shut your door and switch off occasionally.
"But I think the players have grasped that they have a responsibility here. The club has taken a bit of a risk and an investment and we all need to step up and honour that. There's been difficult moments but I think they have and will do again when we finally get up and running again."