Biggar battle to overturn loss of title and promotion
Club wants backing from others to keep National 1 title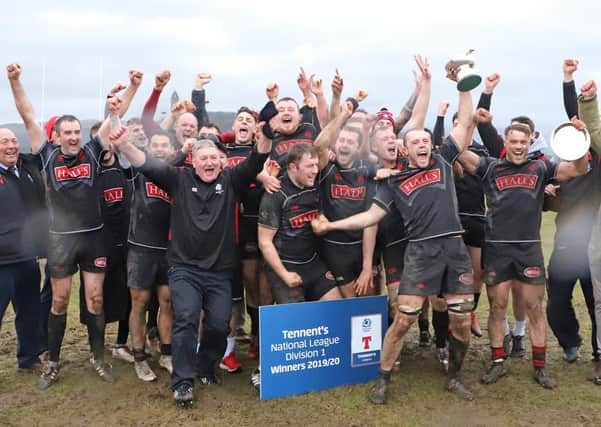 Biggar Rugby Club want an army of fellow Scottish clubs to help their bid to overturn a ruling which has denied them a league title and promotion.
The SRU has voided the unfinished 2019-2020 domestic campaign due to coronavirus, leading to an appeal to the governing body from Tennent's National League Division 1 champions Biggar which – according to one club source – has "not even been considered".
Refusing to accept defeat, Biggar are now trying to gather the signatures of at least 24 full member clubs to trigger a Special General Meeting (SGM) to get the issue debated among club representatives and SRU committee members by video conference as soon as possible.
Biggar RFC past president, Alistair Stewart, said: "A big frustration on our behalf is that, after appealing to the SRU, we were sort of told: 'Go away, you can't do it, leave us alone'.
"We appreciate that there are massive problems the SRU has with their workforce just now in terms of they are having to lay-off and furlough players and staff and that's very, very difficult. This is a side issue but nevertheless we believe it's important for us to pursue and they're in the position of having to deal with it.
"We won't give up. Our secretary Mike Booth is relatively new to the post.
"He is like a dog with a bone and he's going at it hammer and tongs because he feels there's an injustice as we do.
"That's why he is being so dogged in his determination."
Biggar – who are campaigning in tandem with Dalkeith Rugby Club who won East Division 3 before missing out on that title due to voiding – believe their ambitions for next season can be supported without any relegation across the board.
The Hartreemill team stress they are just campaigning to increase next season's Tennent's Premiership to 11 sides and extend East Division 2 to 10 teams – thus accommodating both Biggar and Dalkeith with no disruption to others.
Stewart said: "If there is a groundswell of support from other clubs and we get 30 or 40 signatures then I think the SRU would have to take note that it's going to be a motion for an SGM.
"Whether or not it changes anything I'm not sure.
"The SRU is a body that's made a decision and they don't really want to step back from that. We feel the process (voting on how to end the 2019-20 season) was flawed.
"There were five options, four options for a method of finishing the division and one null and void.To say 50 per cent of the vote was for null and void means 50 per cent of the vote wasn't for null and void. It would have been far more sensible if there had only been two options.
"And we were under the impression that it was a consultation but the SRU used it as a vote."
It remains unclear when Scottish rugby will restart.
Comments
 0 comments
Want to join the conversation? Please or to comment on this article.