Ben Healy on haggis, switching sides from Ireland to Scotland and proving people wrong
Ben Healy says he isn't a bitter person but the new Scotland stand-off is quite prepared to use his snub by Ireland as motivational fuel at the Rugby World Cup.
The fact that the two nations have been drawn together in Pool B in France adds extra spice to a group that hardly needs more plotlines. It already contains three of the world's top five teams as well as dangerous outliers Tonga, ensuring there will be at least one high profile victim who won't make the quarter-finals.
Healy, 24, was part of the Ireland side that won an under-20 Six Nations grand slam in 2019 but the Tipperary-born outhalf was overlooked for full honours and accepted an invitation from long-term suitors Scotland, qualifying through this mother's side of the family who hail from Turriff, Aberdeenshire. He made his debut as a replacement in the final match of the Six Nations against Italy at Murrayfield in March, then sealed his place in Gregor Townsend's World Cup squad with a man-of-the-match performance against the same opponents in Edinburgh last month.
He's all in for Scotland now, and will play for Edinburgh next season having said farewell to Munster in the best possible fashion by helping them win the United Rugby Championship. "It's funny how things go," said Healy. "If someone had mentioned this possibility to me a year ago I'm not sure what I would have said. I probably wasn't thinking that far down the line at that time. I was just trying to get my place in the Munster team. That came before any international honours. But I would have bitten your hand off if you'd said to me a year ago I'd be in the Scotland World Cup squad."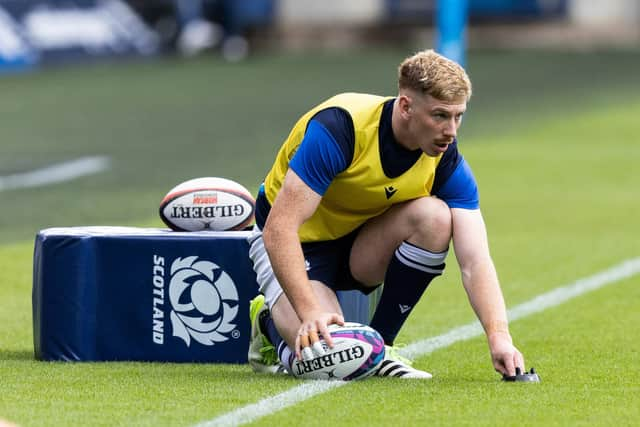 Healy's selection was confirmed last Wednesday and he is likely to be given another outing in the final warm-up game against Georgia on Saturday before the squad departs for their base near Nice. Scotland open their World Cup campaign against South Africa in Marseille on September 10, then face Tonga and Romania before completing their Pool B programme with a showdown against Ireland in Paris on October 7. The Scots have never beaten Ireland in Townsend's time in charge and the fixture has gained some edge in recent years. Healy's switch will do little to dilute that and the player is certainly keen to prove to Ireland that they made a mistake.
"I wouldn't say I'm an overly bitter person or anything," he said. "But, yeah, I suppose there could be an element of me having something to prove. Sometimes it actually helps to have a bit of a chip on your shoulder. If people told you that basically you weren't good enough for a certain club or team, then obviously you want to prove them wrong. But at the moment I'm just honoured to be here with Scotland and to be going to a World Cup."
Scottish Rugby was alerted to Healy's dual qualification credentials at an early age but the player was understandably reluctant to commit too soon. His initial goal was to establish himself at Munster, hard enough when he was vying for the No 10 jersey with Joey Carberry and Jack Crowley. He played 14 times for them in last season's URC-winning campaign, a mix of starts and appearances from the bench, but announced in January that he would be joining Edinburgh. Graham Rowntree, the Munster coach, said losing Healy would be "tough to take" but the player still made a huge contribution to the second half of the season, starting in the stunning win over Leinster in Dublin in the URC semi-final then coming on for the last quarter as Munster beat the Stormers in Cape Town in the final.
Munster and Ireland's loss is Edinburgh and Scotland's gain and reward for Murrayfield's persistence. "People within the SRU have kept in contact with me since I came out of school to be honest," revealed Healy, who looked like he might join Glasgow Warriors a couple of years ago. "Once they found I was Scottish-qualified they were always keen to get me over. It didn't materialise until I was about four or five years into playing with Munster and decided to make the jump. But they were always keen. I've gone at the right time. I enjoyed my time with Munster and ended up winning a trophy there. But I can't wait to get stuck in her over the next few years and see where we can take it."
While his mum Maria is Scottish, his father Fergal is a proud Munsterman who played for Young Munster but the whole family is thrilled that Healy is going to the World Cup. "My mum's obviously been delighted with everything since she's Scottish!" said the player. "She never pushed me or anything, but I could see she was really happy when I made my decision.
"She's from Turriff. We used to go over once or twice a year. I could never understand anyone! But it's certainly a nice part of the world. She was actually born in England but moved to Turriff when she was quite young. Both of my grandparents are Scottish. My mum's obviously proud to be Scottish and that was a big part of my childhood. Many a time I've had haggis for dinner!
"I was actually back over in Ireland when I got the call from Gregor. We had a couple of days off. I feel proud and so do my family. I'm just happy that it's all worked out. The last year has been a bit of a whirlwind and it certainly hasn't been easy at times. There have been some tough decisions and a lot of things which have been out of my control. But this makes it all worthwhile to get into the squad for the World Cup. The reaction from my family and friends in Ireland has been great. But this is only the start for me. It doesn't mean much to just go to a World Cup – you want to actually play in a World Cup. This is the first step for me. I want to play for Scotland for many more years to come. This is just a really exciting way to kick it all off."