Allan Massie: Why it's time for more intelligent kicking like diagonals, chips and grubbers
Argument in rugby often centres on the breakdown. This season's directive to referees was meant to make for a genuine contest for possession after a tackle; more opportunity should be given to the player seeking a turnover.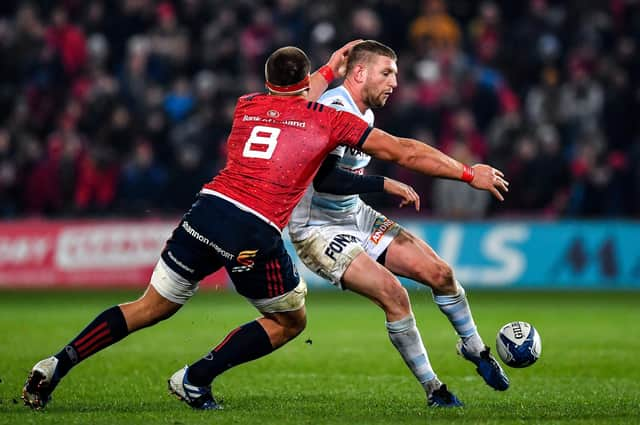 But now it seems the balance has shifted. Teams – some anyway – are so fearful of losing possession that they resort to kicking. Perhaps the thinking is that while a wayward kick will give the ball to the other side, it will be some way down the pitch. Moreover, if the receiver is tackled, you may, thanks to the directive, regain the ball or win a penalty. And so it goes, a not very merry roundabout.
Now when people grumble about the unintended consequences of this directive, they should remember what provoked it. The law's bias in favour of the ball-carrying team not only made turnovers rare. It led to a succession of pick-and-drives or to one pass-take-the-tackle-recycle again and again; a form of rugby rather like the succession of Banquo's heirs conjured up by the witches. That depressed Macbeth; this sort of rugby bored lots of us.
Ken Scotland's autobiography published recently by Polaris Books, has a fascinating and thoughtful chapter, written in the mid-Sixties for the Edinburgh University Journal, on the Evolution of the Game. Naturally some of what he says is outdated; much however is still relevant. At its core is the realisation that the essential problems in the game are simple: how to find space and how to make use of the space you find. This is as true now as it was more than half a century ago.
In a note updating that article, he wrote: "With the outcome from scrums and lineouts largely preordained" – as is the case today – "the main area of contest for possession is now the immediate aftermath of the tackle." The repeated adjustment of laws and their interpretation shows just how difficult it is to achieve the right balance here.
The point is surely that unless there is such a balance, space is eaten up, defensive lines stretch across the field and the team that wins possession, finding no way through, will resort to kicking. Which is where we too often are now.
That said, Ken is correct to remark that "the old adage that a good kick puts the opposition under pressure and a poor kick puts your own side under pressure hasn't changed" though he adds rather sadly that we see far too much merely "speculative" kicking. Such kicks seem to carry the message: "I don't know what to do. Let's hope you are equally clueless and make a mistake."
Intelligent kicking asks difficult questions, and I am often surprised that players seem reluctant to try to pose such questions until their side has repeatedly failed to breach the opposition's blanket defensive line. Why not try the diagonal, chip or grubber early on? Even if it doesn't bring immediate success, it must instil some doubt in the opposition .
One shouldn't be too gloomy. It's natural at this time in the year that there should be matches rightly described by Cockerill as "turgid". Evening games in December and January – indeed afternoon ones when the thermometer hovers about freezing point – don't encourage adventurous and imaginative rugby. One understands that television demands evening kick-offs when more people are able to watch, and that schedules must be arranged so that times don't clash and more matches can be televised live.
Nevertheless, writing this a few hours before the Glasgow-Edinburgh kick-off at Scotstoun, one may reasonably hope – or cling to the hope – that both teams will be more eager to serve up some satisfying fare than they offered in their meeting last week. It would help of course if there were fewer penalties, but we should resist the temptation to blame the referee for obeying the directive from the game's authorities.
We need something to cheer us up, for, even setting aside the depressing lockdown, the news of players leaving Edinburgh and Glasgow for clubs in England makes it seem that we are reverting to where we were 20 years ago when our pro teams generally struggled. Perhaps it's a temporary blip. Perhaps some of the young players now being introduced will be willing to meet the challenge and take risks. There will of course be no crowds to cheer them on for some time yet. What is worrying is that, without a different approach and an upturn in performance and results, crowds may be considerably smaller when they are permitted to return.
A message from the Editor:
Thank you for reading this article. We're more reliant on your support than ever as the shift in consumer habits brought about by coronavirus impacts our advertisers.
If you haven't already, please consider supporting our trusted, fact-checked journalism by taking out a digital subscription.
Comments
 0 comments
Want to join the conversation? Please or to comment on this article.