Allan Massie: "Spivvy" McCrae's six caps in six years typified Scots selectors' inconsistency
It is generally recognised that consistency in selection is a good thing in most team sports. The England cricket selectors, now few in number and professional themselves, have declared that batsmen at least must be given a fair number of Tests to prove themselves, rather being discarded after one or two failures. In rugby too, "one-cap wonders" are rarer than they were, almost an extinct species indeed. There must be a good many middle-aged and elderly chaps who, sighing over their beer, mutter "if only…"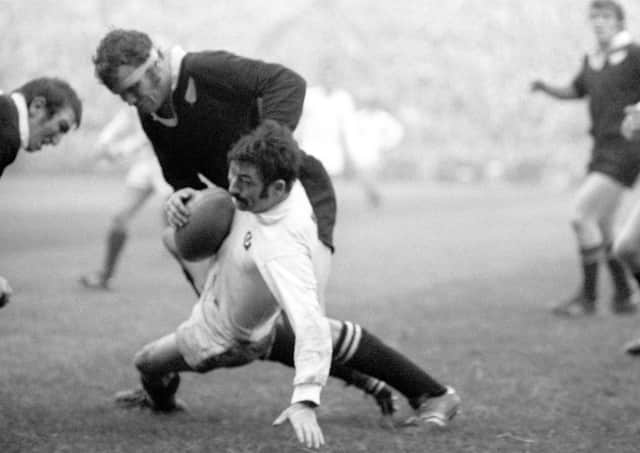 Ian McCrae, with the ball, is tackled by New Zealand's Kent Lambert at Murrayfield in 1972. Picture: PA
Inconsistent selection was a feature of Scottish rugby in the amateur era. You might even say that its only consistent feature was inconsistency. There were extenuating factors. In the first place the selectors themselves were of course amateur and most seasons there were one or two changes of selectors. New men came in with ideas and, doubtless, prejudices of their own. Second selectors had little of the evidence available today – no videos of matches, no computer analysis. They themselves could watch only one game a week, and were naturally influenced by what they saw. They had also to rely a good deal on match reports in the Press and on conversations with club officials and journalists. Then there were fewer international matches than there are now, and, since in most seasons Scotland lost more games than we won, public pressure for change after a defeat was regular and often intense.
It was an online conversation this week with a few friends recalling the old days that had me brooding on consistency and inconsistency of selection, in particular the mention by one of them of Ian "Spivvy" McCrae who played scrum-half for Gordonians (a good club in his time), the North-Midlands and occasionally for Scotland. I say "occasionally" because he won six caps over six seasons.
He had two records, one of which can never be equalled, the other unlikely to be matched. He was the first permitted replacement or substitute in international rugby. That was against France in the old, rather grim, Stade Colombes in 1969, when he trotted on to the field to take over from the injured Gordon Connell. France dominated the game, but late on McCrae made a nuisance of himself when the French scrum creaked a bit, got possession of the ball and passed. A second pass went to Jim Telfer who brushed a tackler aside to score a try that won the match. In the game which followed McCrae's moment in France we lost to Wales at Murrayfield and he lost his place.
His other record, unlikely, as I say, to be matched is that he played top-level club rugby for Gordonians in four decades, from 1959 to the early '80s. I last watched him against Edinburgh Accies at Raeburn Place in, I think, 1981, and he was still pretty good, an Aberdeen Terrier of a scrum-half. I think he only once played two internationals in succession . He retained his place after that win in Paris, but following the loss to Wales at Murrayfield three weeks later he was dropped.
To be fair to the selectors of the time – something that many of us rarely found easy – Scotland were then rich in scrum-halves. McCrae was first competing for a place against Melrose's Eck Hastie who with his club-mate Davie Chisholm formed one of the most successful half-back partnership Scotland have ever had. Next he was competing against Gordon Connell (Trinity Accies and London Scottish) who was a Lion, and then against Gala's Duncan Paterson, who was unlucky not to be in the great 1971 Lions party. Then came Alan Lawson and Dougie Morgan who between them dominated the 1970s. Nevertheless, while the competition was stiff, there were two scrum-halves of McCrae's time who were capped only once, Dick Allan of Hutcheson's FPs and Bob Young of 
Watsonians.
The quarter-century from the resumption of the Five Nations in 1947 to the end of Ian McCrae's international career actually featured a remarkable turnover of scrum-halves, not easy to explain. It is difficult, for instance , to understand why Gus Black was good enough to play two Tests for the Lions in New Zealand in 1950, but was never picked subsequently for Scotland. By my count , which may not be quite accurate, 20 players wore the No 9 jersey for Scotland. A couple, Arthur Dorward (15 caps 1950-57) and Tremayne Rodd (14 caps, 1958-65) were in and out time and again. Two, Iain Ross (1951) and James Nichol (1955), played for one season and then disappeared. I suppose new selectors had doubts about them or thought the face didn't fit.
Bill Tilden, the US tennis champion between the wars, had an adage: "never change a winning game – always change a losing one". SRU selectors usually obeyed the second part of this instruction.