Allan Massie Scotland's eyes turn to England v Ireland - and I was surprised by Owen Farrell decision
Cut the first few minutes of the second half from memory, and last weekend's defeat by France was the finest, most complete, Scottish performance for some time.
It was indeed a fine match, welcome contrast to the dross England and Wales served up a few hours earlier. It has appeared for some time now that Gregor Townsend has put together the best Scotland side since 1999. We have been moaning with some reason about World Rugby's ridiculous decision to fix the World Cup pools three years before the tournament, but whereas till recently it has seemed unlikely that we would qualify for the knock-out stage of the tournament, it is now possible to believe that we can do so. In Saitt-Etienne we scored four tries to France's three, and a team capable of doing that has a chance against anybody.
So with no Scotland game this weekend our eyes will be on Cardiff, where Wales host South Africa and Dublin where England are the guests. Normally one would expect both matches to be close, but Wales and England have been so poor that the games may tell us little abut the form of our pool adversaries. Wales have shown some flair in their back division, but their forwards have been so weak that it is hard to see them offering much opposition to the usually mighty Springbok pack.
The Welsh troubles are explicable. They are out with the old stagers in the pack and their replacements have not yet shown themselves ready for tough international opposition. England's case is different. Admittedly they have come off a poor Six Nations, but go through the team list from 1 to 15 and it still looks pretty good, even though remarkably – almost unprecedently – there is no one in their back division better than – or even as good as – his counterpart in the Scotland team. In their two warm-up games against Wales, England have been in command for long periods, but unable to score tries. Indeed, this was the case for most of the Six Nations.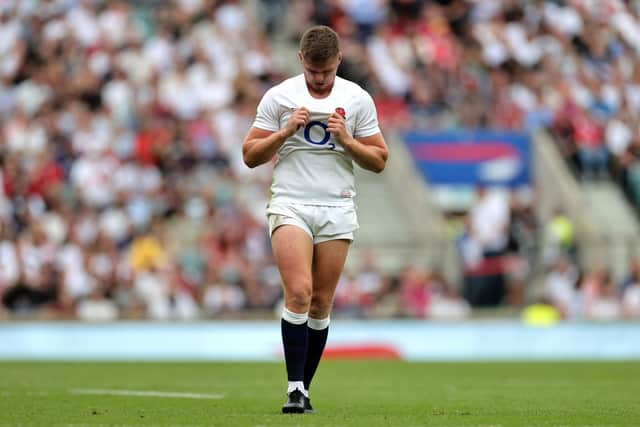 How they respond to the Owen Farrell farrago will be important. His father and Ireland coach, Andy, called it "a disgusting circus" with, I think, reason. Certainly World Rugby's decision to get involved and override the judgement of the three -man Australian panel which chose to overrule the red card, as it is entitled to do, is bizarre. We all have our opinions on the question and indeed on Owen Farrell himself. For my part I thought his high no arms tackle merited a yellow card, not a red. That was my judgement the moment it happened and I was surprised to see it upgraded. That said, it was surprising – even bizarre – in view of Farrell's record of playing the game on the edge and sometimes beyond it, to find the Australian panel reversing the match officials' verdict. One thing is sure: there is no certainty however many people examine such evidence, no sign that those viewing such things on the screen make better decisions than the match referee and his assistants on the touch-line. Whatever the outcome of World Rugby's intervention, the argument will scarcely be stilled.
Meanwhile, England may not suffer. George Ford will be at fly-half today, a player distinguished by his cool judgement and ability to read the game. When I first saw him, many years ago now, he reminded me of Rob Andrew, one of the two or three best English fly-halves I have watched. This present England side may need Ford's calm judgement more than Farrell's fiercely competitive spirit.
Over the years, I suppose most of us Scots have tended to support Ireland against England. It's a bit different today. An English victory might dent Ireland's self-confidence before the World Cup and this would be not unwelcome from our point of view. The odds are against it, and to win England must find a way of corralling Ireland's Kiwi scrum-half, Jamieson Gibson-Park, a man who makes things happen. It's unlikely, given both teams' recent record. Nevertheless Englan , underdogs and feeling the world is against them, may be sufficiently bloody-minded to summon up what Thomas Carlyle called "the true Saxon spirit" a spirit, I would say, of sheer bloody-minded obstinacy. Little chance of that of course if they can't keep 15 men on the field from first to last minute. Against Wales last week, they were at one time reduced to 12 men, one of those biding time out of the game being of course today's absentee, Owen Farrell.