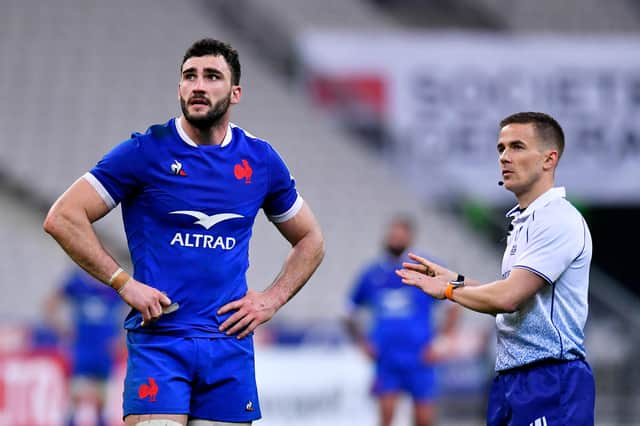 Referee Luke Pearce explained his decisions clearly to France captain Charles Ollivon and his Welsh counterpart Alun Wyn Jones. Picture: Aurelien Meunier/Getty Images
A friend remarked the other day that a match would usually take about an hour and a half, 80 minutes as scheduled playing time, perhaps five minutes injury time, and five minutes at the half-time interval when players didn't leave the field but were refreshed by orange segments brought to them on a plate by a reserve. Last Sunday's game from kick-off to final whistle took, he told me, two hours and 15 minutes.
Now there are many reasons why matches take longer now, and of course the clock is stopped frequently, usually for good reason. This has a side effect, however. Those who complain about the number of replacements and think the game would be better if more players were required to play the full 80 minutes might also remark that all these stoppages offer a welcome breather to any labouring heavyweights who then return refreshed to the fray.
Consultations between the referee and the TMO mean that there are many pauses in the action as video evidence from different angles is reviewed. Some of the confabulations on Sunday took a very long time. I am not criticising Luke Pearce, the young referee. He had a very good game and he carefully and politely explained to both captains just what was in question. His game-management was excellent and this was certainly one of the best-refereed matches of the tournament. Yet it took an unconscionably long time. If there had been a crowd in the stadium, impatience might have led it to resort to the deplorable Mexican Wave.
Surely consultations should be shorter. I think the Law still states that the referee is the sole judge of fact. So it would seem right that his initial on-field decision should stand unless the TMO can quickly come up with a reason to reverse it; and the key word is "quickly".
The longest debate was over the red card eventually given to the French lock, Paul Willemse. The eventual decision was probably right. Nobody surely now disputes that contact with the head or eyes is rightly judged to be foul play, or dangerous even if apparently unintended. Nevertheless, there's an imbalance here, depending first on the point in the game at which the card is given. One wonders if there are times when an intermediate – orange? – card might be produced: 20 minutes in the bin and an automatic appearance before the sentencing panel. Certainly the difference in the consequences of red and yellow cards often seems disproportionate, not always reflecting the gravity of offences either.
A detailed analysis of refereeing decisions on the website RugbyPass.com confirms my impression while watching that Pearce, with some help from his experienced TMO Wayne Barnes, got pretty well everything right. Perhaps the only advantage of playing internationals without a crowd is that one can clearly overhear all exchanges between the referee and the players as well as those with their colleagues. Pearce's readiness to explain his decisions to the captains Alun Wyn Jones and Charles Ollivon came across as exemplary. Even the interpretation of the advantage law seemed well judged. In short Pearce, still only 33, looks set to be Nigel Owens' successor as the referee one is most happy to see in charge; and I would guess players may think this too.
Refereeing being now a professional career, good ones reach the top when they are still young. So, for example, Hollie Davidson was in charge of her first Pro14 match last weekend aged only 27. It's no longer something that people take up when their playing days are necessarily over. Indeed, Pearce is three years younger than Alun Wyn Jones; you might even expect him to call the Welsh captain "Sir", especially since, though an English referee brought up in Exeter, he was born in Pontypool. All the same, even while recognising that there is much to be said for referees being on easy terms with players, I should still prefer then to address team captains as "captain" rather than by Christian, or other familiar, name.
Finally, referees could do more to keep the game moving. They might come down hard on the lethargic approach to the lineout of the side with the throw-in and on scrum-halves taking an age to shift the ball with delicate footwork to an agreeable position at the back of a ruck. And they should be likewise severe with place-kickers who take an inordinate time over a kick at goal. Johnny Sexton and Owen Farrell are two of the worst offenders; sometimes you might think they were lining up a ten-foot putt on a tricky undulating green to win the Open. It would be a bold referee who called "time's up" on such kickers, but I would love to see one do so.
A message from the Editor:
Get a year of unlimited access to all of The Scotsman's sport coverage without the need for a full subscription. Expert analysis of the biggest games, exclusive interviews, live blogs, transfer news and 70 per cent fewer ads on Scotsman.com - all for less than £1 a week. Subscribe to us today