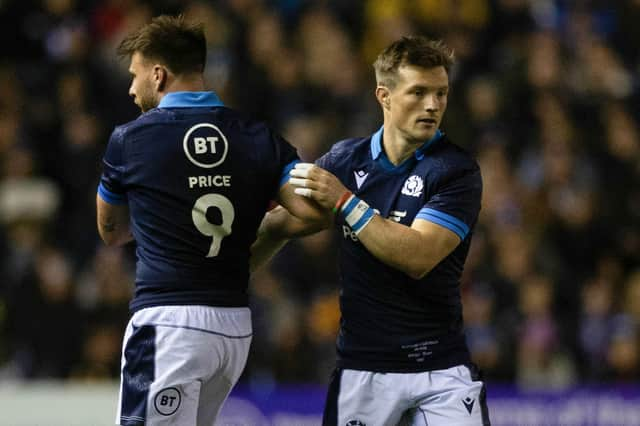 So, it didn't come as a great surprise when Horne returned to the starting fifteen for today's crucial URC match against the Stormers – who are second in the table – at Scotstoun, with Warriors looking to extend their winning run in all competitions to six matches on the bounce.
"For any player, it's obviously frustrating if you're not playing, but I do understand the process as well," shrugs Price, when asked earlier this week about his relegation to second-fiddle. "Other guys are playing well. I respect that. It's great for the team environment and the squad if other guys are performing and taking their chances. So, I know my place and how I fit into the puzzle, and as long as the team's going well and I can help, then that's all that really matters."
Well done to Price for sticking to script, but you do wonder if a bit more edge from the scrum-half might be in order – especially as his place in the Scotland team is surely now under threat with the Six Nations just four weeks away.
Working in Price's favour is his long-term partnership with Finn Russell, and his ability to be the 'yin' to the talismanic No 10's 'yang'. He has a track record of being a steadying hand pushing back against his old flat-mate's more reckless tendencies.
It is easy to forget that Price was seen as a live-wire alternative to the ultra-reliable Greig Laidlaw when he first arrived on the international scene back in 2016, before adapting his game when he inherited the No 9 jersey from the former Scotland captain after the 2019 World Cup.
This more cautious approach has served him well, with 58 Scotland caps and three Lions Test appearances now under his belt, but could he have swung too far in that direction?
"When I think about it, I don't feel like I've ever lost that [attacking instinct]," Price retorts. "Some of the games I've been involved in requires a different way of playing, maybe a bit more control.
"Playing an international can sometimes be different from playing a club game, but I don't think I've lost my ability in terms of my running game and stuff like that. If chances come along, I feel I'm still alert enough to take them. But I feel like my vision of the game, and the games I've been involved in, has lent itself to how I've developed into a more experienced, controlling player."
Price will hope for a decent chunk of time off the bench to showcase his full repertoire of skills against the Stormers' blitz defence this afternoon.
"If you start taking steps around the breakdown, you'll probably have to go yourself, because if you take steps and try to distribute then you'll end up in trouble with their line-speed," he surmised. As a nine, when you're playing against a team who really fly from out wide in defence and are pretty erratic, it's a different sort of challenge. You might get more opportunities down the side, so a change of direction will be important. There are strengths and weaknesses to every defence."