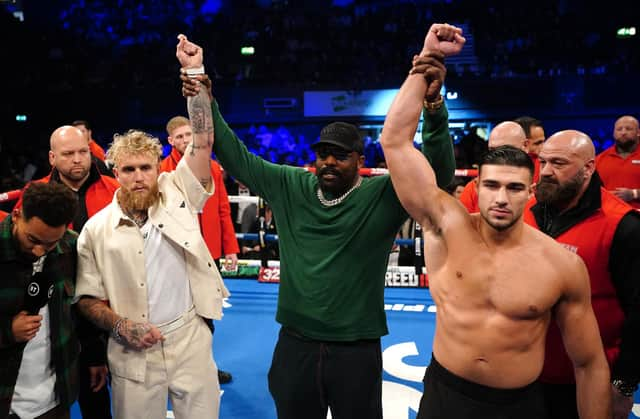 Love Island star Tommy Fury and YouTuber Jake Paul found themselves in the midst of some social media "beef". To the delight of their fans, the two have been engaging in a war of words via social media over a challenge to fight in the boxing ring.
So, who is Tommy Fury, how did the situation with Jake Paul begin - and what is the latest update? Here is everything you need to know.
Tommy Fury, 23, shot to fame during the 2019 series of reality TV show Love Island. During his time in the villa, the professional boxer, from Manchester, met his current girlfriend Molly-Mae Hague.
Molly-Mae, also 21, is a social media influencer from Hertfordshire. The pair went on to become runners-up in the ITV2 dating show after finding love, and they now live together in Cheshire. Fury had taken time off from boxing to feature on the show, but took the sport back up professionally after the series ended.
Molly-Mae and Tommy have since announced the birth of their first child on social media; a healthy baby girl.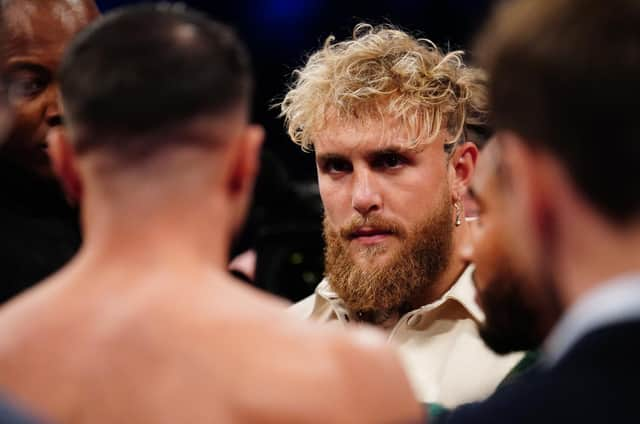 Is Tommy Fury related to Tyson Fury?
It's no surprise that boxing is in Fury's blood, since he is the half-brother of heavyweight world champion Tyson Fury. The pair have different mothers but the same father, John Fury, who was also a professional boxer during the 1980s and 1990s. Tyson has been a well-known boxer for over a decade so has helped to boost Fury's profile in the sporting world.
What is the situation between Tommy Fury and Jake Paul?
Two years ago the celebrity "argument" kicked off after Tyson challenged Paul to fight his younger brother on Twitter. Tyson was praising Fury's performance after he defeated Williams when he wrote at the bottom of the Tweet: "Jake Paul, where you at?"
The American YouTuber, who has only recently entered the boxing world, was quick to respond. He said: "He calls me out to fight someone – his brother! I didn't even know he had a brother.
"You are Fury's little brother? If you want to do something don't let your brother do it for you."
Paul, who has 21.8 million Instagram followers and has described himself as "the future of boxing", proceeded to challenge Fury to call him out on social media himself if he wanted a boxing match. Fury didn't hesitate to reply to Paul, 26, in his own Instagram video.
Walking through his house, Tommy warned Paul: "Mr Jake Paul, I don't need anybody to do my dirty work. I'll call you out right now myself.
"You can fight me any time, any place, anywhere. All you've got to do is get in touch."
Predictably, the war of words between the pair greatly amused their followers, with many wondering how Paul would respond to the call-out. Sure enough, Paul posted another video to Instagram targeting the former reality TV star.
Putting on a fake English accent, he declared: "Crikey this is my big moment! Tyson, Tyson, big brother Tyson, Jake Paul has responded to your tweet! He has called me out!"
The feud between the pair has only worsened since this time as Jake Paul recently 'cruelly trolled' the new parents on social media. After Molly-mae wrote a post confirming the news of her first-born child being born with a picture of her and a caption that read "23/01/23." Paul responded with "Just in time to watch your dad get knocked out."
Who won Jake Paul or Tommy Fury?
CBS Sports reports that after battling eight gruelling rounds Tommy Fury won the fight handing Jake Paul 'his first loss' on Sunday. The YouTuber turned boxer, while putting up a solid fight, ultimately lost in a split decision victory after the fight was passed on to the judges to finalise a winner.
How much did Tommy Fury get for the fight?
Sports Zion reports that Fury was paid $2 million as a base salary and he would earn 35% of the profits taken from Pay Per View streams of the fight. What's more, Fury won an additional $1 million as a winning match bonus plus Jake Paul pledged to pay him $500,000 if he lost the match - overall Fury should walk away with $6 million.
Some argue that Paul has the last laugh, however, as his base salary is $3.2 million, he should receive 65% of the Pay Per View stream profits, and even deducting the money he bet he should still walk away with over $8 million.