What now for Andy Murray? Why retirement talk may be premature for master of the comeback
Andy Murray believed that he could not have done any more in his preparations for Wimbledon: he had grass court matches under his belt with two Challenger titles, physically he was in prime nick and he knew he was one of the best grass court players in the business.
And he lost in the second round. Again. What was worse was that he had lost a match that could and should have been won. Now what?
Afterwards, Murray was crushed. He always takes defeat to heart but this five-set loss to Stefanos Tsitsipas was a particularly bitter pill to swallow. He knew he had a chance but he had failed to take it. He had served well but he had not returned well enough. He had been aggressive and dominant in the third set on Thursday night but he could not force himself to be that brave again on Friday afternoon.
And so, as he done several times in the past couple of years, he cast doubt on his future. He did not know if he would be back again last year. He did not think he could motivate himself to work himself to a standstill in training if the only reward on offer was an early round loss at a grand slam.
But Murray always does come back. It is as if he cannot help himself. He loves tennis, he loves to compete and even with a young family in tow, he loves the lifestyle of the professional tennis player.
His dedication has never been in doubt. After all, when he was forced to have his right hip resurfaced in 2019, the medics told him that theoretically it would be possible to play again but no one had ever tried to play at elite level with a tin hip. That was the great unknown. Or it was until Murray got himself back on tour by the summer of that year and won the 46th title of his career in the autumn.
The immediate goal would be to get his ranking up to ensure a seeded berth at the major championships. But that means flogging himself around the tour week in, week out and as much as he has managed to get himself back to peak fitness, he knows that he has to be careful. He cannot push himself too far in case his body breaks down again.
His current ranking of No.40 will get him into any tournament other than the end of year Masters – and he has won that before and ticked it off his to-do list. Maintaining his current position is perfectly possible, then. A decent run at one of the Masters 1000 events could get him into the world's top 32 and so secure a seeding but suddenly turning on the magic against the world's best is not easy. It is even harder when you are 36-years-old.
Before Wimbledon began, Murray was quite clear about retirement: he had an idea of when and where he would like to stop. But it was not now. And he had signed up to tournaments at the end of this year and asked Jonny O'Mara, the doubles player, to join his team next year. The signs are, then, that he has no plans for retirement in the foreseeable future.
And what would Murray do if he hung up his rackets? He tried his hand at TV commentary a couple of years ago and while he was very good at it, he did not enjoy sitting in a stuffy commentary box for four hours watching two other blokes playing. As for administration or business, Murray is an intelligent and informed man but he has said in the past that endless meetings with people talking round in circles drives him nuts. He would make an excellent coach but would he want to hit the road full-time for the next 15 years to nurture a young talent through to success? Probably not with a young family at home.
As the golden era of men's tennis draws to a close, Murray deserves to make the most of his place within it. From 2008 until his hip gave out, he was one of the Big Four. True, Roger Federer, Novak Djokovic and Rafael Nadal won many more grand slam titles than the Scot – but they were playing Murray in the final more often than not. He reached 11 grand slam finals and was welded into the world's top four in the rankings for almost a decade.
He owes nobody anything. Over the years, he has more than given back to his sport that which it gave him. He is an advocate for equality and fairness, he supports women's rights and women's tennis (and is universally loved in the women's locker room for it). He speaks out on issues he believes in but does so with a calm and measured voice. Tennis will miss him when he is gone.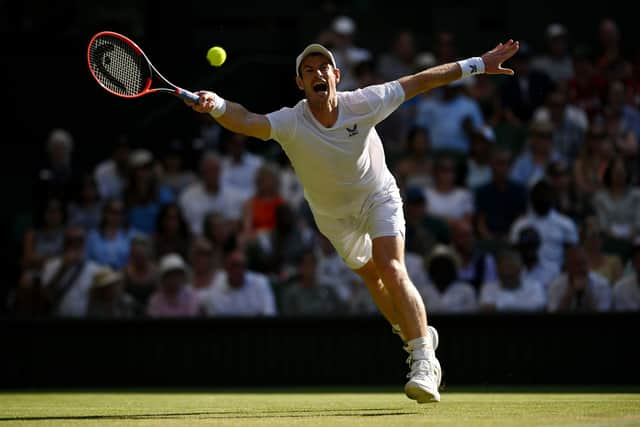 When he goes is anyone's guess. But he has more than earned the right to go out on his terms, in his way and at the moment he chooses.
That said, do not be surprised if we are all chewing out fingernails down to the knuckles this time next year as old Braveheart conjures up another late-night Centre Court thriller. It is just the way he is made.
Comments
 0 comments
Want to join the conversation? Please or to comment on this article.