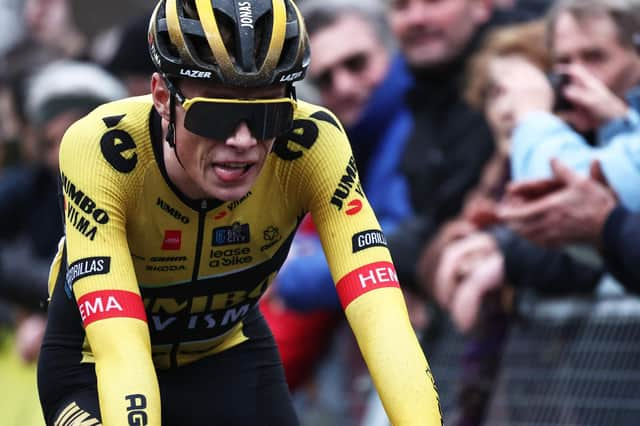 The two Tour heavyweights (okay, they're clearly lightweights on the scales) came out swinging in the early weeks of the campaign, both notching up a sequence of impressive wins in Spain. This week they've been going toe-to-toe for the first time this season at Paris-Nice, the eight-day 'mini-Tour de France', and it was Pogacar who landed the first psychological blow with Wednesday's stage four win on the summit finish at La Loge des Gardes to take the overall lead. Once Pogacar attacked, Vingegaard had no answer, the Dane finishing sixth on the day.
Two-time Tour champion Pogacar has looked like a man on a mission as he undertakes an ultimate quest to regain the yellow jersey he lost to Vingegaard back in July. At last year's Tour, Pogacar just couldn't shake off his rival and the Slovenian's impulsive style of racing sometimes contributed to his own downfall as he burned energy chasing down Vingegaard's attacks. This week, though, Pogacar has been racing hard but smart with a smile on his face and it will be fascinating to see how Vingegaard responds as the Race to the Sun heads towards its conclusion on the Cote d'Azur on Sunday.
Of course, a lot can happen between now and the start of the Tour – it's not always wise to read too much into early-season form or results. But if this week's action is anything to go by it promises to be an intriguing build-up nonetheless.
While cycling fans continue the long countdown to the July 1 grand depart, Netflix have whet appetites by unveiling the first trailer for their forthcoming Tour de France documentary. Although a release date hasn't been announced reports suggest the eight-part series (likely title Tour de France: Unchained in the UK) could drop in early to mid 2023. The sooner the better.
Modelled on popular Formula 1 show Drive to Survive, it follows eight teams during the 2022 edition, promising to capture the essence of the race and the epic Vingegaard-Pogacar duel through a combination of television and on-bike footage along with behind-the-scenes interviews. Given that it was one of the most memorable yellow jersey tussles of recent years the hope is that, like Drive to Survive, it will help the sport engage with a wider audience.
This can only be a good thing. Cycling is looking at new ways to broaden its fanbase and various innovations are being explored to that end, especially those that enhance the viewer experience. On-bike footage has already proved popular with fans and now camera-carrying drones are creeping into the sport as race organisers attempt to move with the times. O Gran Camino, the Spanish stage race won by Vingegaard last month, featured live drone footage and provided some impressive aerial images, although one over-enthusiastic operator appeared to get a little too close for comfort while filming the Dane during the concluding time trial prompting the UCI to air concerns about rider safety.
Hopefully these issues can be ironed out. Any tool that helps attract a new audience to the sport is welcome, especially if it can potentially give armchair fans a close-up appreciation of cycling's big hitters as they slug it out in a Grand Tour showdown.