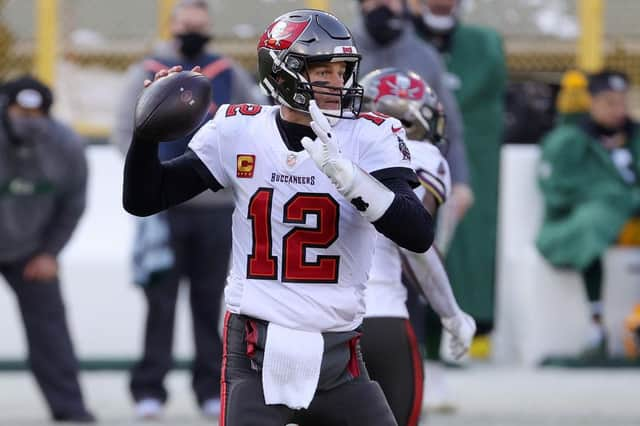 Tom Brady had already etched his name into NFL history before Sunday's Super Bowl 55.
It was only the second time the Bucs had reached the NFL's showpiece event in the franchise's history - and the first time since 2002, when they beat the Oakland Raiders.
How many Super Bowl rings has Brady won?
Brady is no stranger to the Super Bowl.
The California native, born on 3 August 1977, was a regular participant in the NFL's championship game during a 20-year career with the New England Patriots.
His record 10 appearances at the Super Bowl is one of many achievements the quarterback can call upon when looking back over his trophy-laden career.
Of those nine appearances so far, Brady has won SEVEN - in 2001, 2003, 2004, 2014, 2016, 2018, and 2021 - and been named most valuable player in FIVE of those victories.
Brady has won more Super Bowl rings than anyone other player, surpassing the four his childhood idol Joe Montana and Terry Bradshaw won with his fifth in 2016.
What are Brady's Super Bowl records?
These records are pre-2021.
Most touchdown passes: 18
Most passing yards: 2,838
Most passes completed: 256
Most passes attempted: 392
Most wins as starting QB: 6
Most wins as a player: 6
Most passes completed in first half of a single Super Bowl: 20 (XLIX)
Most passes completed in a single Super Bowl: 43 (LI)
Most passes attempted in a single Super Bowl: 62 (LI)
Most passing yards in a single Super Bowl: 505 (LII)
Most Super Bowl appearances: 9
Most passing attempts without an interception in a single Super Bowl: 48 (XLII & LII)
Oldest QB to start a Super Bowl: 41 years, 6 months, 0 days
Oldest QB to win a Super Bowl: 41 years, 6 months, 0 days
Oldest player to win Super Bowl MVP: 39 years, 6 months, 2 days
Most consecutive completions in a single Super Bowl: 16 (XLVI)
Most game-winning drives: 6
Why did Brady leave the New England Patriots?
With Brady forging a new path with the Bucs, many NFL - and indeed Patriots - fans might be asking why he parted ways with Bill Belichick's serial winning New England side.
There's no clear and obvious answer as to why but there are some contributing factors which could have played their part in the decision making process.
Not least because the Patriots had a salary cap on their squad, meaning they were limited to a degree in how much they could offer Brady who was attracting interest from elsewhere.
The Bucs made him a generous offer, reportedly $50 million over two years, and boasted a strong supporting cast with the likes of Mike Evans, Chris Godwin, OJ Howard and Cameron Brate.
It was a move too tempting to turn down and one which also saw his friend Rob Gronkowski come out of retirement to join him at the Bucs, as they head to Super Bowl 55.
How did Brady lead Tampa Bay Buccaneers to Super Bowl victory?
It's already been a season to remember for Bucs fans, having reached the playoffs for the first time in 13 years they played in a Super Bowl for the first time in 19 years after winning the NFC Championship.
Following the win over the Green Bay Packers, Brady's wife Gisele Bündchen shared a snap of herself and their children in their Tampa Bay Buccaneer jerseys, Tweeting: "Yeeeeeah Super Bowl here we come!"
Brady has been described as the GOAT (Greatest Of All Time) for many years, which his record lends itself to, but just to underline his achievements, opposing quarterback Aaron Rodgers, who won the Super Bowl 10 years ago, hasn't been back since.
It was Brady's 10th appearance in the NFL championship game.
There he went up against Patrick Mahomes of the Kansas City Chiefs, who is 18 years younger than Brady, and won his first Super Bowl last year.
Despite both quarterbacks performing, it was the experienced Brady who came out on top as he clinched the MVP (most valuable player) accolade in the Bucs' 31-9 win at the Raymond James Stadium.