Successful UCI Cycling World Championships boosts hopes of Tour de France coming to Scotland
Attempts to bring the Tour de France back to the UK in 2026 appear to have received a shot in the arm from the success of the UCI Cycling World Championships in Scotland over the past two weeks.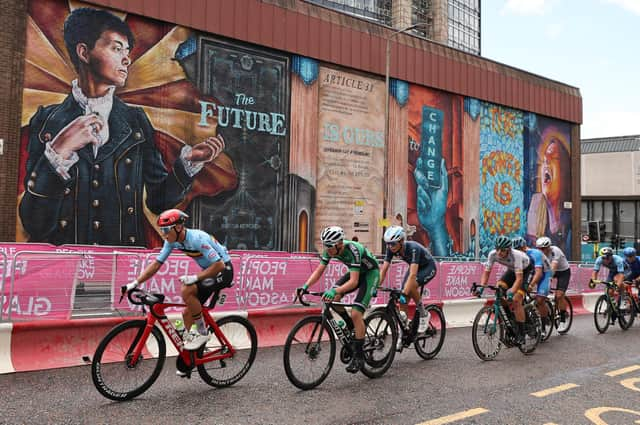 Tour director Christian Prudhomme was in Glasgow last weekend for the men's elite road race, fuelling speculation that a bid to host the Grand Depart of the world's biggest bike race across Scotland, Wales, and England – with an opening stage starting in Edinburgh – is making serious progress. Officials insisted Prudhomme was on a private holiday but his presence at these 'super worlds' – the first running of an experimental format combining 13 disciplines – was seen as significant as work continues on the bid, which was first launched in 2021 with Government backing.
British Cycling chief executive Jon Dutton greeted Prudhomme in Glasgow, and said the success of the championships, which attracted an estimated one million spectators across Scotland over 11 days, were a powerful advert for what the UK could offer. "Why wouldn't event organisers want to bring events to the UK on the back of everything we've seen?" said Dutton, who worked on the Yorkshire Grand Depart in 2014. We know ASO (the Amaury Sports Organisation that runs the Tour de France) have huge respect for our ability to deliver major races. I think the UK wants to have more moments like this and the Tour and other events would be on that trajectory… The Tour is the biggest commercial road race in cycling so it would be great at a point in the future to bring that back and I think any event organiser looking at this event would certainly want to come back to the UK."
Glasgow served as the hub for the worlds, but there was mountain bike racing in both Fort William and Glentress Forest near Peebles, para-cycling in Dumfries and Galloway, and road time trials in Stirling. Trudy Lindblade, chief executive of these championships, said: "We've got communities that have not ever been part of a major event before, they've really celebrated that civic pride of having a global broadcast. In Stirling or Dumfries we were something big, something for the first time, part of history essentially. I'd like to think we have given some future hosts of some cycling events good consideration of how you can do things and maybe do things maybe slightly differently."
The majority of the fans who did turn out were delighted to see Great Britain top the medal standings in both cycling and para-cycling, with a total of 100 medals – 66 of them coming for the Great Britain Cycling Team in the key events with the rest in non-funded disciplines. The Great Britain team have often been down the standings in the final world championships before an Olympics, holding some performance in reserve, but a change in the calendar means these worlds have been a full year before Paris rather than a few months.
British Cycling performance director Stephen Park promised there was still more to come. "It's more competitive now and riders are more eager to be winning year-in, year-out," he said. "They're far less comfortable being in a position where we're keeping all our powder dry for that final big push for the Games."