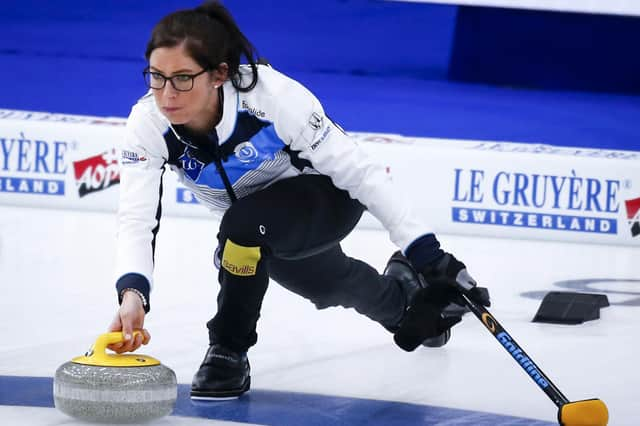 Scotland skip Eve Muirhead makes a shot against Denmark at the Women's World Curling Championship in Calgary. Picture: Jeff McIntosh/The Canadian Press via AP
Scottish curlers have represented Great Britain at every Games since curling was reintroduced as an Olympic sport in Nagano, Japan, in 1998.
Their biggest success came four years later when Rhona Martin's team won gold medals in Salt Lake City, defeating Switzerland in an incredibly tense final. Martin delivered the winning shot which became known as the 'Stone of Destiny'.
The sport was invented in this country and there is evidence that curling existed in Scotland in the early 16th century. Curling was included in the inaugural Winter Olympic Games in 1924 in Chamonix but only as a men's event. It was a demonstration sport at the 1932 Games, and then again after a lengthy absence in 1988 and 1992.
Scotland skip Eve Muirhead, right, makes a shot as lead Lauren Gray, left, and second Jen Dodds sweep against Denmark. Picture: Jeff McIntosh/The Canadian Press via AP
Six Olympic qualifying spots were up for grabs at this month's World Championships in Calgary but the Scots lost five of their last six matches to exit the tournament.
Scotland went down 7-6 to China in their final match to finish with a record of six wins and seven losses, not enough to reach the play-offs or secure an Olympic place - although they will have one last chance to make it to the 2022 Games in Beijing.
"It's been a really disappointing week for us in general," said Muirhead, who has competed at three Winter Olympics and won bronze in 2014 at Sochi.
"It's never nice to be finished early. We need to keep our heads up, which will be tricky, because it's going to hurt for a few days, I know that, but we'll do our best to not let it hurt too much."
Eve Muirhead, centre, captained Britain to bronze at the 2014 Winter Olympics in Sochi with, from left: Claire Hamilton, Vicki Adams, Anna Sloan, and Lauren Gray. Picture: Ryan Pierse/Getty Images
The Winter Olympics are scheduled to take place next February and Team GB representation in the women's event will now depend on Scotland's performance at a qualifying tournament later in the year.
Three further places are up for grabs at the December qualifier to see who will join Switzerland, the Russian Curling Federation, Sweden, Denmark, USA, Canada and hosts China in Beijing.
It has yet to be decided if she will represent Scotland at the Olympic qualifier.
Muirhead's team faced China in Calgary immediately after learning that they had missed out on one of the six qualifying spots.
A 9-5 defeat earlier in the day to Denmark had left the Scots hoping for an unlikely sequence of results in the penultimate round of matches, in which they were not involved.
When those failed to materialise, they knew the clash with the Chinese was merely a matter of pride.
"Unfortunately we didn't manage to finish with a win and it's so disappointing," said Muirhead whose team comprised Jen Dodds, Vicky Wright, Lauren Gray and alternate Sophie Sinclair.
Scotland's men's curlers, with Bruce Mouat as skip, have already secured their place as Team GB representatives at the Beijing Winter Olympics following their second-place finish at their World Championships in Canada last month.
A message from the Editor:
Thank you for reading this article. We're more reliant on your support than ever as the shift in consumer habits brought about by Coronavirus impacts our advertisers.
If you haven't already, please consider supporting our trusted, fact-checked journalism by taking out a digital subscription