The charity is calling for the race to involve fewer horses and for jockeys to lose their whips after dozens of Animal Rising protesters stormed the field at the yearly race on Saturday.
Three horses – Hill Sixteen, Dark Raven and Envoye Special – died during the three-day Aintree Festival last week.
RSPCA policy director Emma Slawinski told BBC Radio 4's Today programme: "One of the things we particularly see at the Grand National is a very big field, so lots of horses running together.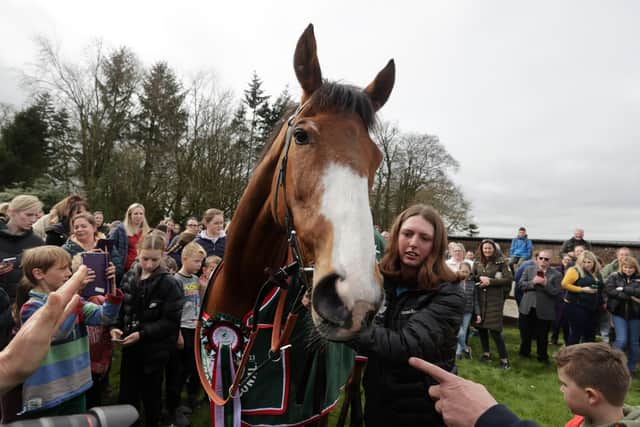 "That, of course, causes issues when horses fall and can get in the way of other horses and cause accidents in that way.
"The other thing that we think needs to change very urgently is to see an end of the use of the whip for encouragement – hitting the horses to make them run faster.
"We know that that actually causes more accidents, it makes accidents more likely, makes injuries more likely, so we'd like to see that reform happen as well."
Nevin Truesdale, chief executive of The Jockey Club, which owns the Aintree racecourse in Merseyside, said measures including softer ground and smaller hurdles have been imposed in recent years.
He told Sky News: "We did have a very good three days' racing at Britain's second-biggest spectator sport.
"But we can't ignore what happened in terms of the fatalities we saw and every fatality we're seeing is one too many.
"To see three fatalities – and condolences to all connections across the event – obviously it's something we will be analysing and reviewing."
"The fact that 99.8% of horses across all of racing come back from races safely – that's come down by a third over the past 10 years – the sport is safer, the Grand National is safer than it's ever been.
"But that does not mean that we will stop in terms of our relentless drive to improve welfare standards."
Mr Truesdale admitted "you will never eliminate risk completely" in the sport but said horses are "born and bred to race" and the activity "drives breeding and sustainability of the breed itself".
Meanwhile, Sandy Thomson, Hill Sixteen's trainer, blamed the "ignorant" Animal Rising protesters for more fallen horses at this year's event.
He told Today: "If we look at the last nine years since the course has been modified, there's been an average of under two fallers at the first two fences and this year everybody got very uptight about it – horses, jockeys, starters – and there were eight fallers at those first two fences.
"This was all caused by these so-called animal lovers who actually are ignorant and have absolutely no idea about welfare of horses."
Mr Thomson said, though, that changes could still be made to make the sport safer, including "a shorter run to the first fence and a few less horses on the field".
The League Against Cruel Sports said the death toll at the Aintree Festival now stands at 62 horses since 2000 – with 16 killed in the Grand National, including two last year.