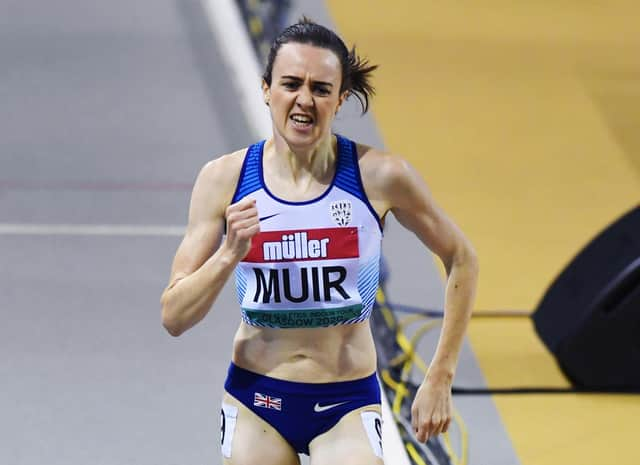 Laura Muir has channelled her winter training into peaking in Tokyo but will now have to start again next year. Picture Alan Harvey/SNS
Yesterday, Japan president Shinzo Abe, supported by the International Olympic Committee announced that the Olympics, which were due to start on 24 July, would be "rescheduled to a date beyond 2020 but not later than summer 2021, to safeguard the health of the athletes, everybody involved in the Olympic Games and the international community".
It was a welcome moment of clarity for Team GB hopefuls.
The IOC had been expected to review the situation in April, but the expidited postponement offers potential competitors some concrete answers and allows them to reassess training schedules that have been in disarray for weeks.
Track and field athlete Eilidh Doyle admits that she is one who could benefit from the delay, as she works her way back to the top after a pregnancy hiatus, but she knows that others will find the change of date more mentally and emotionally testing.
Like all the nation's athletes, Scotland's track darlings Laura Muir and training partner Jemma Reekie have channelled their winter training into peaking in Tokyo but will have to start again next year. But Doyle says the indoor season will have given them a strong foundation to build from and is confident they will remain focused.
"Jemma is flying just now and has had a phenomenal indoor season so she would have had high hopes for the outdoor season. But she is young and she knows that if she works hard again this year then she could be even better next 
summer."
Which was the outlook taken by the 22-year-old middle-distance runner, who set new British records for the indoor 800 metres and mile over the winter. Taking to Twitter in the wake of the announcement, she said: "2021. I am going to use this extra year to get faster, stronger and fitter for the Olympics.
"I will use the hunger and excitement to push myself and make every minute count. Stay safe, be sensible and do what we are told. This will come to an end."
Stephen Maguire, director of performance and coaching with Scottish Athletics and head of sprints, relays and hurdles for British Athletics, said he was delighted with the 
postponement.
"In Britain, we're pretty much in full lockdown and while athletes can exercise once a day, subject to government guidelines, venues all across the country are shut.
"They don't have access to face-to-face coaching, they can't see a physio and they cannot get treatment.
"People may not be aware, but our elite Scottish athletes and Paralympians would have been in real limbo if they'd been injured at this time. There would really be nowhere for them to go with that other than the NHS and, of course, they have far more significant priorities to deal with and rightly so.
"I've been talking to athletes and coaches constantly in recent weeks and one of the phrases was to try to keep 'ticking over'. But when actually that becomes difficult, there is no prospect of competition to achieve standards and issues over qualifying trials then there were all sorts of issues regardless of if Japan was somehow OK to travel to at some later date.
"The lack of clarity was a definite danger in mental health terms – frustration building up at not being able to train in the right way or the right environment, frustration at a lack of competition, a fear of not being suddenly ready when asked to be. So all in all I 
am very relieved with this 
outcome."
While athletics came to terms with the altered timescale Doyle, who, with two Olympics under her belt, understands the differing demands of different sports, said the decision was more important for other Olympic hopefuls.
"As athletes we can adapt our training but the likes of the swimmers have faced more disruption with events and training affected."
She says that medal prospects such as Duncan Scott will have found it difficult to access the pool or put in the laps needed to peak as expected, while those operating in a team environment or judoka, such as bronze medallist from Rio 2016 Sally Conway will have been hampered by social distancing restrictions.
"Their prep has been affected and that is not what you want heading to an Olympics. We wait four years for this and while we train for Worlds or Europeans, this is the pinnacle. It will be hard for many to wait another year but it was the right decision."