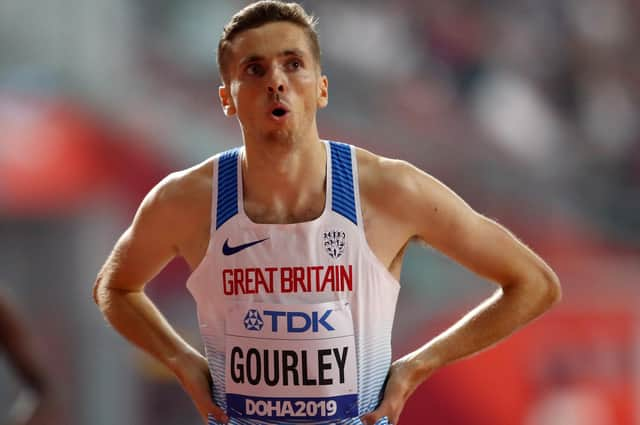 The Glaswegian had run into the best form of his young career but could hardly walk a step when he was forced to pull out of the 1500 metres final. Sick to the stomach in more ways than one. That, the 26-year-old admits, has him hell-bent on rewriting that painful history this weekend by bagging his first major title at the 2021 edition which begins tonight in Torun.
Fresh from setting the fifth-quickest time ever by a Brit in the same arena a fortnight ago, Gourley's hitting top gear at the perfect time to finish what he started in 2019.
"I think winning at these European Indoors would do some good in terms of putting that to bed," he said. "I don't think I'm ever going to quite wipe away those mental scars, to be honest, because of the fact that was in Glasgow I mean, it's quite hard to replicate running in front of family and friends - particularly in an empty stadium in Poland.
"But it's a great chance to make up for it and get some retribution on my own misfortune. European Indoors two years ago was definitely a low point so winning it would be up there."
A finalist at the last world championships in Doha, he is one of five Scots in a highly-depleted British team for the showpiece.
In an Olympic year, amid the curse of Covid, the majority of the UK's Tokyo medal hopes are opting to stay home with Laura Muir deciding early on that she was not going to chase an unprecedented third consecutive golden double at the championships.
With Dina Asher-Smith backtracking on taking part, Katarina Johnson-Thompson injured and new British 800m record holder Elliot Giles becoming a late scratch, Gourley is among a shrunken group of possible medallists led by reigning world indoor 60m hurdles champion Andrew Pozzi.
Prioritising the summer is understandable, the Scot declares. Even if there is still uncertainty in the air over whether the postponed Games will still go ahead.
"It can be difficult," he said. "I go through waves where the uncertainty kills me a little bit, and then waves of 'screw it, I'm going to be in the best possible shape I can be in.' This is a once-in-a-lifetime deal for some. It could be for me, I don't know what the future holds. You never know how many opportunities you're going to get in this sport."
With intense domestic competition in the metric mile, there is no guarantee of a seat on the plane to Japan. In Doha, it was an all-tartan trio in the event with Jake Wightman and Josh Kerr finishing fifth and sixth in the 1500m final. Charles Da'Vall Grice recently swiped Wightman's UK indoor 1000m record.
Simply getting over that first hurdle won't be enough, Gourley underlines. "I'd never be the type that wants to make an Olympic team just for the experience of being in the village and the ceremony and that kind of thing. I mean, that's all great. But it's definitely not why I do this. Maybe afterwards I'd enjoy it. But first, let's focus on the biggest challenge in front of me."