Josh Kerr delights in Scottish Athlete of the Year award as 1500m world champion recalls journey from 'lowest point'
Josh Kerr hailed Scottish Athletics for rescuing his career almost before it began after he was crowned 4J Scottish Athlete of the Year by the governing body at the 4J Annual Awards.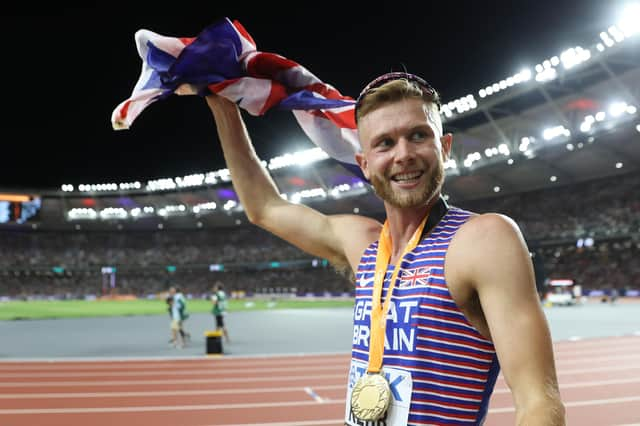 The 1500m world champion was joined on the honours list by Samantha Kinghorn, who was named 4J Scottish Para Athlete of the Year after claiming gold in the wheelchair 100m and three more silver medals at the World Para Champs in Paris last summer.
While American-based Kerr was unable to attend the ceremony in Glasgow, he sent a heartfelt message thanking Scottish Athletics for setting him on the path from his "lowest point" to his gold medal victory at the 2023 World Championships in Budapest in August.
He said: "My parents were there in Glasgow to accept the trophy on my behalf and I know they were thrilled to do that on the night. They (John and Jill) have been a massive part of what I've become in my career. I appreciate all they have done in supporting me and I want to thank them and my coach (Danny Mackey). I also really want to thank Scottish Athletics. I was in the lowest point of my training and competing at one stage – around 2015 – and that is when I really turned to Scottish Athletics for some help.
"I really leaned on them and said 'Look, I want to progress and get better but really need some help and guidance'. Things were not going well but Mark Pollard became my coach for a spell and that was a key moment. I will remember that help for the rest of my life because it was so important for me at the time. I was at my lowest point and Scottish Athletics were who I leaned upon. They were there when I needed them and put me on the right path. This is a fantastic award and I am delighted to win it for the first time in my career.
"It caps off a great year for me in many ways. It is nice to end it as Scottish Athlete of the Year because it was a title that was kind of on my radar as something I would like to win given the names of those in recent years."
Kinghorn, meanwhile, reflected on a remarkable year which featured four medals at the World Para Champs in Paris. "It is always a nice feeling to realise via an award like this that people have been pleased to see you do well," she said. "You don't always appreciate that at a championship. I had worked really hard prior to Paris but I had no idea I had four medals in me! The 100m gold was a shock to me in many ways even though I felt calm going into it and was looking simply to do what I do every day. But when I watch the race back I see that every section was executed exactly as we would hope and plan – and you don't get that too often."
Other award winners included: Masters Athlete of the Year – Paul Forbes; U20 Athlete of the Year – Natasha Phillips; U17 Athlete of the Year – Millie McClelland-Brooks; Dallas Trust Trophy – Jemma Reekie; Junior Hill Running – Isla Paterson.