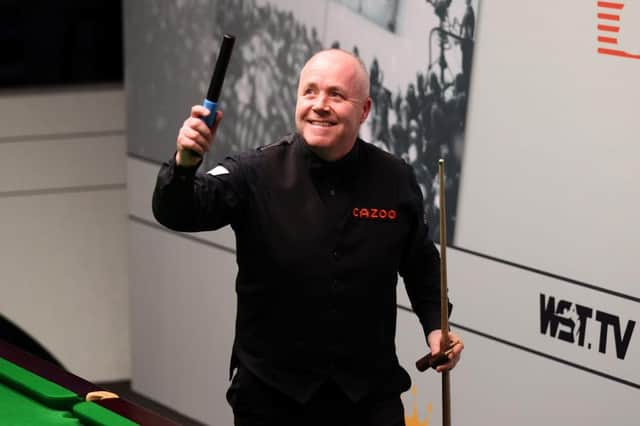 The win over the seventh seed came after a similarly one-sided first round match against David Grace, which Higgins won 10-3.
It's looking like he'll not be the only Scot in the quarters, with qualifier Anthony McGill well in control over Jack Lisowski in his second round match. The two countrymen are in opposite halves of the draw so can't meet unless they both make the final.
Here's everything you need to know about John Higgins as he battles for another big win.
When will John Higgins play his quarter final and who will he play?
Higgins will take on either Mark Selby or Gary Wilson in his next match, with his two possible opponents starting their second round match tonight (April 24) at 7pm.
The match will start at 2.30pm on Tuesday, April 25, with further sessions scheduled for Wednesday, April 26, at 2.30pm and 7pm. It will be broadcast live on the BBC.
Higgins has expressed frustration at the back-to-back Wednesday sessions, saying to Eurosport: "It's pathetic isn't it? Every year there's always a quarter, I've been coming for 29 years and every year there's a quarter where you're going back-to-back sessions in a quarter-final of a World Championship. It's terrible, absolutely terrible. It's pathetic. Why? Why are you out there playing for like 10 hours? It depends the way the match is going, if you're well in front it can be great because you just want to roll on with it. But if you're well behind you want to have a little break and you don't want the other guy to still feel good."
How many World Championships has John Higgins won?
Higgins has been world champion four times – in 1998, 2007, 2009 and 2011.
He beat Judd Trump 18–15 in the final to win his last title, having defeated Ronnie O'Sullivan in a tight quarter final 13–10.
Overall he has won 31 career ranking titles, placing him in third position on the all-time list behind Ronnie O'Sullivan (39) and Stephen Hendry (36).
Why was John Higgins suspended from snooker?
In 2010 John Higgins was the subject of match-fixing allegations after a sting operation by the News of the World Sunday newspaper.
An investigative reporter met Higgins in Kyiv posing as somebody trying to organise a series of snooker events. It was alleged that Higgins (and his manager Pat Mooney) had agreed to lose frames in exchange for a payment of €300,000. Higgins issued a statement explaining that he had simply "played along" after suspecting his safety was at risk from the involvement of the Russian Mafia. An independent tribunal withdrew the match-fixing charges, but found him guilty of "giving the impression" that he would breach rules. He received a six-month ban and was fined £75,000.
How much has John Higgins won in his snooker career to date?
During his successful career, Higgins has won prize money of around £9.1million. If he win's this year's World Championship, he'll bank a further £500,000.
Has John Higgins made a 147 break at the World Championship?
Higgins is one of only nine players to have recorded a maximum at the World Championship – with Kyren Wilson becoming the latest member of the 147 club this year.
The Scot's perfect break came in 2020 in his second round match against Kurt Maflin.