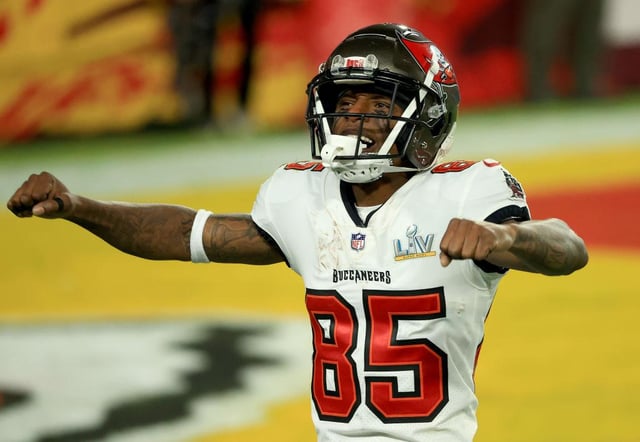 Jaydon Mickens was part of Tom Brady's Tampa Bay Buccaneers side which won Super Bowl LV (Getty Images)
A reigning Super Bowl champion was arrested earlier this month for, charged with a weapons-related felony.
Jaydon Mickens, a wide receiver and kick returner for the Tampa Bay Buccaneers, was taken into police custody in Los Angeles on March 5.
He was charged on a felony weapons-related charge.
The Buccaneers has said it is monitoring the situation and has been in contact with the league office regarding the issue.
Mickens, 26, was arrested on March 5 in southern Los Angeles.
During a traffic stop LAPD officers found a concealed firearm in the wide receiver's car
Mickens was released after a bail of $35,000 was posted.
According to the Pewter Report, who broke the story, Mickens will appear in court on July 8 in Los Angeles.
What has the Tampa Bay Buccaneers said?
Responding to the Pewter Report the Tampa Bay Buccaneers acknowledged the charge.
It said: "We are aware of the issue regarding Jaydon that occurred in Los Angeles last week. He reached out to let us know about the situation soon after it happened and we have been in contact with the league office to ensure they were aware.
"We will continue to monitor the situation but will have no further comment at this time."
Jaydon Mickens is set to enter his third season with the Buccaneers having joined the franchise's practice squad in 2019 following a two-season spell with the Jacksonville Jaguars.
He appeared for the reigning NFL champions on ten occasions in the 20/21 season, emerging as the Florida side's first choice kick returner. Earlier in the season his contract was waived before the team resigned him two days later.
He made three kick returns at Super Bowl LV, running for 75 yards in total.
He has scored three touchdown in his career, all of them with the Jaguars.