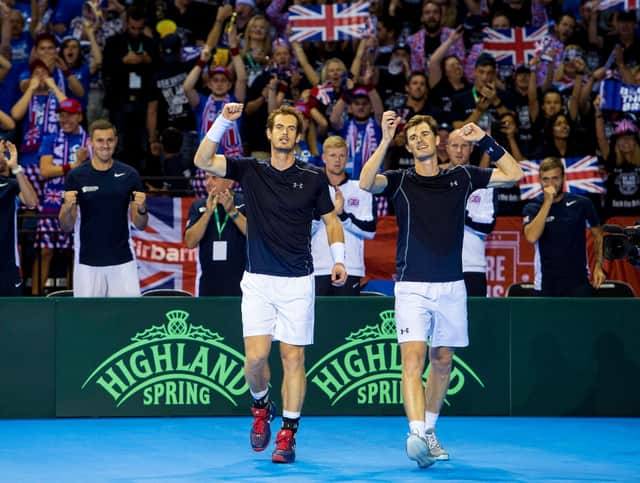 A team event he devised in response to the paucity of tournament tennis during the pandemic, the inaugural staging was last July and there have been three events in total, all at the National Tennis Centre, in Roehampton.
They were held behind closed doors but anticipating that crowds should, hopefully, be allowed to attend by the end of this year, the rivalry has been cranked up a notch this time, with players lining up in a Scotland v England sporting showcase at the Aberdeen's P&J Live Arena, in December 21-22.
Jamie will be joined in Team Scotland by his younger brother and two-time Wimbledon champion Andy, setting up an occasion to treasure, provided it all goes to plan.
"For us to come to Scotland and lose to England, that's not really what we want to do. We are putting ourselves on the line. We'll get run out of town if we lose!"
Launching ticket sales, there was a telling chuckle when the possibility of forfeits and wagers were raised, as the Murrays and their fellow Scots pit themselves against players they usually line up alongside on Davis Cup duty.
"There's nothing yet but that's a great part of it," he admitted. "We've been in the GB team for so long and shared great moments together but now we get the chance to go up against each other, representing our own home nations, there's a lot of pride on the line for that.
"Even for the English guys...when I pitched them the event, they were so excited about getting the opportunity to compete against Scotland. It is one of the oldest rivalries in sport and we want the fans to come out, make a lot of noise and have a good night out.
"We are there to put on a good show and have everyone enjoy themselves. I think this format lends itself to that."
While the Murrays and their Davis Cup colleagues have sampled the passion of Scottish tennis fans several times in the past, the absence of regular live tennis in his homeland was another factor in the elder Murray's decision to host the event on home soil.
The last appearance was in the Andy Murray Live event in 2017, when Roger Federer provided the competition and lightened the mood by donning a kilt.
"We wanted to bring live tennis to Scotland, first and foremost," said 35 year-old Jamie of the return north. "We've had amazing moments in our careers playing tennis in Scotland, representing GB. But, as we get older, those opportunities become less and less.
"I thought this was a great opportunity to put on a really unique event and bring live tennis to the Scottish public. There is a huge demand for it and there's been huge interest in Andy's careers – and, to a lesser extent, mine. So, we're really excited to be able to put this on."
While Andy has also won the US Open and two Olympic golds, and made it to world No1 in an illustrious career, Jamie also topped the rankings, in doubles, and bagged seven Grand Slam doubles and mixed doubles titles, coming close to his eighth at the recent Australian Open, when he and partner Bruno Soares made it to the semis.
With a fully-formed competitive streak, while the rivalry with their English opponents, who will include Dan Evans, will be friendly, it will also be intense.
"It is definitely a proper competition. Everyone wants to get one over on their mates! The events we put on last year were highly competitive and all the guys were in it to win it and there was no messing around. This will be the exact same. I have zero doubts about that."
But it will have to go some to eclipse some of the other memories already stored away from previous competitive ventures home.
"I think when we played against the States, that was the first time we'd played [in Scotland] in a long time. It was an incredible atmosphere." That was in March 2015, in the Davis Cup, in Glasgow.
"We then got the chance a few months later to play Australia in the semi-final, which was crazy.
"The doubles match that me and Andy played was insane. The support we had was off the charts. We want to have those opportunities more often."
That was the year Team GB went on to win the national team tournament for the first time in almost eight decades.
"When I say 'we', I definitely mean me but probably Andy as well. When we look back on our careers, when we stop, those are definitely going to be some of the best memories we've had on a tennis court. To be able to share them together is such a unique position to be in."
But the return of crowds is what will make the event.
"We miss playing in front of full stadiums. For us, that's where the excitement comes; walking out onto court and seeing thousands of people there to support you... or not. That's what gets the butterflies going in our stomachs. I know the players have missed that.
"At the US Open there were no crowds, just the players watching the other players and that is not the same. Even in Australia they didn't have great crowd numbers, then there was another lockdown. The sad thing was I didn't even realise there weren't fans there any more because we've got so used to playing without them. That is sad and we hope they can return as soon as possible because that is what makes sports fun, it's the fans creating the great atmosphere that we crave playing in."
A message from the Editor:
Thank you for reading this article. We're more reliant on your support than ever as the shift in consumer habits brought about by coronavirus impacts our advertisers.
If you haven't already, please consider supporting our trusted, fact-checked journalism by taking out a digital subscription.