Jake Paul: Floyd Mayweather fight explained as YouTuber suffers black eye while promoting Logan Paul match
What started with Jake Paul untying the legendary boxer's shoes ended with him being punched in the face by security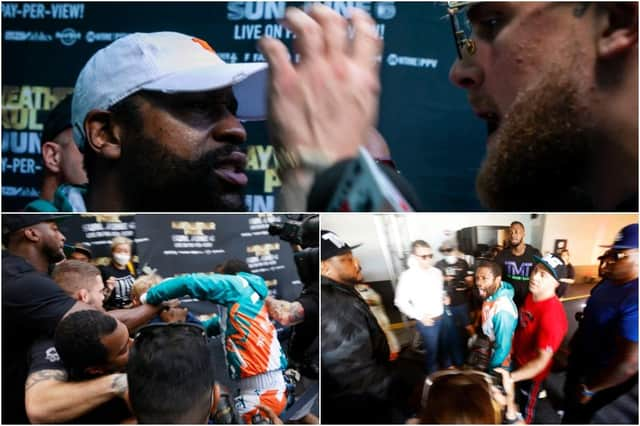 That long-awaited fight with Paul goes ahead on 6 June, but it was Logan's brother Jake who has been grabbing headlines - and hats – in the wake of the media scrum.
Here is everything you need to know about it.
What happened?
Following the press event, cameras captured Jake Paul and Floyd Mayweather meeting one another backstage.
The pair exchanged heated words, with Jake Paul offering Mayweather the chance to fight him on the same night as his brother.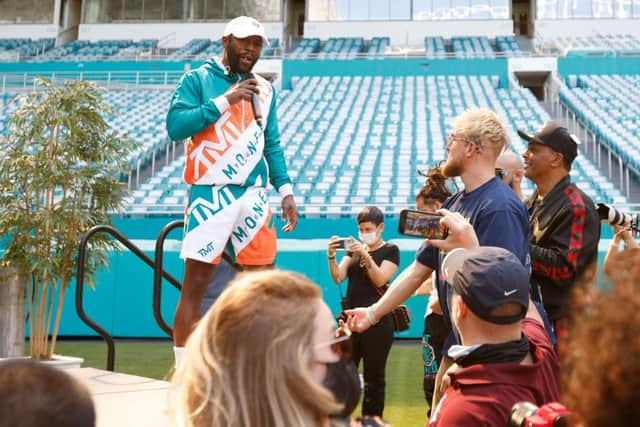 As the two got in each other's faces, press and security crowded around them, the former ready to capture any ensuing chaos, the latter ready to break it up.
Paul appeared to land a parting verbal blow, and as he did he snatched Mayweather's baseball cap from upon the boxer's head.
A brawl ensued, with Mayweather trying to land punches on Paul as security personnel held the boxing legend back; he could be heard screaming, "I'm going to kill that motherf*****" as he was taken away.
Other members of Mayweather's entourage were more lucky in getting their hands – or fists – on Paul, and the YouTuber shared photos on social media (he has since changed his Twitter name to "GOTCHA HAT") after the scuffle that showed he had sustained black eyes and a bloodied mouth in the altercation.
Previously as part of the media event, Paul had attempted to untie Mayweather's shoes as he spoke onstage.
Was it real, or a stunt?
As celebrities and personalities continue to filter into the world of boxing, the sport's theatrics are beginning to more closely resemble those of professional wrestling, with personal feuds between competitors blurring the lines between reality and fabricated exaggeration.
Whether the stunt was pre-planned, or a very real confrontation between two massive egos, it all adds interesting nuance to the "narrative" that is building between the Paul brothers and Floyd and McGregor.
In response to the violent altercation, UFC star Conor McGregor called Mayweather out on social media for not being able to fight back, saying "whatever way you spin this, it's sad."
The outspoken MMA fighter suggested Mayweather should fight someone "for real, on your record" or "f*** off".
Mayweather, 44, last entered the ring professionally in 2017 in a match up against McGregor to claim his 50th career win, and Jake Paul is rumoured to be facing the Irish ace in the future.
Jake Paul has been repeatedly calling out McGregor since January, and though the UFC star has ruled out a bout with the YouTuber, Paul has claimed a match between the two is "a lot closer than anyone thinks", and could happen "in the next 24 months."
Paul's boxing record stands at three wins in as many fights. Mayweather holds an unbeaten record across 50 bouts.
When will Mayweather fight Logan Paul?
The much-hyped bout between the former boxing champ and YouTube personality has been on-off-on since the end of 2020 when it was first announced.
Mayweather, with a 50-0 winning record from a professional boxing career spanning 20 years, will take on Logan Paul, with just one pro fight and one defeat to his name.
The two were initially scheduled to go toe-to-toe in the ring in February of this year but the event was delayed so the two could entertain a "packed out arena" – it will now take place on 6 June at the Hard Rock Stadium in Miami.
Paul said: "I need as much practice, training, sparring under my belt against this guy. With every day that goes past I get better and he gets older."
UK audiences hoping to watch the exhibition fight between Mayweather and Paul can do so online via the Fanmio website at a cost upwards of £20.
The bout is a pay-per-view event around the world and will feature an undercard reportedly starring the Jean Pascal v Badou Jack rematch for the WBA belt.
The fight is likely to take place in the early hours of the morning on 7 June 2021, due to the time difference between the US and the UK.
Mayweather has claimed he will make upwards of $100million (£72m) from the fight.
A message from the editor:
Thank you for reading. NationalWorld is a new national news brand, produced by a team of journalists, editors, video producers and designers who live and work across the UK. Find out more about who's who in the team, and our editorial values. We want to start a community among our readers, so please follow us on Facebook, Twitter and Instagram, and keep the conversation going.