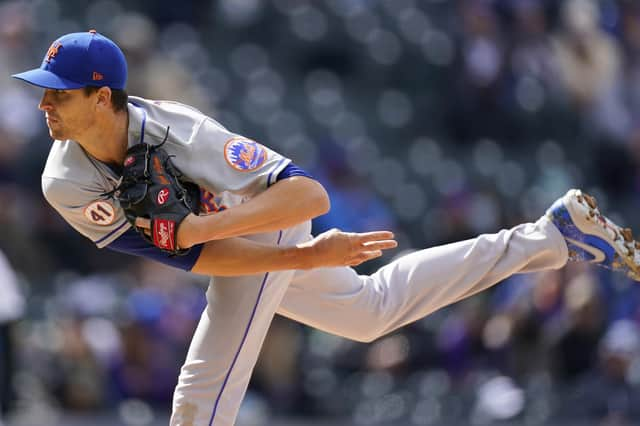 New York Mets starting pitcher Jacob deGrom in action against the Colorado Rockies. Picture: David Zalubowski/AP
But it's the other New York team I want to talk about today, the Mets.
It can't be easy living in the shadow of the winningest team in Major League history, but that's the challenge the Mets have faced since their inception in 1962. In that time, they have managed two World Series wins (1969, 1986), and lost three others, the most recent being in 2015.
The Mets sit atop the National League East right now, having completed only 11 games due to a Covid outbreak in the Washington ranks and a suspended game after bad weather in Miami. But first is still first, right?
Jacob deGrom has started the season on course to be one of the all-time greats. Picture: David Zalubowski/AP
The Mets have some weapons on their team, and with the addition of Francisco Lindor to Brandon Nimmo and Pete Alonso, they may finally have some bats in the line-up.
Of course, the pitching side has been good recently, with Noah Syndergaard set to come back to the fold in May, joining Marcus Stroman and Jacob deGrom, a two-time Cy Young Award winner.
DeGrom has the numbers to be a Hall of Famer and has started the season on course to be one of the all-time greats, posting 35 strikeouts and averaging just 0.45 earned runs per nine innings (ERA).
While his record in his three starts is remarkable, it's not unlike most of his time in the major leagues. The former Rookie of the Year is currently ranked 53rd in the all-time career ERA list, with only one active player ahead of him, Clayton Kershaw, at number 35.
DeGrom is in the third year of a five-year £100 million contract and is being paid, deservedly, as one of the best in baseball.
Since he entered the league in 2014, he has played exclusively for the Mets and in his time has had 71 wins to his name. Not bad, right?
Well, no actually. When you place him next to his pitching contemporaries his win numbers are the lowest. Houston Astros' Justin Verlander, Washington Nationals' Max Scherzer and Los Angeles Dodgers' Clayton Kershaw all have over 100 wins in that time, and even Chris Sale of the Boston Red Sox has 77.
In his eight years in the league, deGrom's ERA has been top 12 seven times. In that same period, his WHIP (Walks, Hits and Innings Pitched) has been in the top five five times, including this season.
In his three starts this season the pitcher has barely put a foot wrong. On opening day, deGrom pitched six innings, allowed three hits, two walks, and struck out seven. When deGrom left the game at the end of the sixth inning, the Mets were leading 2-0; the Mets lost 5-3 to Philadelphia.
Game two saw deGrom turn in an even more dominant performance as he allowed just five hits and two walks while striking out 14 Miami Marlins players. The only disappointment for the pitcher would be when he left the game the Mets were trailing 1-0 off a solo shot home run.
But even so, if a pitcher puts up a performance that dominant, he has the right to expect his batters to offer up some form of run support, especially against a weak Miami team.
In his most recent start, deGrom struck out 14 again and finally picked up his first win of the season. Even in that game, it took deGrom scoring a run with the bat and a Mets rally after an error allowed the Rockies to take the lead.
It would be a travesty for deGrom to finish his career with such a poor record and a lack of rings, and it would be all the New York Mets' fault for failing to give this generational talent the chance to win every five days.
DeGrom deserves better than what the Mets front office is putting out, and if he can't get it in New York, maybe it's time he found an organisation willing to give him a stronger supporting cast.
A message from the Editor:
Thank you for reading this article. We're more reliant on your support than ever as the shift in consumer habits brought about by Coronavirus impacts our advertisers.
If you haven't already, please consider supporting our trusted, fact-checked journalism by taking out a digital subscription